The best souvenirs to buy in Singapore
None of those merlion keyrings – here are some quirky finds that are uniquely Singapore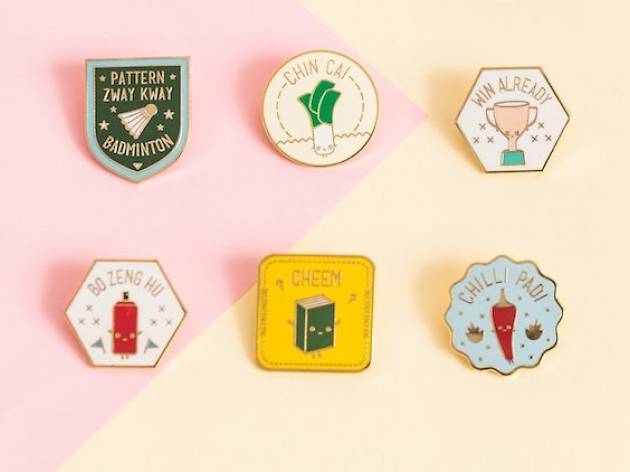 Cat Socrates carries a variety of Singapore-themed knick-knacks such as books by local creatives, tote bags, homeware, fabric, postcards, and of course, a section of cat-related merchandise. However, what has us coming back for more is its wide selection of coasters, ranging from Peranakan tiles to Singlish-inspired illustrations.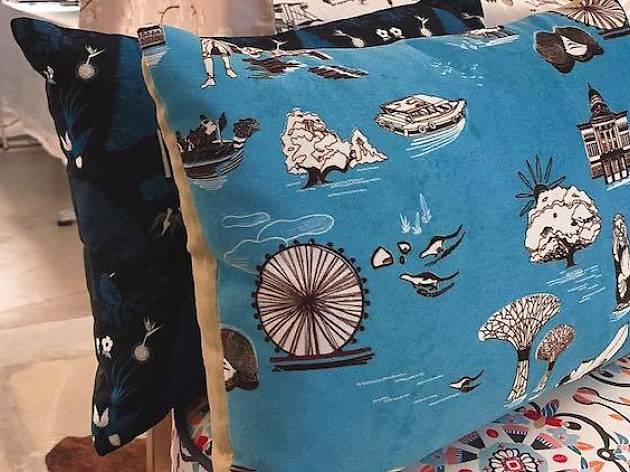 Turn your home into a Singapore shrine if you must, and what better place to get all your home goods than local brand Onlewo? The lifestyle brand is known for its Singapore-centric home and lifestyle products, and has teamed up with local designers to produce a collection of gorgeous wallpapers, table runners and upholstery featuring iconic landmarks of the city.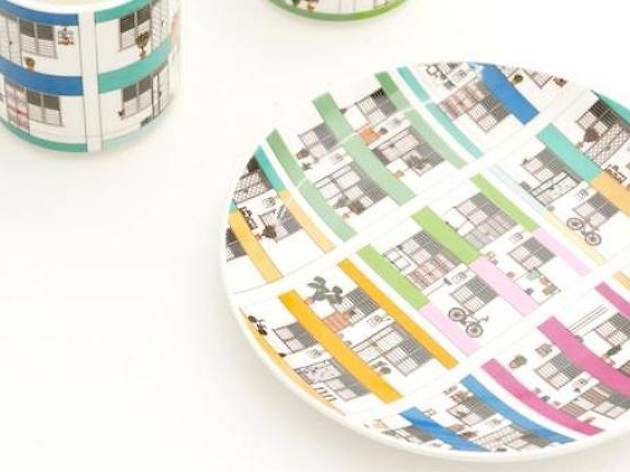 This minimalist husband-and-wife co-owned souvenier shop is the perfect place to pick up thoughtful, one-of-a-kind gifts for that special someone (or yourself). Think asymmetrical bowls, dimpled cups and painstakingly handpainted plates inspired by modern Singapore culture. For gorgeous melamine plates featuring the colourful Rochor HDB flats, the orchid kebaya and the Singapore map among others, Supermama is the place to go.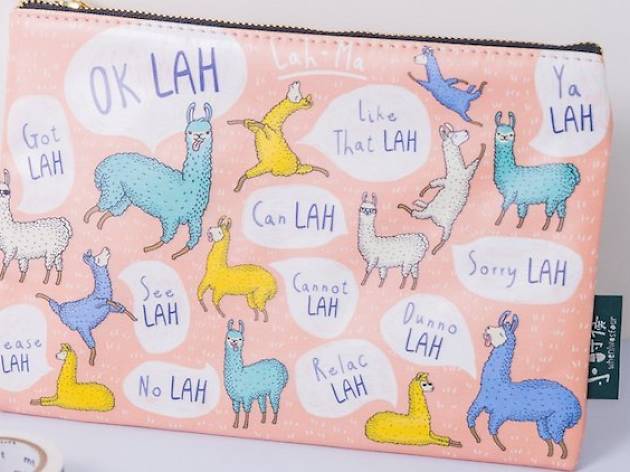 Shopping, Gifts and souvenirs
If you're in need of some Singapore souvenir, look no further than the Independent Market. The store is jam-packed with anything and everything Singapore. Yes, we're talking quirky knick-knacks designed by local makers. Explore the creative side of Singapore via books, art prints, lifestyle product, homeware and more. Did we mention its selection of tote bags and pouches decked in illustrations and Singlish slogans?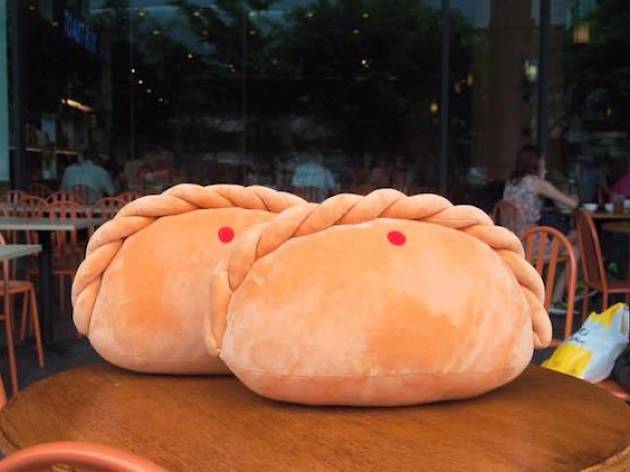 When it comes to Singapore-themed thingamajigs, this shop is a no brainer. Not only does Naiise stock up on products by local designers and brands, it also houses quirky souvenirs like the curry puff cushion, gorgeously illustrated postcards, iPhone cases decked in shophouse galore, the iconic Good Morning towel in drawstring bag form, playing cards featuring local icons and many, many more.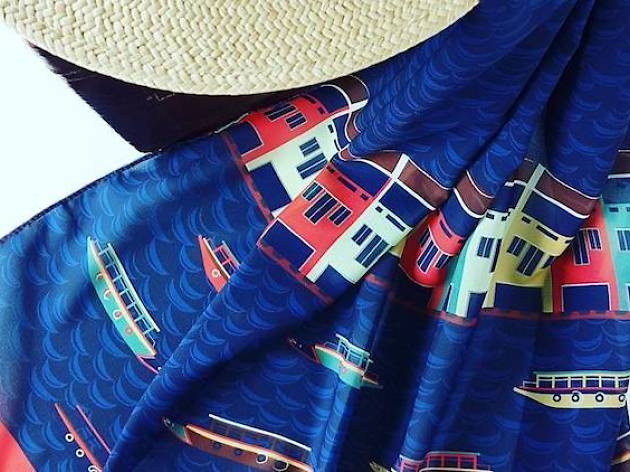 Scarves from Binary Style
If there's one thing we want in our scarf drawer, it's Binary Style's collection of timeless, stunning squares. Inspired by the city itself, each scarf is designed to capture the beauty of it, whether via nature, architecture or culture. Its vibrant designs also make a bold statement piece when worn around the neck, as a top, as a sarong or even as a headwear.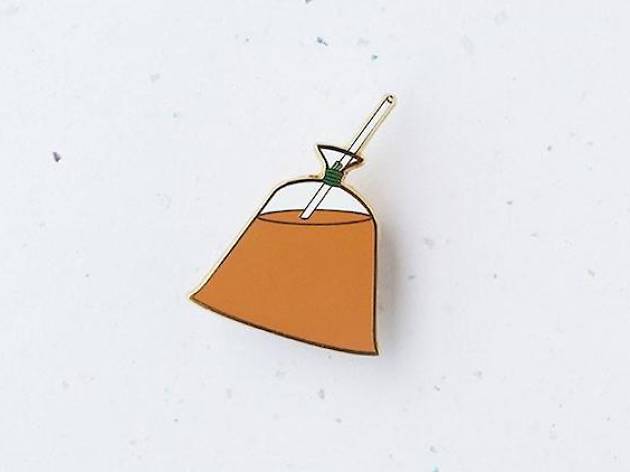 Accessories from the Dröm Store
It's hard not to fall in love with the Dröm Store. The store features some of the zaniest souvenirs you can find, including pins and brooches shaped like your hawker centre kopi (including ones in the takeaway plastic bags!). The site's loaded with accessories including bags, pouches, keychains and more, embellished in all things Singapore.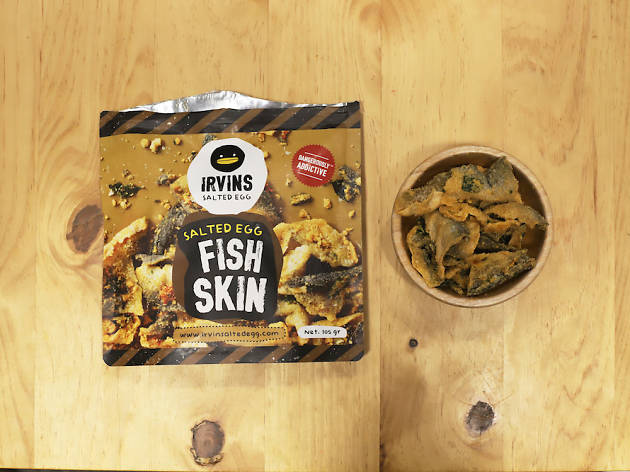 Salted egg yolk fish skins from Irvins
Irvins' salted egg yolk products are #dangerouslyaddictive indeed. People queue for hours to get their hands on the stuff, and because each batch is only produced in limited amounts, the salted egg yolk fish skins sell out fast. Join the wait at VivoCity or Orchard Gateway and be rewarded – or try your luck at the airport before you fly back home.