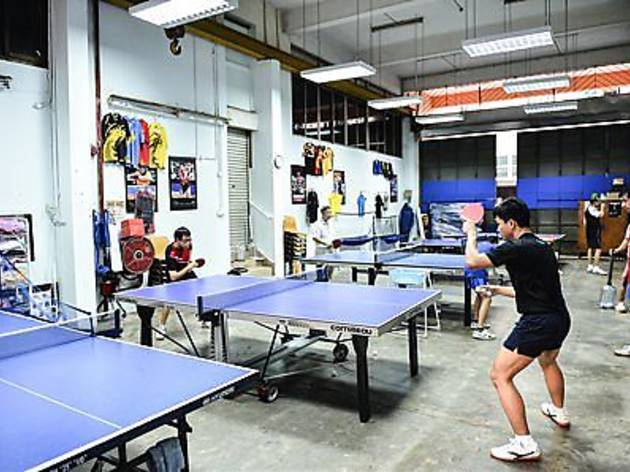 This private ping pong space has had to move around town – first taking up premises in Jalan Pemimpin in Thomson, then at the Singapore Action Group of Elders (SAGE) at Toa Payoh West prior to the organisation's closure – before settling in its current space in the industrial sector of Kallang.
The club has a
 welcoming, casual 
neighbourhood 
feel to it, thanks
 to owner Loh Men
 Kuan, a former
 businessman who
 opened the club ten 
years ago. Despite 
Happy Table Tennis' semi-nomadic nature, Loh has managed to retain a loyal following of regulars, including the elders who picked up and played the sport at SAGE, as well as some surprisingly good youngsters. His passion for the sport is palpable – 'Always!' is his answer when we ask about his opening hours; when we mention we need to know more specific hours, he offers, 'mostly in the afternoons... but whenever you want!' – and indeed, the 65-year-old is a regular presence at the arena, and can often be seen sparring with his older counterparts or offering coaching advice to the younger players who have taken on the sport seriously. Part of Loh's experience includes a three-year full-time training stint in China – something he's keen on passing on to the next generation.
While he admits that sustaining Happy Table Tennis has been a loss-making scheme, Loh remains committed to providing a nurturing space for talents young and old while staying true to his mission of keeping idle elders socially busy and active in their sunset years through the Elder's Table Tennis Club.
We're certainly heartened whenever we find passionate locals doing good in their neighbourhoods. Don't get us wrong, we're also deeply appreciative of the Singapore Sports Council's myriad of sporting facilities that even covers more esoteric games like hockey and squash, but if there's any hope for Singapore to grow its own homegrown table tennis champion, places like Happy Table Tennis might just be where it's at.
Cost: $10 per hour to rent a table

Venue name:
Happy Table Tennis
Contact:
Address:
48 Horne Rd
Singapore
209069

Opening hours:
Various timings
Do you own this business?