Three futsal pitches to get your kicks
Getting inspired by the World Cup? Natasha Hong rounds up three new football pitches to get your kicks around town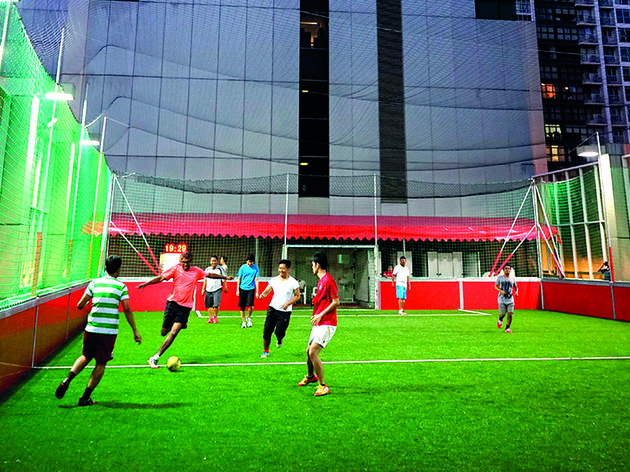 Given the lack of open spaces in Singapore, football is one of the easiest sports to pick up – all you really need is a ball and your feet. Fortunately, there are also numerous futsal pitches, which makes it easy to arrange a quick pick-up game – even World Cup organisers FIFA trumpet the benefit of small-pitch matches, which allow more meaningful ball contact and faster action (with less running on a smaller field). It also means you don't quite have to gather such a big troop of busy friends to get the most out of a one-hour bout. Here are three new football facilities with smaller pitches to check out.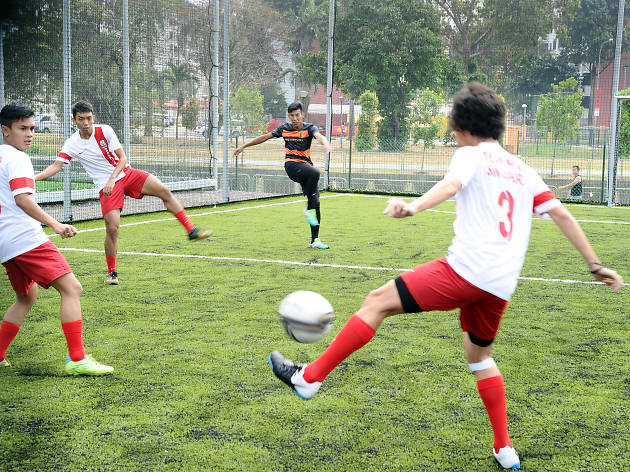 Previously left dormant on the outskirts of the gentrified Tiong Bahru estate, the extended traffic island bound by Outram, Tiong Bahru, Seng Poh and Zion roads is now grounds to two small-sided football pitches that can be rented for a kick-about.

Zion Sports takes particular price in the synthetic grass they've used for the pitches – it's Euro-imported Greenfied Endurance Fine Fibrillated Turf, which is also fitted with shock pads underneath for a playing field that's friendlier on bad knees and offers a more realistic feel when controlling the ball. Your ball's safety is also guaranteed, thanks to the nets that enclose the space, ceiling and all. If your squad's not a particularly mouthy lot, ask for Pitch 2 when making your online booking three days in advance as the long side of the court is slightly quieter, and buffered from the traffic hum around Outram Road by a small stretch of grass.

Other facilities Showers, toilets and changing rooms.

Rates From $50hr.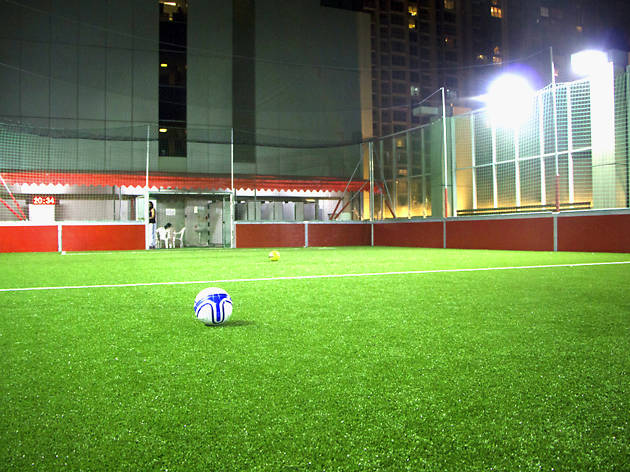 Sport and fitness, Football
Launched to the public in January this year, Stadio@Rooftop is Singapore's first football facility placed on a rooftop at Tanjong Pagar's Amara Hotel. Once the grounds for the hotel's tennis court, the rooftop's rebirth makes it a more democratic space, allowing up to ten players to experience scoring goals at a higher altitude than other pitches locally.

There's only one pitch here, and it's managed by Stadio, a company run by illustrious ex-national striker V Sundramoorthy and Balestier Khalsa coach Marko Kraljevic, who also manages other such footballing facilities in Punggol, Sembawang, Balestier and Jurong. Stadio@Rooftop is the newest in their line up, and though it's priced higher than the competition, it's a boon for the CBD weekend warrior looking to get a nearby weekday fix with their colleagues after work. Since Stadio holds the keys to the pitch at the rooftop, it can also be booked past its regular opening hours with prior notice, so night owls, take note. The eighth floor field nestles players among soaring business towers, and dampens the street noise with its height. The pitch itself is fitted with Tencate Tiolon XP Pro turf, which its makers say reduces friction burns from slide tackles, though players might want to reconsider firing that volley up high as the nets only rise five metres above ground, so be careful.

Other facilities Showers, toilets, changing rooms, balls and bibs. The facility also lends out mini-goalposts to the unambitious or smaller groups by request.

Rates From $100/hr.
Sport and fitness, Football
Move over, The Cage. Offside@Hyfa is the most ambitious arena to open this year, pairing up pitch managers Offside (who also run a four-court futsal ground in the Upper Thomson area) with Home United Youth Football Academy (HYFA) to convert the boomerang-shaped field along Mattar Road in MacPherson into one of our biggest football facilities.

With two full-sized regulation fields, two medium-sized pitches for seven- a-side games and a whopping eight other cages for five-a-side matches, the 300,000 square feet space works both as HYFA's training grounds for their at-risk and underprivileged kids programme and pitches for public bookings. If you can't secure a booking elsewhere, you're more than likely to get one here, and at a cheaper rate than the others on this list – off-peak slots start at $50 an hour in the five-a-side courts, and peak at $86 for per hour session after 5pm.

Though the niche of softball and baseball players in Singapore is still pretty small, Offside's Mattar Road ground also features ten practice batting lanes for pitchers and batters to work on their form.

The current booking system on the website is a little confusing to navigate, but click on 'HYFA booking' to see a selection of their pitches and hourly time slots to choose from.

Rates From $50/hr for cage pitches, and $90/hr for regular pitches.
More to explore