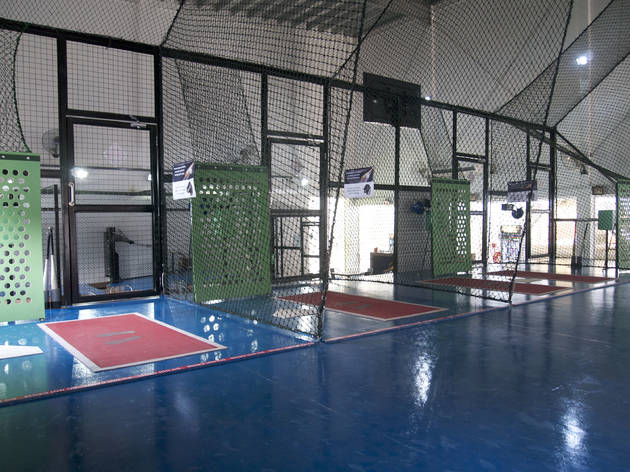 Playing ball isn't quite a Singaporean thing to do yet, but you can get acquainted with batting and pitching – two basic elements of the game – at this new baseball facility, located in the West Coast neighbourhood of Pandan Gardens.
Set up by a trio of baseball enthusiasts (businessmen Oswin Shen, Michael Chiu and Kai Wen Sheng), who got the idea from similar concepts in Taiwan and Japan, Homerun Baseball features four batting lanes calibrated to different pitch speeds, plus a pitching cage where you can try out your arm. To play, just purchase tokens (from $20/five tokens), drop them into the machines like you would at an arcade, then step up to the plate and wait for the Japan-made engines to start whirring.
For batting, each token gives you 15 balls to hit, pitched out every seven seconds. You're given a helmet to wear and a guide on where to stand before starting. Unless you've done it before, start out at the slowest lane, which pitches balls out at a moderate 80km/h – though it may sound fast if you're a beginner, most people (and kids) get used to the speed within a few rounds. The fastest lane shoots out the balls out at approximately 100km/h, which is used by more seasoned amateurs (and occasionally even members of the national team, say the owners).
Pitching practice resembles an arcade game – you get 12 balls per token and are instructed to hit all nine spots on the LED board at the end of the lane. If you're successful, Homerun will reward you with a can of Red Bull.
Even if picking up a new sport isn't on your mind, both batting and pitching double up as a great way to de-stress while working out your arm strength. Homerun Baseball's airy space makes it a comfortable place to chill out, and with their late closing hours, it's the perfect post-work stop after a long day in the office. Getting a good crack at a ball – right in the sweet spot of the bat – is mighty satisfying, and we're inclined to agree that this is one of the better ways to unwind while keeping healthy. So swing, batter batter, swing. Natasha Hong
Venue name:
Homerun Baseball
Contact:
Address:
#01-01/02/03/04
200 Pandan Gardens
Singapore
609336

Opening hours:
Mon-Thur 1-11pm; Fri 1pm-1am; Sat 9-3am; Sun 9am-midnight
Do you own this business?