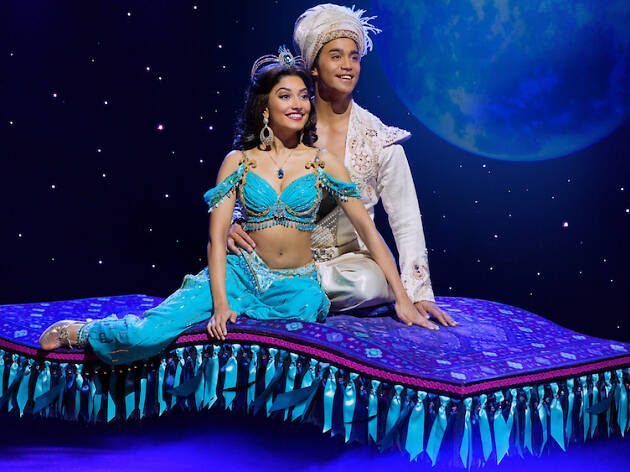 1/3
Aladdin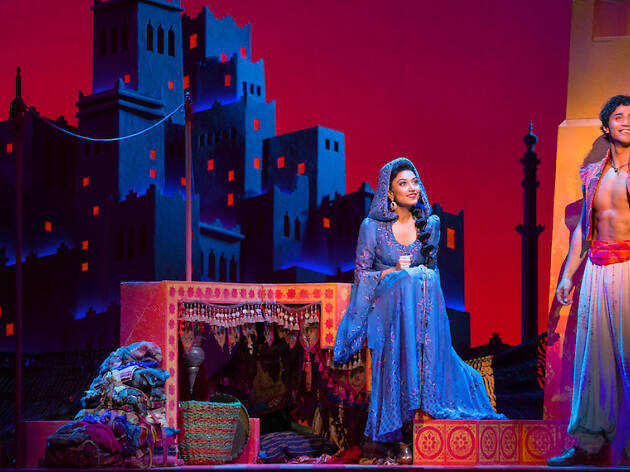 2/3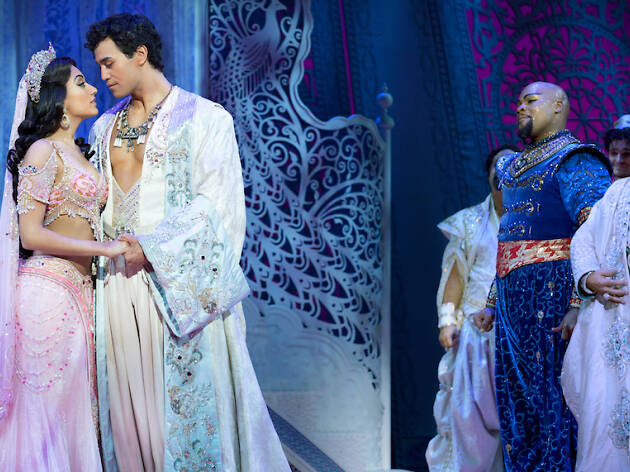 3/3
Time Out says
Strap in for a magic carpet ride to a whole new world this July. The hit Broadway musical Aladdin is landing at Marina Bay Sands with a chest full of music, glittering costumes and jaw-dropping sets to recreate the fantasy city of Agrabah.
Catch the talented Gareth Jacobs as the Genie, Graeme Isaako as Aladdin and Shubshri Kandiah as Jasmine. Sing along to show-stopping musical numbers like A Whole New World and seven new songs that'll keep you entranced all the way through to its happily-ever-after ending. There's no doubt it's going to be shining, shimmering, splendid.
Plan the ultimate night out with Marina Bay Sands' exclusive Show & Dine packages. This stellar two-in-one combo allows you to experience the best of both worlds. Save up to 20 percent when you have dinner at one of its award-winning signature restaurants and catch the performance. As a bonus, you can also order intermission drinks from the comfort of your seat without having to worry about the ridiculously long queues at the bar.
Indulge in a two-course menu (with choices such as a wagyu burger and fries or charcoal-fired salmon from Adrift) paired with a glass of wine or beer, or tuck into Italian-American cuisine set against the sensational city skyline perched 57-storeys atop Marina Bay Sands at LAVO Italian Restaurant & Rooftop Bar. If you can't make it for a pre-show dinner, opt for post-theatre drinks and bites at Club55, complete with amazing views of the city skyline. Experience a selection of drinks - from champagne to fine wines, sake, and beer - paired with decadent bites like the smoked salmon, ribeye brochette and pan-seared scallop. Other participating outlets include CUT, db Bistro, and Yardbird Southern Table & Bar.
Book your tickets for an unforgettable experience with a Show and Dine package from $133 at www.marinabaysands.com/aladdin.
Time Out Singapore in partnership with Marina Bay Sands
Review
The 1992 classic is given a Broadway makeover for the 21st century. With its iconic songs (both old and new), elaborately embellished costumes, grand set, fabulous cast and witty humour, it's truly a spectacle of epic proportions.
Bob Crowley's brilliant stage design sets the tone for the whole production. Drawing deeply on Islamic architecture, it's a set influenced by Moroccan latticework, the famous domes of Taj Mahal, and collections at the Victoria & Albert Museum in London.
Graeme Isaako charms as Aladdin, with a voice that soars through ballads even during challenging dance numbers like One Jump Ahead. Shubshri Kandiah's Jasmine is an emancipated female lead fit for the 21st century - ready to kick ass in her iconic two-piece teal outfit. The duo's legendary number, A Whole New World, dazzled the audience with an impressive flying carpet soaring through a stage full of stars. It is pure magic.
But the real star of the show is Gareth Jacobs as the Genie, a one-man extravaganza with his sassy banter, infectious energy, and powerful voice. The show opens to Arabian Nights that takes you right back to when you first saw Disney's original movie, but A Friend Like Me is the ultimate showstopper with flashy costumes and clever choreography.
All in all, this Broadway musical keeps the magic of Disney's Aladdin alive for a whole new generation.
Review by Dewi Nurjuwita
Details
Users say