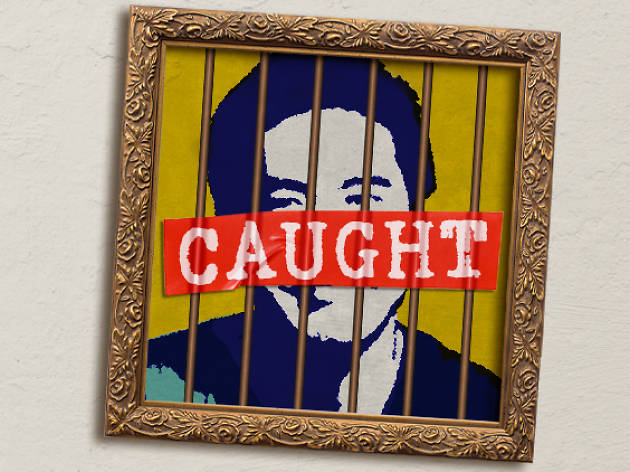 1/3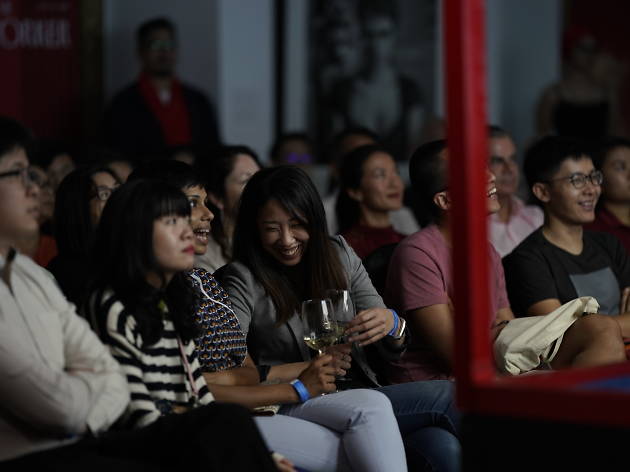 2/3
Photo: Singapore Repertory Theatre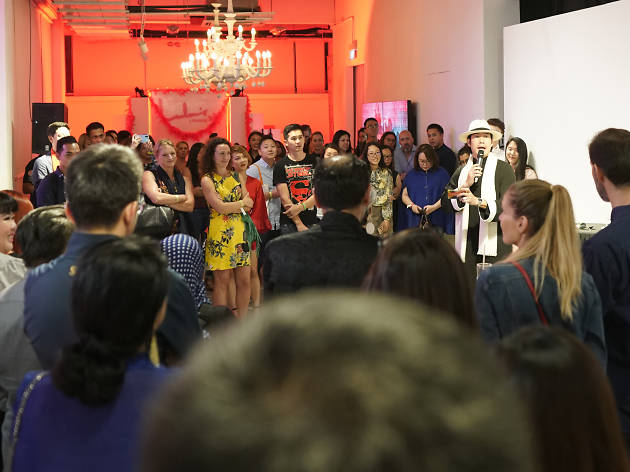 3/3
Photo: Singapore Repertory Theatre
Time Out says
Friendly warning! We're working hard to be accurate. But these are unusual times, so please check that events are still happening.
In a world laced with fake news, how do you differentiate the truth from the lie? Let Singapore Repertory Theatre (SRT) shed some light through a novel theatrical experience featuring a specially curated art exhibition from September 10 at Miaja Gallery with Caught.
This cryptic show is not one to sit down and watch. Written by OBIE Award-winning playwright Christopher Chen and directed by Drama Desk Award-winning Ed Sylvanus Iskandar, this conversational prompt gets participants to investigate questions of power, perception, authenticity and stereotype. Expect a warren of fact and fiction cleverly blended into a sharp, witty and highly addictive experience where things may not always appear as they seem – think of it as going down the rabbit hole in Alice in Wonderland.
In commemoration of his release, Caught pays homage to Chinese dissident artist Lin Bo who, according to The New Yorker, is the most subversive performance artist of this generation. But that's not all – now a fugitive, he is making his way to our shores to deliver a mystery performance.
If you're all set to plunge down the rabbit hole, get your tickets now at srt.com.sg, from $75. Tickets for the September 10 and 11 show are also available at $54 from August 9 to 12 as part of a National Day special.
Time Out Singapore in partnership with Singapore Repertory Theatre (SRT)
Review
Be prepared to be mind-blown at Singapore Repertory Theatre's Caught, where nothing is what it seems. It's indefinite: part immersive theatre, part performance art, part installation, and part soiree – all set in Maison Miaja, which takes over levels two and four of the APS Lifestyle Building. The production is held in conjunction with Dissonance, an exhibition by Miaja Gallery.
Caught is a brilliantly constructed piece, innovatively directed by New York's Ed Sylvanus Iskandar. It touches on the place of truth in art, journalism, and relationships. The original concept by playwright Christopher Chen was inspired by an incident involving American monologist Mike Daisey, who had reported on NPR's This American Life about his encounters at an Apple factory in China, based on his nonfiction theatrical monologue, The Agony and the Ecstasy of Steve Jobs. After the episode aired, it was then revealed that many of his claims were heavily fabricated.
Back at Maison Miaja, our experience started at the reception area on the first floor, where we were split into groups. Our group was then led by our host, Liz, who brought us to Lin Bo's pop-up art show. That's when the questions started: Isn't this supposed to be a theatrical performance? What's happening? What do we do now? Other patrons looked just as dazed and confused as we were. Well, at least there were Scandinavian hot dogs by Fung Kee and specially curated cocktails from Lulu's Lounge to keep us preoccupied.
After an odd 15 minutes or so, Lin (Timothy Nga) was then introduced. The Chinese dissident artist was profiled in The New Yorker as the most subversive performance artist of his generation. Lin takes the stage with conviction, swiftly moving through the crowd while taking us through his artworks and telling us about his experience in China's Detention Center 7, where he was held for two years for his provocative artworks.
Or so he claims.
The audience is then led up to the set of a swanky The New Yorker office, where a journalist named Joyce (Chelsea Curto) and her editor Bob (William Landsman), interrogates Lin on quotes from his interview that didn't quite add up to reports by a Stanford professor, who studied Chinese prisons – and more specifically, the prison where Lin was allegedly held. Layers after layers are peeled; and at the end of the evening, you're left with more questions than answers. But we shall not spoil it for you.
Probably the most impressive thing about Caught is the set, which fluidly transforms from one scene to the next – taking you from sleek The New Yorker office to a post-show interview and a dressing room set up right in front of your eyes. As the immersive play takes over both floors of Maison Miaja (on levels two and four), be prepared to walk up and down flights of stairs. Read: come armed in comfy footwear.
If anything, arrive with an open mind and brace yourself for a wickedly immersive night out – and maybe a new acquaintance or two. You've probably never seen anything quite like it.
Review by Dewi Nurjuwita
Details