The reopening of the University Cultural Centre
Before the University Cultural Centre at NUS reopens with a brand new look this month, we find out all about the performing arts centre's revamp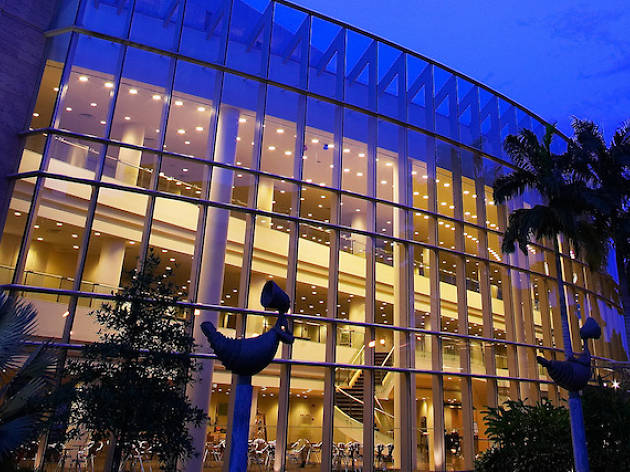 After a six-month-long closure, the University Cultural Centre at NUS is finally ready to swing open its doors once again and welcome visitors to fill its theatre's seats. Built in 2001, the institution – run by the NUS Centre for the Arts – has staged plenty of outstanding student-led and professional theatre productions, conferences and even state events. Since August, however, the venue ceased operations to undergo a major upgrade and now, on March 22, it's returning better than ever. Sharon Tan, the director of NUS CFA, lets us in on why the performing arts icon's makeover is an important one.
Why did you guys decide to renovate the UCC?
The UCC has been a central venue for performing arts and major events on our campus. When it first opened, the UCC was one of the premier venues of its size in Singapore but year-on-year as technology evolved so did the standards for performing venues. This renovation places the UCC at the forefront as an arts venue. Our vision is always to provide a vibrant space for everyone to experience the arts and to nurture creative minds and inquiring spirits.
During the reconstruction process. Photo: NUS CFA
"The renovation is just one part of CFA's larger mission to integrate the arts into education"
How did the makeover process begin?
The renovation involved the front of house and back of house, as well as the common areas. For us, approaching this renovation was a matter of determining where we could best improve the facility for both guests and performers. Given the wide range of events we host, comfort, accessibility, sound quality and viewing angles are all important. We also incorporated new features to help reduce energy consumption.
Sharon Tan. Photo: NUS CFA
Tell us about some of the new facilities the building offers...
It offers flexibility. The main seating can be retracted for standing performances and the hall has a retractable orchestra pit. There's new efficient lighting and climate control throughout the venue, upgraded stage controls and new flooring and seating to ensure maximum comfort for all patrons.
How will the UCC make arts and performance more accessible to the public?
Renovating the UCC is just one part of the CFA's larger mission to integrate the arts into education. By providing such wonderful spaces for students to perform and experience the arts, our hope is that we can expose more students to the arts. Once the doors reopen, the challenge for us is to fill the stage with productions that inspire everyone!
Go there now
The state university's cultural centre was officially opened in 2001, just before Singapore's other major performing arts venue, Esplanade - Theatres on the Bay. Located within the picture-perfect grounds of Kent Ridge, it has hosted performances by Singaporean arts companies and international artists such as British jazz diva Carol Kidd and the Japanese Taiko drum troupe Wadaiko Yamato.