10 things to do in Singapore for tourists
Whether you're staying for a day or a week, no trip to Singapore is complete without doing these ten things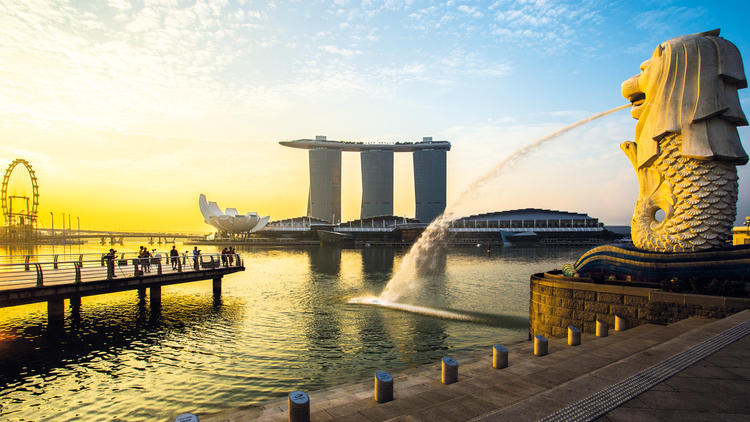 Get sky high
See the whole of Singapore from the Marina Bay Sands SkyPark. At 200 metres above ground, the boat-shaped SkyPark took three months to lift up to the 57th storey where it now sits prettily atop three hotel towers and is home to the famous infinity rooftop pool and chi-chi club Ce La Vi.

Walk the talk
Put on your walking shoes and join an Original Singapore Walk by Journeys, as guides talk you through Singapore's lesser-known history. From atmospheric night walks through the old red-light district of Chinatown to fascinating war trails, expert storytellers shine a light into the nooks and crannies of the city even locals don't know about, bringing its fascinating history and culture to life (6325 1631, www.journeys.com.sg/singaporewalks).

Find a unique treasure in Haji Lane
Budget bohemia thrives in Haji Lane, a sliver of an alley sandwiched between Arab Street and Bali Lane. Mini-boutiques mix with Middle Eastern cafes and design houses. Pick up some monochrome accessories at Salad (27 Haji Ln, 6299 5808) and for kitsch appeal, don't miss Pluck. For an even more exciting fashion experience you'll need to leave ground level and make your way to the second floor of the shop houses. Soon Lee is one such must-visit shop offering an eclectic range of books, one-of-a-kind clothes, jewellery, hats and accessories (73 Haji Ln, 6297 0198).

Feel the beat of Clarke and Boat Quay
Down by the riverside of the Colonial District is where much of Singapore have their fun, with a number of the most popular bars, pubs and nightclubs perched on the edge of the river along Clarke and Boat Quay. Discover a little Latin flavour at Cuba Libre or rub shoulders with the beautiful people at Attica. If your dance moves leave a little to be desired, you can always get your thrills beyond the bars. Try the G-MAX Reverse Bungee or GX5 Extreme Swing instead – no rhythm required (3E River Valley Road, 6338 1146).

Give your feet a fish pedicure
Don't inflict your stinky feet on some poor pedicurist. Instead, let the fish take care of them. A shoal of industrious little Turkish fish wait in a pool to nibble away dead skin and leave your toes fresh and exfoliated. Best avoided by those with ticklish feet! Fish reflexology is $35 for 20 minutes in the pool and 20 minutes foot reflexology. Kenko Reflexology and Fish Spa (313 Orchard Rd, 6887 0303; www.kenko.com.sg).

Go wild at the Night Safari
Through the use of special lighting, the night safari allows you to observe what 900 nocturnal animals get up to after dusk. The 45-minute narrated tram ride is the best way to see the animals from the safety of your seat. After the trip, brave the dark walking trails to get a closer look at smaller animals such as flying squirrels and dangling bats.

Join Singapore's culture club
Catch a performance by international touring companies like the Royal Shakespeare Company or local talents like the Singapore Symphony Orchestra at the iconic landmark and world-class artistic venue, The Esplanade.

See how the locals live
Venture beyond the hub of the city to visit the heartlands and suburban neighbourhoods where locals reside, shop and socialise. Toa Payoh features a bustling local mall as well as the grand Buddhist temple, Lian Shan Shuang Lin monastery. Katong and Joo Chiat are also worth a visit for their melting pot of cultures – from Malay to Indian to Chinese to Peranakan – making them brilliant areas to visit for sampling the local food stalls alone.

Buy lunch with your spare change…
Start with a dirt-cheap yet delicious lunch from one of Singapore's many hawker centres. Think delicious roast pork or fluffy pancakes at Tiong Bahru Market for around $3 (no kidding) or fabulous seafood at Lau Pa Sat. Or if you are in a shopping mall, check out the food courts such as Vivocity's Food Republic.

…then blow the budget for dinner
Splurge on a lavish and memorable dinner at Tetsuya's Waku Ghin, which offers multi-faceted dining at its quirkiest. Take in the opulent surroundings as you work your way through the incredible 10-course degustation menu, which starts at $325 (The Shoppes at Marina Bay 2/L; 6688 8507).