47 things to do after dark – Part 1
From middle-of-the-night desserts or dumplings in Little India to beer-in-hand prawning or cocktails on the roof, Singapore has enough to keep visitors and locals alike busy far into the night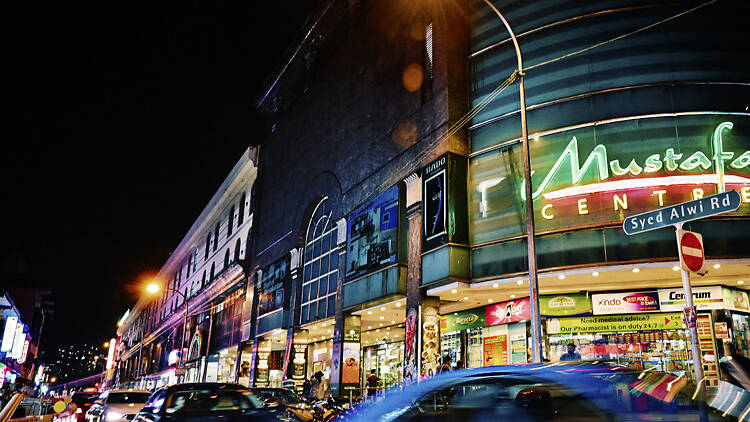 A walk in the park
Paths at Singapore Botanic Gardens wind past grassy slopes, towering rain trees, statues and fountains; in the mornings and at weekends, crowds practice yoga and taichi at the gazebos, and children feed black Australian swans at Swan Lake. But visitors swinging by for a stroll afterhours can enjoy highlights than include the Evolution Garden Walk, a cleverly designed, Jurassic-style garden containing the fossilised remains of ancient trees; and the one-hectare Ginger Garden containing more than 250 species. 1 Cluny Rd (6471 7361, www.sbg.org.sg). Nearest MRT: Botanic Gardens. Daily 5am-midnight. Free.
Endless shelf life
A Singapore institution, Mustafa Centre is open round the clock, offering 150,000 sq ft of bargains, not to mention a travel agency rooftop restaurant and supermarket. It's a treasure trove of discount shopping, carrying everything from skincare and electronics to sportswear and luggage. Sumptuous sari fabrics, Merlion snow globes, touristy T-shirts and tons of souvenirs can be found as well. 145 Syed Alwi Rd (www.mustafa.com.sg). Nearest MRT: Farrer Park. Daily 24 hours.
Night Safari
Set in lush secondary rainforest, Night Safari is a must-visit. The world's first night zoo (opened in 1991) allows you to see what over 900 nocturnal animals from 130 species get up to after dusk, in naturalistic habitats and without barriers, via the use of special lighting techniques. To go on the safari, take a 45-minute tram ride: observe majestic lions gnawing on their meat dinners, coy mountain deer striking poses and, if you're lucky, a noisy rhino taking a bath. You can get off the tram at designated points to follow three walking trails that let you get close to flying squirrels, dangling bats and a leopard or two. 80 Mandai Lake Rd (6269 3411, www.nightsafari.com.sg). Take Singapore Attractions Express bus from Orchard Road or Little India. Daily 7.30pm-midnight. Adults $42; children $28.
G-MAX Reverse Bungy
Thrill seekers looking for a quick jolt of adrenaline should head down to Clarke Quay, strap into the G-MAX Reverse Bungy chair and hold on for an imminent mix of fun and fear. Blast-off sees you fired 60 metres into the air at a speed of up to 200km/h. Only those aged 12 and over can ride. 3 River Valley Rd (www.gmax.com.sg). Nearest MRT: Clarke Quay. 2pm till late. $30-$45 per person.
Little Arabia
Singapore's Arab Quarter is a peek into another world: a little community jammed with crumbling architecture, carpet sellers and lounges where the air moves lazily and you can't shake the feeling that you're not in Singapore anymore.

Stop by Alaturka to share the karisik kebab, a large copper platter of combination kebabs including charcoal-grilled lamb chops and served with tender chunks of grilled chilli, pilaf and rich, buttery vegetables. 16 Bussorah St (6294 0304, www.alaturka.com.sg). Nearest MRT: Bugis. Daily 11am-11pm.

Going Om is something of a spiritual haven for the city's minuscule hippy community. Nepalese culture has inspired the giant pillows and wall paintings that decorate both floors, and the outdoor seating area is covered in overgrown foliage. The welcoming hosts attract a diverse crowd, often showcasing fire twirlers, dancers and acoustic musicians for entertainment along the eternally hip Haji Lane. 63 Haji Ln (6396 3592, www.going-om.com.sg). Nearest MRT: Bugis. Tue-Thu 5pm-1am; Fri 5pm-3am; Sat 3pm-3am; Sun 3-1am.
See it in the flesh
Aljunied MRT is the gateway to Geylang, Singapore's main red-light district. The area consists of 42 perennially busy lorongs (streets) branching off the main Geylang Road, which are divided into even and odd numbers. The local joke here is: 'To eat meat, head to the odd-numbered streets; to meet flesh, head to the even-numbered streets!' On any given night, call girls – mainly from Thailand, mainland China and eastern Europe – lure punters beneath the glow of purple neon from Lorongs 4 to 22. To ensure that patrons don't go knocking on some unsuspecting family's door, brothels are marked with large red numbers.
Continue onto Part 2
Part 1 | Part 2 | Part 3 | Part 4 | Part 5