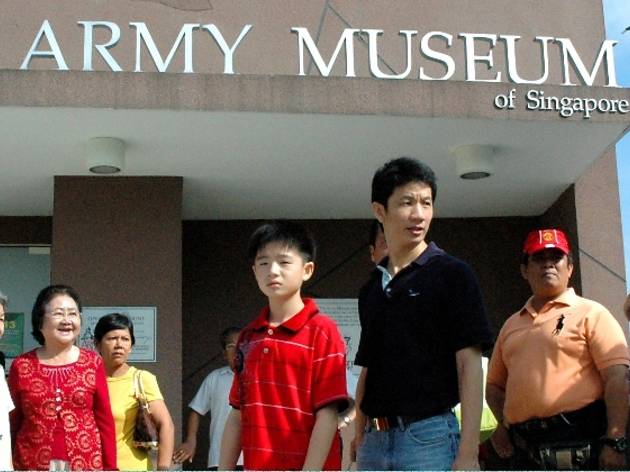 Located next to the Discovery Centre, Singapore's very first army museum has six galleries detailing the history of the army and the contributions of National Service (NS) men. Among the 500 sets of artefacts are collections of medals, personal mementos from ex-NS men and a mock-up of a 1970s trainee bunk. Visitors can also enjoy a 30-minute interactive video, 'A Day in the Life', depicting a modern army in battle, complete with the 'sounds and smells' of warfare, as well as games on battle simulators.
Things to Do
Army Operations
Decipher the codename of each army operation through this exhibition, which draws attention to our army's contributions to National Security and Regional Peacekeeping.
Creating Our Future
What will the future look like? This exhibit attempts to answer that question through the eyes of our children and the artwork they produce. There will also be an interactive Robot World exhibit where you'll get a chance to control your own mechanical agent.
From 1st Generation to 2nd Generation
Featuring two multimedia videos, 'Our Army Now' and 'A Day in the Life of…', this gallery, together with the military hardware on display, highlights the capabilities and readiness of our army that is equipped with not only advanced warfare technology, but also well-trained soldiers who have gone through National Service.
Training to Be Ready
As warfare technology advances, the army has to constantly modify its training methods to equip the soldiers with the necessary skills to handle the latest weapons. The Individual Marksmanship Trainer (IMT) in this gallery provides the visitors with first-hand experience of handling these modified weapons, as well as the safety precautions involved.
Birth of Our Army
This permanent gallery is a tribute to the country's National Service (NS) pioneers and servicemen. The key feature here is an overturned bus to remind visitors of the race riots of the 1960s. 
Making of a Soldier
The key item in this exhibit, which portrays an NS man's life in the 1970s-1980s, is an original basic military bunk bed from Pulau Tekong camp.
Orientation Gallery
Above the entrance to the galleries are 40 screens, each showing 40 different NS enlistees from all walks of life. This multimedia presentation was commissioned by the Museum to commemorate 40 years of National Service and demonstrates how these men come together to form a cohesive platoon.
Our People
A ten-minute short by filmmaker Roystan Tan (of 881 fame) shows how National Service has influenced the lives of generations of Singaporeans.
Adults $5, children & senior citizens $3.
Complimentary entry for all Servicemen* (daily); complimentary entry for all Servicemen* and four guests (Sat & Sun, PH)
* SAF Regulars/Retirees/NSF/NS men/Mindef Reserves
Venue name:
Army Museum of Singapore
Contact:
Address:
Blk 78 #02-25
500 Upper Jurong Road
Singapore
638367

Opening hours:
Tues-Sun 10am-6pm
Price:
up to
Do you own this business?