Five reasons to check out the Wonder Full light and water show at Marina Bay Sands
Lasers, light, graphics and jets of water make Marina Bay Sands' 'Wonder Full' a bona fide waterfront spectacle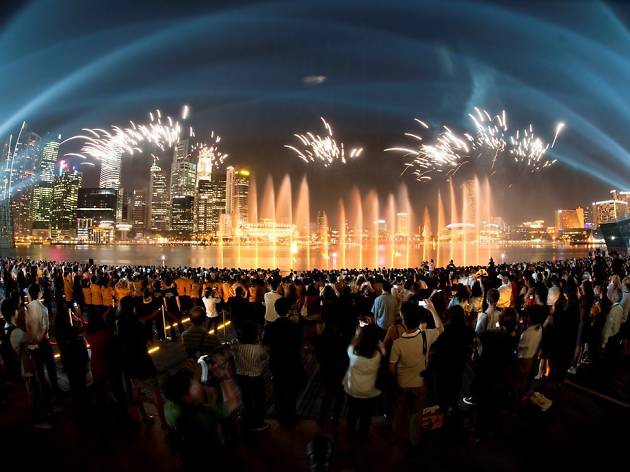 At least twice a night, the Marina Bay waterfront comes alive with gleaming lasers, billowing water fountains and flashing pyrotechnics, all set to a moving orchestral soundtrack. These are just the sights and sounds of Wonder Full, the award-winning light and water show by Marina Bay Sands that made its debut in February 2011.
The show tells the story of Singapore through a visual spectacle you'll be Instagramming in no time. It's one of the highlights of a stroll along the promenade. Here's more about the dazzling display.
Wonder Full is the largest light and water show in South-East Asia
The multimedia extravaganza you see today is the fruit of the labour of more than 100 experts across three years. The production of this show is helmed by Australian-based company Laservision, which boasts a stunning track record of large-scale displays such as A Symphony of Lights at Hong Kong's Victoria Harbour – crowned as the largest light and sound show on Earth by the Guinness World Records. And the largest laser attraction in the world, Night's Light in the South Korean theme park Everland, is also Laservision's brainchild.
An insane amount of technology goes into this show
As you'd expect, a production the scale of Wonder Full features a wealth of cutting-edge technology. We're talking about a 7.1 surround sound system – that's cinema-worthy sound right there – nine HD video projectors, and 18 fountains that can jet up to heights of over 20 metres to form three enormous water 'screens'. There's also half a million watts of light used for the 13-minute show, but no worries, eco-warriors – most of them are energy-efficient LEDs.
The soundtrack is the work of local talent
Lovers of homegrown music will appreciate the stirring orchestral accompaniment to the visuals – it's put together by the late Singaporean composer, Cultural Medallion winner and all-round musical icon Iskandar Ismail. You've definitely heard his tunes before. He's the man behind the music for several National Day Parades since the '80s. Also on the line-up are violin prodigy Gabriel Ng, singers Joakim Gomez and Amni Musfirah, and conductor Darrell Ang. (Just one non-local concession, though: the track was recorded in Bratislava, Slovakia.)
Wonder Full has many titles and awards under its belt
If you're trying to sway your friends from overseas to catch the show, bust out Wonder Full's list of accolades. It's officially recognised by the ILDA (International Laser Display Association) as the Best International Multimedia Show, while also being heralded as one of the top South-East Asian tourist attractions by the Association of South-East Asian Nations Tourist Association. And that's not mentioning a gold star from the Pacific Asia Travel Association for the show's 'Contribution to Culture'.
It's absolutely free
Despite all the work that has gone into Wonder Full, the show is, surprisingly, free. Whether you're a tourist exploring the heart of the Little Red Dot, a shopaholic making your rounds at The Shoppes, a family with kids clamouring for more excitement, or a couple out on a stroll after dinner, Wonder Full is a great way to take a break and enjoy a breathtaking show before calling it a night.
Marina Bay Sands Event Plaza. Mon-Thu & Sun 8pm & 9.30pm; Fri & Sat 8pm, 9.30pm & 11pm. Free.