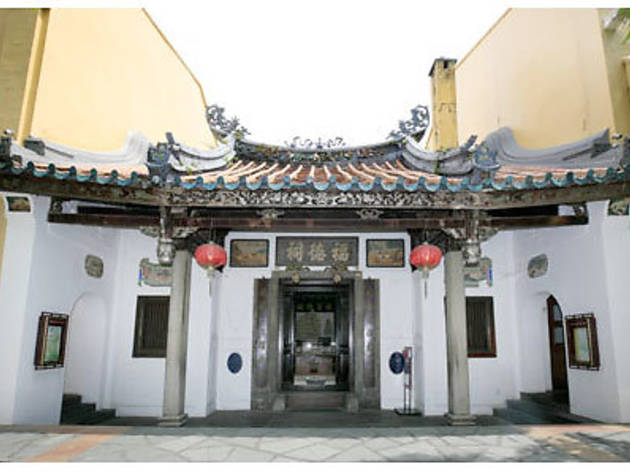 Formerly, this quaint Chinese museum was one of the oldest temples in Singapore, set up by Hakka and Cantonese immigrants in the early 1800s, before becoming a clan association clubhouse that served both dialect groups. Today, it is Singapore's first street museum, where visitors can view artefacts donated by residents of Chinatown.

This building was originally a Buddhist shrine, built in 1824 and said to be the oldest Chinese temple on the island; it later became a centre for the Hakka and Cantonese communities. The religious functions were eventually moved elsewhere as the building became dilapidated, and in the 1990s the place was restored and converted into a 'street museum'.

Upon entering, two imposing Chinese deities greet us at the doors. Ally Wong, the museum representative, tells us that they symbolise 'the Door God' which, according to Chinese folklore, wards off evil spirits. Seeing as the Door Gods were our only companions on our visit, they appear to have warded off the museum-goers as well.
A shame, since there's plenty to see at this heritage hub. Jam-packed with over 200 artefacts and exhibits, it aims to portray the everyday lives of early Chinese immigrants. Among the collected items are old abacuses, a Rediffusion radio and even the iconic Singer sewing machine that was once a standard issue in Chinese homes.

Wong's hope is that through the museum, 'the older generation can relive the nostalgia and the younger generation gets a glimpse of their ancestors' way of life'. Well worth braving the Door Gods for.
Venue name:
Fuk Tak Chi Museum
Contact:
Address:
Far East Square
32 Pekin St
Singapore
048762

Opening hours:
10am-10pm
Price:
FREE
Do you own this business?