The best things to eat at Geylang Serai Bazaar 2017
It's that time of the year again where we stuff our faces with sinful street snacks from Geylang Serai Ramadan Bazaar
Different year, same agenda – as the fasting month rolls around, the Geylang Serai Ramadan bazaar is (mostly) on everyone's list. Whether you're there for the food or shopping for last-minute Hari Raya outfits, get ready to plough your way through the crowd and brace the heat.
And what's a visit to the annual bazaar without trying the most-hyped street foods? We prepared our bellies to bring you a list of this year's hits and misses. Warning: loads of rainbow- and unicorn-inspired treats ahead.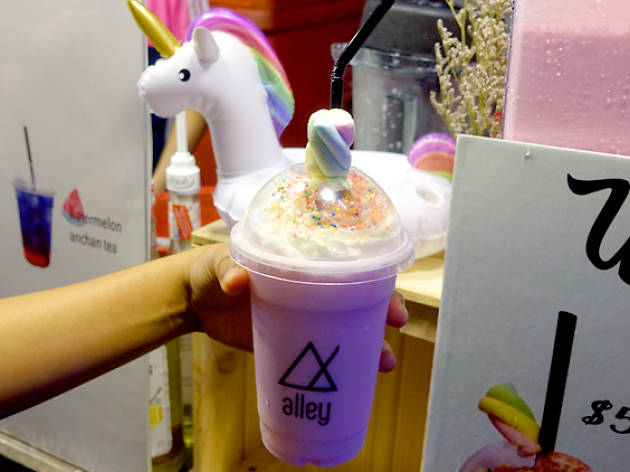 Unicorn Drink by Alley ($5.50)
What it is A Thai iced pink milk drink that's covered in a mountain of whipped cream, complete with a handful of colourful sprinkles and rainbow marshmallows.
Verdict Other than looking aesthetically pleasing, there's really nothing special to it. You're better off saving that cash for a beverage from a regular drink stall – or better yet, swap it for a cup of bandung.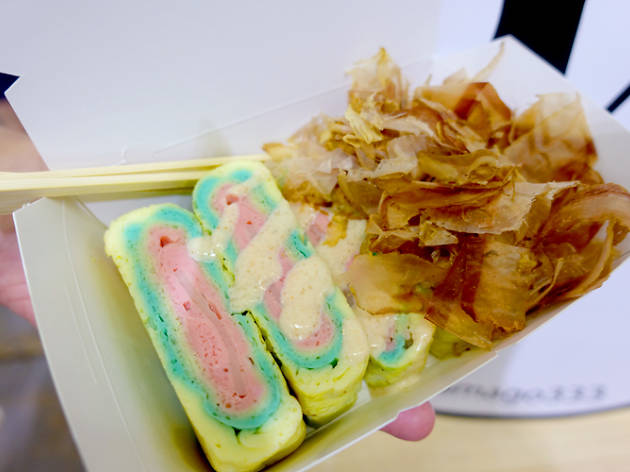 Rainbow Tamagoyaki by Wa!Tamago ($6 for five pieces)
What it is A colourful version of the Japanese egg roll, with a chicken ham-filled centre. Add on toppings like toasted seaweed, bonito flakes and crispy chicken floss, before finishing it off with your choice of sauce, which includes savoury mayo, mentaiko mayo, nacho cheese and wasabi mayo.
Verdict If you like eggs, then here's where to park yourself at. These perfectly rolled pastel creations are sweet and melt easily in your mouth.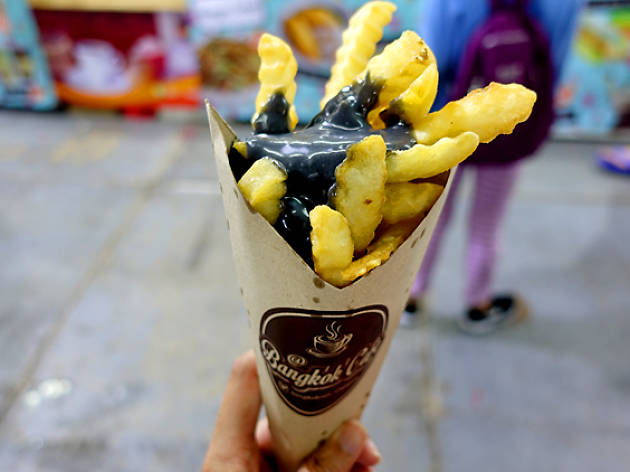 Fries with charcoal mayonnaise by Bangkok Café Singapore ($5)
What it is Freshly baked crinkle cut fries doused with a considerable amount of charcoal mayonnaise. For an extra 50 cents, you can add either cheese, barbecue or tom yum flavours to your carbs.
Verdict Don't call us out for going wide-eyed at a charcoal-flavoured sauce. It's slightly tangy in comparison to your usual white dressing, but trust us, you can't go wrong with a fries and mayo combo.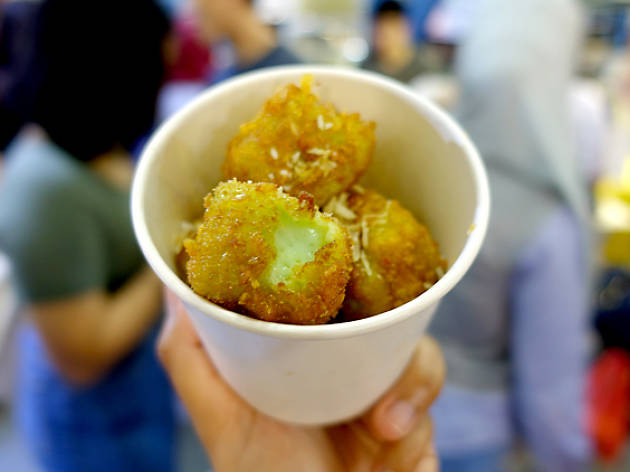 Fried milk bites by Milk Bites ($5 for six pieces)
What it is A custard-like dessert that's breaded and then deep fried. The menu offers the fried milk bites in flavours like original, pandan and Thai milk tea, which are then drizzled with either salted caramel, gula Melaka, condensed milk or chocolate.
Verdict Old-school and familiar snacks never disappoint, so this one was definitely one of our favourites. These sweet, golden nuggets burst in your mouth, leaving you all warm and happy on the inside.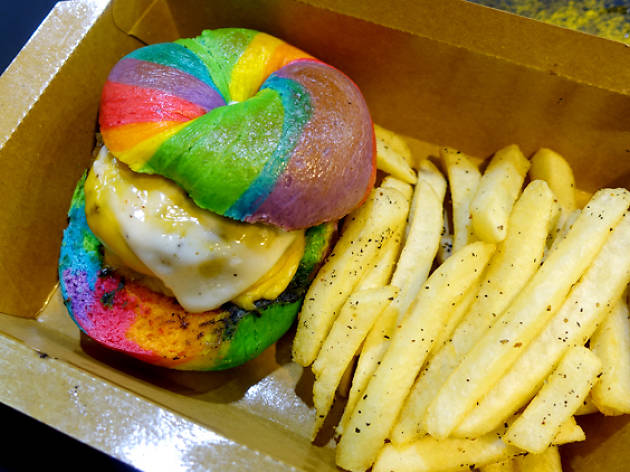 Handsome Burg by Word Café ($8)
What it is From the creators who brought you rainbow bagels at last year's bazaar, Word Café gives the colourful sweet treat a savoury upgrade. Gooey marshmallows and rainbow sprinkles are replaced with a thick and juicy beef patty that's smothered in cheese and mayo. Beware: it gets messy – the good kind.
Verdict For us, the sloppier the better. And while this one's no Ramly burger, we appreciate how tender and flavourful the patty was. The side of black pepper fries could do better, though.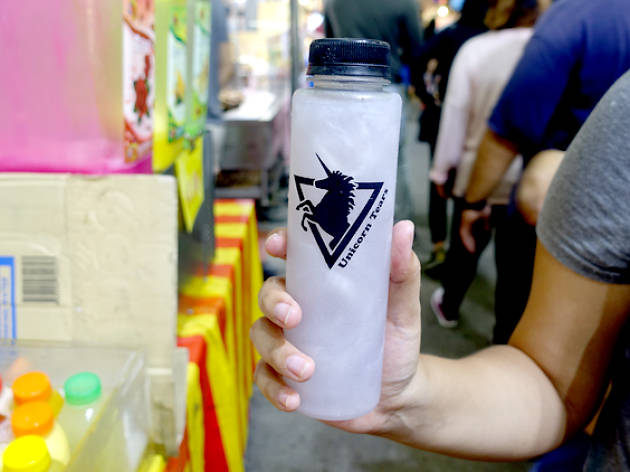 Unicorn Tears by Lost Unicorn Tears ($6)
What it is This is how we'd imagine the elixir of life would look like. Choose from magical popcorn, beauty, fairy, berry and bubble – they're all just fancy names for fruity flavours such as strawberry, kiwi, blueberry and bubblegum.
Verdict The sparkly liquid easily gets plus points for being pretty. Taste-wise, it's not exactly a thirst-quencher, but it's neither too sweet nor is it fizzy, so there's that.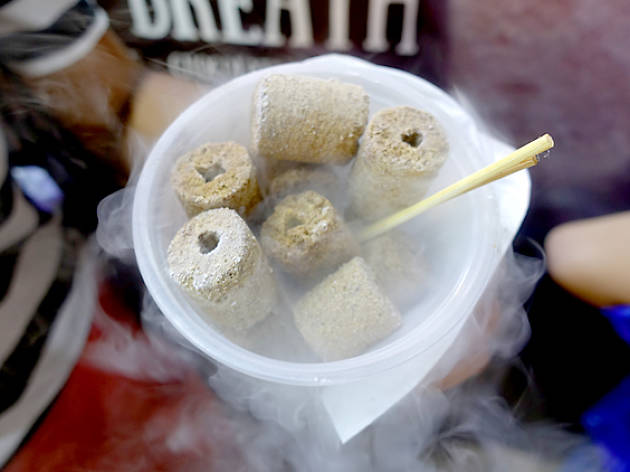 Dragon's Breath by Mr Q ($5)
What it is Bite-sized corn stick cookies that come in three flavours: strawberry, chocolate and chocolate banana, dunked in liquid nitrogen.
Verdict Just like last year's trend of ice cream rolls, we had to find out what's the deal behind all the long queues at these Dragon's Breath booths. Sad to say, we were quite disappointed. Compared to the meringue version, these cookies were almost tasteless. At least the cold air erupting from our mouths and noses was amusing.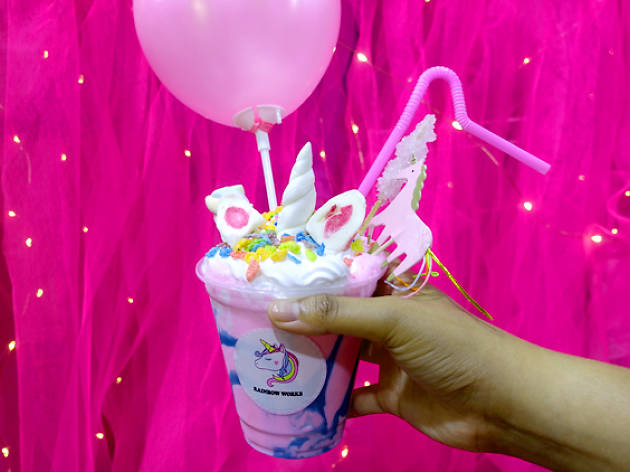 Starlite Milkshake by Rainbow Works ($9.90)
What it is Marshmallows, Fruity Pebbles, sugar crystals on a stick, syrup and lots of whipped cream finish this bright pink and creamy milkshake. It's even topped off with a balloon. Yep. You know, just in case it wasn't attention-grabbing enough already.
Verdict Get it for the 'Gram. And unless you actually enjoy the sugar rush, you'd wanna split this with a friend (or two).