There's plenty to look forward to as the year ends: school holidays, Christmas celebrations and New Year's Eve parties. With summer all year round, Singapore is far from your typical winter wonderland. Instead, it's a tropical paradise for some fun under the sun, especially during the holidays. Break free from the usual routine and make the most of the festive period with an alternative outdoor experience – an offshore escape at Marina at Keppel Bay.
Right by Singapore's southern shores, the luxury playground on the water gives you the perfect excuse to cruise. Charter any of its incredible yachts and be the captain of your own adventure. Bask in magnificent views with the refreshing sea breeze in your hair as you navigate the waters around the islands.
Otherwise, expand your itinerary with its bespoke offshore and onshore offerings. Slap on some sunscreen for fun water activities, host cool waterfront parties and dine at the picturesque restaurants at Marina at Keppel Bay. Whether with friends or family, here's what you can expect on a day out.
In the morning...
At dawn, spend time onboard the star of Marina at Keppel Bay: The Admiral. The designer-fitted marine treasure is a Grand Banks 52 Europa yacht that fits up to 20 people. Delight in its deluxe interiors, spacious lounge spaces and an impressive saloon that provides stunning views from helm to afterdeck. Shake off that worry about motion sickness. Expect nothing but smooth sailing as the yacht comes with a dynamic stabiliser. It's also equipped with family-friendly entertainment options including toys, fishing tools and kayaks to keep the young and the young at heart busy by the water.
Come afternoon...
Explore the idyllic southern islands of Singapore with a slow cruise, make a pitstop and enjoy a refreshing dip at Lazarus Island or kayak to the sandy beaches to build sandcastles and picture-perfect memories. If that got you working up an appetite, then satiate those hunger pangs at any one of the waterfront restaurants. Tuck into delectable Italian dishes at Ristorante Palermo, savour the Japanese flavour at Sushi Jiro, get your fresh seafood fix at Bayswater Kitchen, and indulge in classic Western favourites at Prive at Keppel Bay. Nothing like tantalising the taste buds alongside stunning views by the waterfront.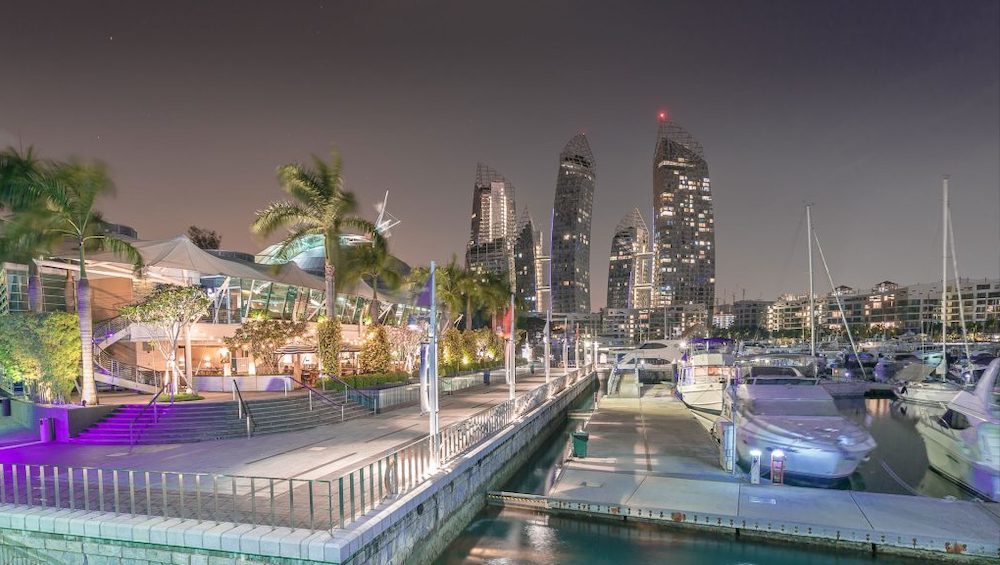 When night falls...
Planning date night with that special someone? The Admiral does romance too. Enjoy an intimate evening cruise at sunset while soaking up the surrounding sunkissed landscapes. Then sail towards Sentosa for the spellbinding pyrotechnics showcase, Wings of Time, before popping the champagne cork at one of the romantic waterfront restaurants. Cap off the beautiful night by clinking glasses by the calm waters – cheers!
No matter what voyage you embark on with Marina at Keppel Bay, you're in for an unforgettable treat. For more information, visit marinakeppelbay.com. Alternatively, call 6303 8448 or email enquiry@marinakeppelbay.com.