How to have a hen night in Singapore
Bubbling with oestrogen-fuelled excitement in the run up to a wedding? Katherine Arteche maps out three ways to help brides-to-be ring out singlehood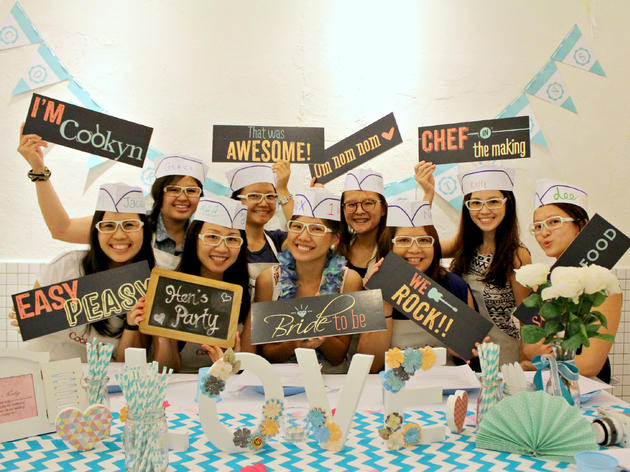 For that last flawless night
For a pre-game purty up, book a session at The Pink Parlour. At $83 per person, their primp packages include a manicure, salmon canapés and other finger food to nibble on, plus a complimentary Brazilian wax for the queen of the night.

If you want to go wild, unleash your inner burlesque girl at Bobbi's Pole Studio. Gather your girlfriends and get together to learn a dance pole routine with accompanying costumes centred round a theme of your choice – Sexy Mafiettes, Cabaret or Bedroom Secrets – at $38+ per person for a party of six to 14 ladies.

Better yet, have your whole night planned out at The Quincy Hotel, which offers a Girl's Night Out Package at $768++. Perfect for four girlfriends, two studio rooms are yours to call home for the night, and they come with all-day refreshments, evening cocktails, a movie night by the hotel pool (if you're staying in on a Saturday), and a bottle of champagne for some bridal cheer. To top it all off, a one-stop limousine ride is also at your service with free entry to The Butter Factory (for avid party-goers) and one complimentary drink each at its Art Bar.

If you've got a bus-load of friends ready to paint the town red, just book a bus instead. City Tours rents out double-decker open top buses that give you the space to execute that appropriate arm-raising holler as you hitch a ride through the most beautiful sights around town at $750/ three hours (it also includes dinner and a coordinator).
For something more civilised
If your idea of a successful hen's night consists of good, clean fun and bonding with your bridesmaids-to-be, plan a tamer evening with services like Cookyn Inc ($100 per person). The Rangoon Road kitchen can organise an all-hens cooking session that comes with a kitchen crew to help you cook up a hearty meal to take home. Recommended for a group size of at least ten, they've got free-flow servings of non-alcoholic drinks available throughout the session; and when you're ready, a bottle of wine reserved for the special celebrant.

If you're hankering for more alcohol, try a cocktail workshop organised by Drinkdings ($60 per person for a group of ten) which hosts bubbly hen parties and can coach you on how to shake up some tasty cocktails.

Alternatively, if you're keen on simply being pampered, Estheva has a body massage and aromatic oils for a bridal party of six in their three-hour long spa party for $535. Have your face refreshed and knock out those pre-wedding jitters by coating yourself in that post-spa glow.

Of course, smelling good is key as well, so if you want to dabble in aromatic concoctions as you craft your own signature perfume, head to fragrance experts Nose Who Knows, which offers two hour-long packages ($70-$130 per person) to choose from. With a party of five to 25 persons, experiment in olfaction workshops as you concoct your signature scent that you get to bring home priced at $15 a sample.
If you're going the DIY route or hosting the party at an apartment, you'll need more than the regular buntings, streamers and pretty napkins to make it truly hen-veanly. Create the hen-night feeling by donning a rhinestone-studded 'Bride-to-Be' sash ($14), and get your gal pals to throw in some, er, penis-shaped confetti ($12) to spice up the festivities, which can be found at Hen House or Wicked Favours. Also available are 'COCKtail' mixers ($25) and other naughty props and punny miscellanea like 'Suck for a Buck' tees ($29.90) and a 'Pin the Cock on the Jock' boards ($26.90).

Props aside, plan a few bridal party games such as exchanging dirty little secrets in daring challenges and a scavenger hunt, where you may have to enlist the help of random men to complete the list by collecting business cards or scoring free drinks.

And because no party should do without a cake, why not arrange for anatomically-minded confectionary for the hen's do? You can pre-order a jumbo pecker cake ($40) from Hen House, or hit up the folks at adorable online bakery The Production Kitchen by Jacqui Co, who take erotically-shaped cake customisation orders. Perhaps you'd like a shaft-like replica with oozing whipped cream and a cherry on top? No problem. The cakes are made with a rainbow inner, but feel free to state your preference. Spanning seven inches to a foot long, they're enough to feed up to 72 ladies ($75-$335). If that's too much of a mouthful, they also make bite-sized cupcakes ($3.50-$3.75) in flavours like salted caramel, with an option of a fancy fondant topper for $2.80 each.

Finally, what's a hen's night without strippers? Yes, if you're hungry for some Magic Mike action, make that fantasy come true and grab your own dancing man online at Pricks and Licks or Wicked Favors, who promise to deliver only a well-toned, cleanshaven and fun-loving testosterone build with handcuffs at the ready. Prices range from $350 for an Asian or $450 for a Caucasian man for a 20-30 minute performance, with a top-up of $150 for the full monty.