See the Civic District come to life once again with a slew of vivid artworks, music and literary performances during the second Light to Night Festival 2018. The fest's theme this year is Colour Sensations and it spans 10 days across various cultural institutions and parks in the area. Watch out for exciting events at the National Gallery Singapore, Asian Civilisations Museum, The Arts House, Victoria Theatre and Victoria Concert Hall, Esplanade – Theatres on the Bay, the Padang, Empress Lawn and Esplanade Park – there's so much going on you can spend the whole day in the area without ever letting out a yawn.
Running from 10am 'til midnight (on weekends), the festival offers more than 30 programmes that range from art installations and guided tours to kid-friendly activities. So buckle up, we show you how to spend 14 hours in the Civic District without ever having to leave the precinct.
MORNING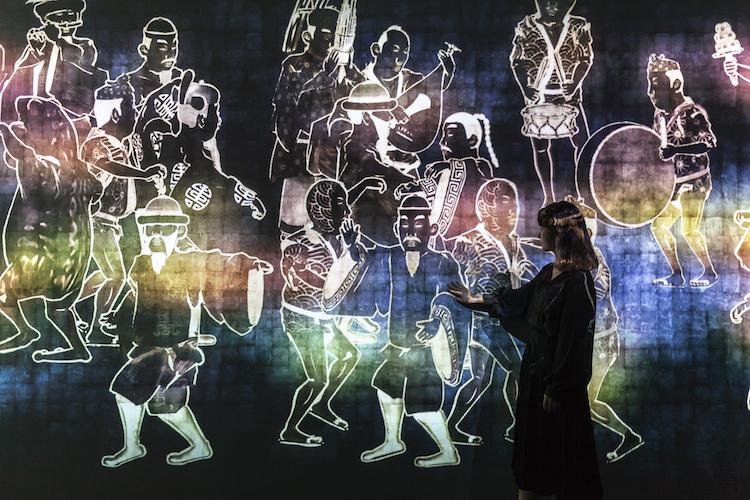 Walk, Walk, Walk: Search, Deviate, Reunite. Photo: Teamab
Enter Teamlab's magical world at National Gallery Singapore
Kick things off bright and early at National Gallery Singapore. Held at the museum's Ngee Ann Kongsi Concourse Gallery are two immersive installations by renowned Japanese design collective, Teamlab – the same people who brought you the high-tech and Instagrammable artworks at Future World. Let your imagination run wild as you're engulfed in light and sound in Walk, Walk, Walk: Search, Deviate, Reunite, or be draped in digital flora in Flowers and People ­– Dark.
AFTERNOON
Get tripped out in a life-sized kaleidoscope
At the Empress Lawn, step into the House of Mirrors by Melbourne artists Christian Wagstaff and Keith Courtney. The maze installation – made out entirely of mirrors and steel – plays with geometric design to create spellbinding illusions with your reflection.
Discover the Civic District through a walking excursion
On Fridays and Saturdays, go on a Civic District tour and learn more about the area's development over the decades and the history behind each building. Tours start at 5pm and 6.30pm and last at least an hour.
EVENING
Have a sunset picnic at The Padang
Spread yourself across The Padang for a picnic under the stars. Bring along a mat, some snacks and the whole family as you soak in the view of the district as the sun begins to set. No time to pack 'em munchies? Don't worry – there are plenty of F&B pop-up stalls whipping up finger foods to fuel the tummy.
Sit back and enjoy a multimedia projection show on the façades of iconic landmarks
The Civic District is home to the National Gallery Singapore, The Arts House, Victoria Theatre and Victoria Concert Hall, and the Asian Civilisation Museum – and you can watch the exteriors of these cultural monuments transform into a colourful canvas thanks to a visually appetising mapping projection. Happening every night from 8pm, the light spectacle – presented by local audio-visual collective Syndicate – combines the works of 30 artists and is played on a hypnotising loop all night long.
The best part? You can be part of the art too. Help illuminate and morph the look of National Gallery Singapore's facade in a series of interactive shows by Spinifex Group that reacts to the audience's movement, shadows and energy.
Stroll through Esplanade Park
Go on a breezy, romantic walk through Esplanade Park and transport yourself to another world. Think twinkly lights and lamp posts that glow in hues of blue and purple. Make sure to walk through the park's tunnel – the historic underpass is given a fresh new look that's definitely worth a snap.
Chill out to live music at Esplanade – Theatres by on the Bay
After all that visual feasting, get ready to unwind for the night with music offerings from up-and-coming homegrown talents. Sway to soothing dreampop and hazy folk tunes or headbang to energetic rock 'n' roll sets as you jam to the sounds of Cosmic Child, Karmahead, Test the Divide and more.
National Gallery Singapore's opening hours will be extended over the two weekends! Be sure to drop by and enjoy complimentary admission to all exhibitions including our special exhibition Century of Light.
Light to Night Festival is from January 19 to 28, happening across various venues at the Civic District. For more information, check out lighttonight.sg. Admission is free.