Heads up! We're working hard to be accurate – but these are unusual times, so please always check before heading out.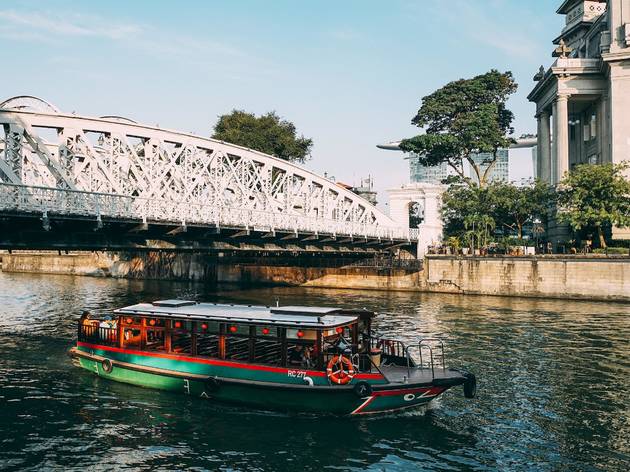 Interesting stories behind the bridges along the Singapore River
Discover fascinating facts about the historic Cavenagh, Anderson, Elgin Bridges, as well as the newer ones
At the heart of many great cities is a mighty river flowing down gently – and for this Lion City, it's the Singapore River. Spanning the iconic river are many historic bridges, connecting the Civic District to the Comercial District, Clarke Quay to Boat Quay, and more. Three of the most architecturally impressive bridges – Cavenagh, Anderson, and Elgin Bridges – were most recently collectively gazetted as Singapore's 73rd National Monument. But beyond their grand facades are stories waiting to be uncovered, from the many facelifts to a dark past.
RECOMMENDED: The popular myths and legends of Singapore and fun facts you didn't know about Singapore's MRT stations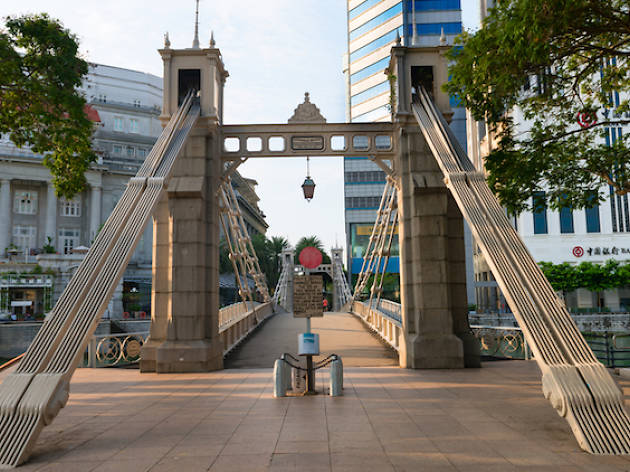 Photograph: Shutterstock
The title of 'the oldest bridge in Singapore that exists in its original form' is none other than Cavenagh Bridge. The city's only suspension bridge links the Civic District on the northern bank to the Commercial District on the southern bank of the Singapore River. Built in 1869, it was originally named Edinburgh Bridge after the Duke of Edinburgh's visit. But it later became Cavenagh when it was named after the last India-appointed Governor of the Straits Settlement, Sir Orfeur Cavenagh. The Cavenagh coat of arms and original signages still stand at each end of the bridge that's still used by pedestrians. Based on the vintage police notices that are still up, no vehicles – even cattle and horses – are allowed to cross to this date.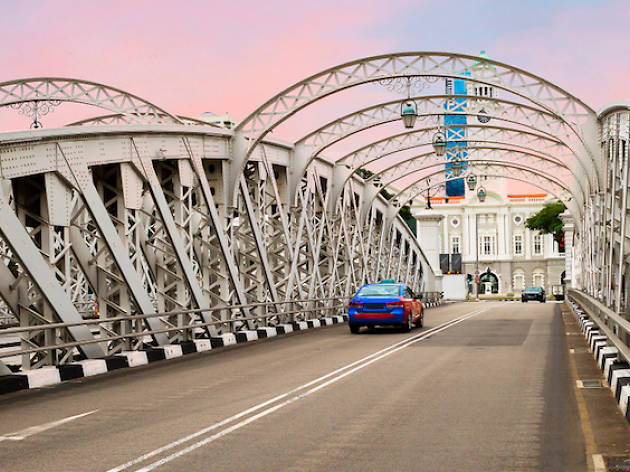 Photograph: Shutterstock
Completed in 1910 and named after then Governor of the Straits Settlements and High Commissioner for the Federated Malay States, Sir John Anderson, the steely exterior of Anderson Bridge looks like something out of a dystopian flick. It has a morbid past too. Before becoming part of the famous F1 Singapore street circuit, it had severed heads of spies and criminals hung around it by soldiers during the Japanese Occupation as a deterrent.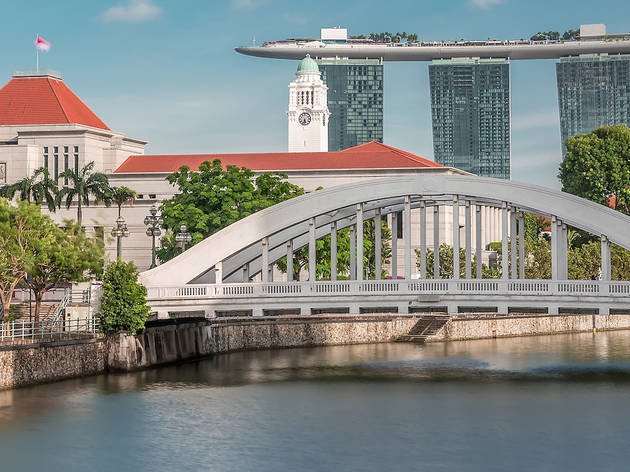 Photograph: Shutterstock
Opened to traffic in 1929 in its final concrete form, this bridge actually dates back as early as 1819 when Sir Stamford Raffles arrived on our shores, making it one of the oldest bridges in Singapore. It started as a wooden footbridge and the only bridge to cross the Singapore River, linking the Chinese on the south bank and the Indians on the north bank. It was then replaced with a temporary wooden drawbridge named Presentment Bridge, which was also known as Jackson Bridge and affectionately as Monkey Bridge as it was narrow and required monkey-like agility to get through the crowd. An iron bridge from Calcutta was then installed in its place in 1862 and was named after the 8th Earl of Elgin and Governor-General of India, James Bruce. The final product is today's concrete version, decked with cast-iron lamps created by Italian sculptor, Cavaliere Rudolfo Nolli.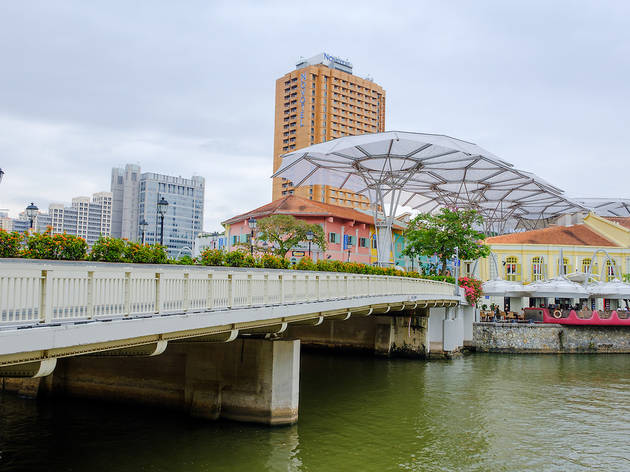 Photograph: Shutterstock
Located at the heart of Clarke Quay, the beam-structured Read Bridge has some memorable tales to tell. Completed in 1889, the bridge was named after William Henry Macleod Read, a prominent figure in Singapore and Consul to the Netherlands back in the 1800s. Besides its official name, it has been referred to the Malacca Bridge – given its proximity to Kampong Malacca at Merchant Road – and the Green Bridge due to its colour during that period of time. But most commonly, it's known as The Bridge, a popular meeting and drinking spot among night revellers. It was also once a spot where labourers and tongkang rowers gather to listen to Teochew storytellers.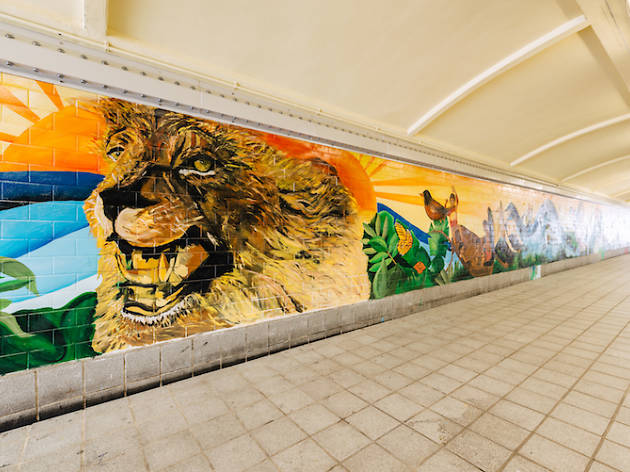 Photograph: Ahmad Iskandar Photography
Known for its underpass which features colourful murals of Singapore's past including figures like Sang Nila Utama, the Srivijayan prince who gave the city its roaring name, Coleman Bridge is designed by – and subsequently named after – the city's first architect, Irish-born George Drumgoole Coleman. However, due to its construction, the bridge has undergone a couple of facelift since 1840. First, it was a brick bridge joining Old Bridge Road and Hill Street, and had nine arches. Then, it was replaced by an unstable timber bridge that led to its early demise 20 years later when an iron bridge stood in its place for a century. It was finally demolished in 1986 to make way for a concrete version which features the lamp posts and iron railings – as a reminder of its early days.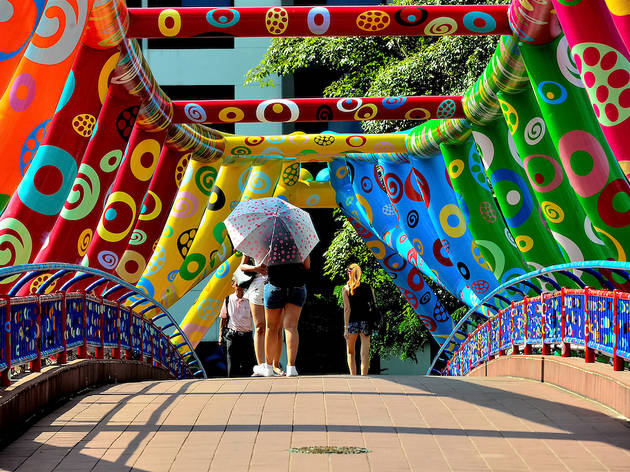 Photograph: Shutterstock
Named after a prominent Arab family, the kaleidoscopic Alkaff Bridge was opened to the public in 1999. The tongkang-shaped pedestrian bridge is easily spotted by its vibrant hues, which in turn gave its alternative name: Singapore Art Bridge. But it didn't earn its colourful stripes until 2004 when Filipino artist Pacita Abad and a team of rope pros bathed the bridge in 55 different shades. The bridge is also one of the most popular spots in the city for that Instagram money shot.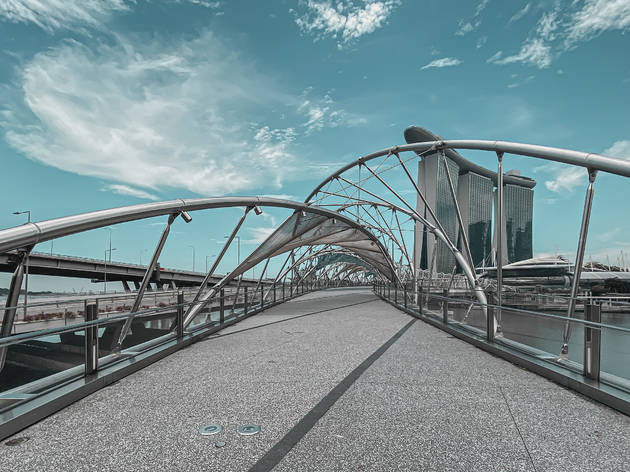 Photograph: Kashmira Kasmuri
Not by the Singapore River per sé, but this stunner is worth a mention. Opened in 2010, the Helix Bridge aptly looks like something out of a sci-fi film with its futuristic design. It's designed by local and Australian architects to mirror the double-helix model of DNA. Canopies made of fritted-glass and perforated steel mesh are built along sections of the inner spiral to provide shade from the beating sun or heavy rain. The bridge links the Marina Centre with the Marina South, and has four viewing platforms for pedestrians to catch stunning views of the Singapore skyline. Come night time, it lights up as an illuminated double-helix-like structure – complete with pairs of coioured letters 'c' and 'g', and 'a' and 't' to represent the four bases of DNA cytosine, guanine, adenine, and thymine – creating a visual experience for pedestrians. The Helix Bridge is also featured in HBO sci-fi drama series Westworld Season 3.
Discover more about Singapore