Itinerary for the active traveller
This one's for all you fitness buffs. Pump up your holiday into overdrive with our list of sports and wellness activities to keep you busy from day to night
Morning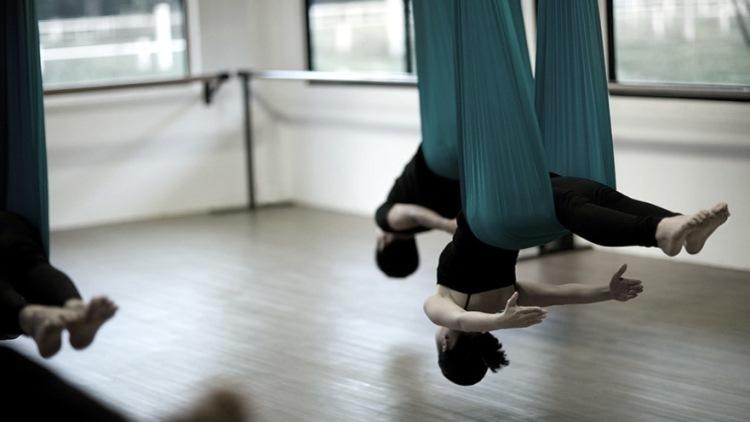 Start the day right with yoga, surfing exercises, or a combination of both
SUP School
Stand Up Paddle (SUP) is pretty self-explanatory: you stand on a surfboard and use a long paddle to skim the water. But don't let its simplicity fool you – it's a great core workout while you soak up the sun. Stretch and strengthen your muscles with basic classes that teach you safety, balance and proper paddling form, then move on to specialised ones like SUP Yoga/Fitness and SUP Pilates/Core, where you combine balancing on a board with yoga moves.
Tanjong Beach, Sentosa (9638 5565, supschool.com.sg). HarbourFront MRT. By booking only, but walk-ins are welcome when classes are in operation. Prices from $60/hour for groups, $80/hour for one-on-one lessons; board rentals from $10.
Upside Motion
With plenty of classes to choose from, including Pilates, cardio workouts and even anti-gravity exercises with silk hammocks, the sessions here are all about challenging your core strength, sculpting your body into a long and lean physique and boosting your metabolism with a high-energy fusion of dance styles.
Two locations, including #02-03, 36 Armenian St (6636 6859, upsidemotion.com). City Hall MRT. See website for class schedule. Prices from $40.
Surfset Fitness
What's that, you say? You've got no love for the beach? Well then, what about an on-land surfing session at Asia's first Surfset Fitness studio? This workout routine imitates the body conditioning of wave riding, and the best part is, you'll be in the comfort of an air-conditioned space. Various classes on the RipSurferX board (it rises and falls just like one at sea) of differing fitness levels are available.
L3, 454B Joo Chiat Rd (9751 0793, surfset.sg). Eunos MRT. See website for class schedule. $35/class.
Afternoon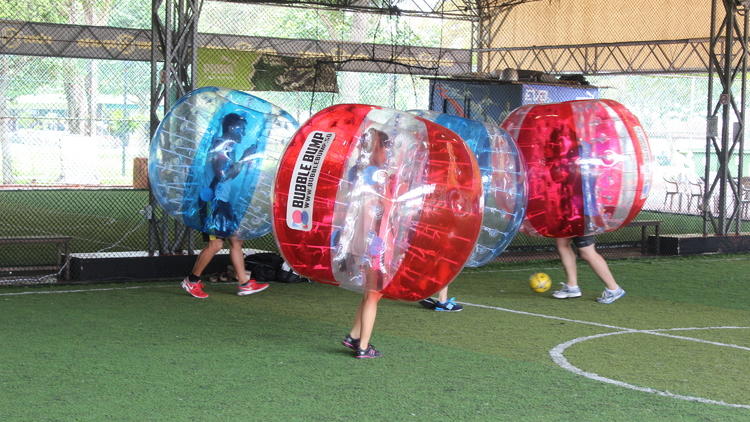 Now that you're all warmed up, kick things into high gear with these energetic workouts
Homerun Baseball
Batter up for an afternoon of batting and pitching at the West Coast baseball facility. It's pretty out of the way, so give yourself some time to get there and back. Set up by three baseball enthusiasts, the space provides four batting lanes with varying pitch speeds, as well as a pitching cage for you to practise your swing. All you have to do is purchase tokens and strap on a helmet to play.
#01-01/02/03/04, 200 Pandan Gardens (6635 6315, hrb.com.sg). Mon-Thu 1-11pm; Fri 1pm-1am; Sat 9-3am; Sun 9am-midnight. Prices from $20.
Bubble Bump
This one's a fun variation of football that the entire family can get into, even if you've got two left feet. Just wiggle into one of the huge inflatable rubber balls (they cover you from thigh to above the head), strap on for safety, and start bumping your opponents while attempting to score a goal. The balls work well as protective gear to cushion falls – just make sure you tuck in your knees before you hit the ground. Oh, and remember to make your booking in advance.
Various locations, including Zion Sports, 10 Seng Poh Rd. (6515 4146, bubblebump.sg). From $15/person.
Amped
At Singapore's first indoor trampoline park, over 5,000 sq ft of interconnected trampolines are available for you to bounce off the walls, literally. Execute perfect splits in the air, sharpen your parkour skills by running up walls, or try spinning and flipping into a foam pit. All ages are welcome – although there's a rest area for folks who tire out easily. Book in advance to avoid disappointment, and arrive at least ten minutes before your slot to check in.
Three locations, including #02-11 The Herencia, 46 Kim Yam Road (8228 5961, ampedsingapore.com). Mon 10am-7pm; Tue 3pm-10pm; Wed-Fri 10am-10pm; Sat 9am-10pm; Sun 9am-9pm.
Evening
Cool down with a dance class or a soothing evening at the spa
Tahiti Dance Fitness
Touted as Singapore's first studio that specialises in French Polynesian dance, Tahiti Dance Fitness was set up in 2009 by two Tahitian sisters who have decades of teaching and performing experience between them. You'll go from basic hip movements to choreographed sequences, all the while dressed in the pareo, a wrap-around, sarong-like skirt that they provide (but do bring along your own top). The classes promote self-confidence and are more about graceful dances than cardio exercises. And if you're the awkward type, don't worry – the sessions are only for women and are all about offering a safe space for self-expression.
#02-01 Greatwood Building, 43 Carpenter St (8374 8408, tahitidance.com). Clarke Quay MRT. Check website for class schedule.
ESPA at Resorts World Sentosa
If you've got the cash and you're willing to splurge, treat yourself to an evening of luxury at ESPA. Sure, it costs a pretty penny, but trust us, it's worth it. Stretching over 10,000 sq m, the hot and cold facilities include a Japanese-style onsen, a gym, a yoga studio, a crystal steam room and a café serving spa cuisine. Try the energy balancing body treatment, or go for the revitalising hammam cleanse for a more refreshed you. There are also various hydrating and soothing facials to choose from, along with hot stone body therapies, various massages, nutritional counseling and even naturopathic consultation.
Resorts World Sentosa. (6577 8880, rwsentosa.com). HarbourFront MRT. Daily 9am-10pm. Prices from $300.
g-Spa
This is pretty much the closest you'll get to a public bath – kind of like a Chinese hot spring resort. Treatments are more affordable here, so if you wish to pamper yourself without breaking the bank, this is the place to be. The locker rooms feature a hot pool and a sauna, while the common areas provide cosy couches with individual TV screens and an all-you-can-eat buffet. Try their natural healing therapy, or go for the Gateway to Vitality, a deep tissue therapeutic body treatment that aims to rejuvenate you.
#02-02, 102 Guillemard Rd (6280 8988, gspa.com.sg). Mountbatten MRT. Daily 24 hours. Prices from $52.