Mount Faber Nature Walk
Leaving the bustling city behind, Cherylene Chan wanders up and around Mt Faber to absorb the island's greenery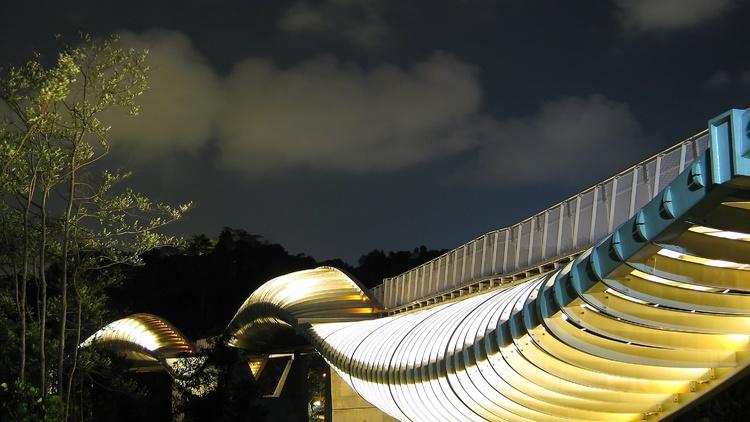 1. Starting from the foot of Mount Faber on Telok Blangah Road, hike up its narrow eponymous road past Faber Lodge (27 Mt Faber Rd), the hill's lofty red-brick condos. Press on till you reach the rough halfway marker of Singapore's third highest hill, where two telescope lookouts await. For a dollar, they'll grant visitors a three-minute panoramic view of the tankers and cargo ships dotting the glinting waters of Keppel Harbour, as well as Sentosa.

2. Hop across the road to Emerald Lodge (109 Mt Faber Rd; 6377 9688,www.mountfaber.com.sg), an alfresco bistro that serves Western dishes, nibbles and cocktails. While this barely lit restaurant is popular with lovebirds after sundown, it also makes for a hushed, laidback spot to recharge in the day. Rest your weary legs here under the shade of Mount Faber's lush foliage, and tuck in to chicken wings ($8.90) or chicken and broccoli linguine in basil cream ($13.50). Sipping on a chilled cocktail should leave you raring to go. Go easy, though; you wouldn't want your head spinning just yet.
3. Continue trekking up the slope to Faber Point. Under the summit's platform is a series of copper-tooled murals, each a snapshot of Singapore's history from the 14th century to the present. Circle around the platform for a crash course on Sang Nila Utama's encounter with the singa (lion), Raffles founding Singapore and its port, World War II, and our steady ascent to independence. The last stretch showcases Singapore's strengths, such as cultural diversity and booming industries. Even if you're not a history buff, or particularly patriotic, the dedicated handiwork makes these worth a pitstop.

4. The walk down Singapore's past ends at a short, winding staircase up to the pinnacle of Mount Faber. Cameratoting tourists are a common sight here, as the peak offers a bird's-eye view of Singapore's fast-changing skyline, surrounding islands and neighbouring countries' shores. Faber Point is like a compass – arrows radiate from its centre, pointing the way to places of interest, including the Botanic Gardens, and other Asian nations including the Philippines. A 3m-tall Merlion replica also stands here for tourists and snaphappy locals to strike a pose with.

5. When you're done relishing the scenery, hotfoot it down to the Jewel Box(109 Mount Faber Rd; 6270 8855). Formerly the Mount Faber cable car station, the area was refurbished into an opulent dining and shopping complex in 2005. Not that it matters – luxury isn't on the itinerary today. Instead, venture just past the Jewel Box to zigzag down the Marang Trail, a forested path leading back to HarbourFront MRT station. With its angular stairways and footpaths that run 70m (24 storeys) downhill, and the risk of getting conked by falling Angsana branches, it's not exactly a walk in the park, but you'll be rewarded with sightings of shy birds like the yellow oriole.
6. All that legwork from the 15-minute traipse back to civilisation must've worked up an appetite. Luckily, the options flow freely. Nip into VivoCity for a snack: we recommend staying green with Fruit Paradise's (#01-59; 6376 9978) fruit tarts (from $6.80), which come gratuitously stuffed with fresh cream. Still not hungry? Skip this step and make the most of this air-conditioned respite with a leisurely stroll down the waterfront promenade Sentosa Boardwalk (free for walk-in guests til Dec 2015), for the final stretch. If you're beat from a day up in the hills, feel free to stay put and allow the canopy-covered moving sidewalk to do the last bit of trekking for you.