Heads up! We're working hard to be accurate – but these are unusual times, so please always check before heading out.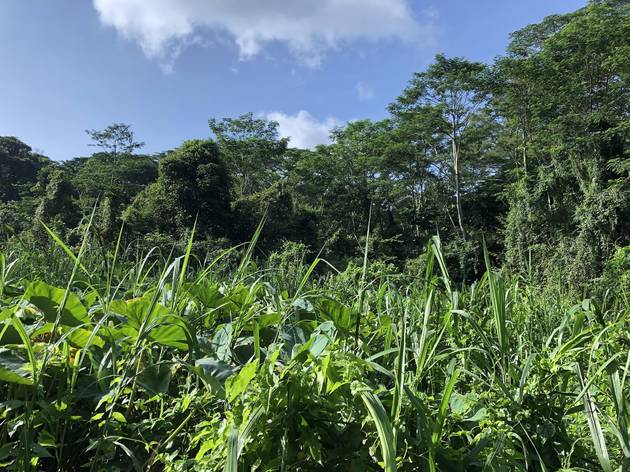 The best hidden trails in Singapore to explore
There's still a bit of Singapore that's undiscovered, just get on these hidden trails
There's a gritty, unpolished side to Singapore that lurks well beneath its glitzy surface – a side that most will never venture to. We explore abandoned areas, buildings and the places that are hard to get to, from WWII bunkers to forgotten landmarks so you can see them for yourselves. So if you think everything in Singapore has been discovered already, you best put on those trekking shoes and get out there in the wild (and natural) side of Singapore and do the discovering.
RECOMMENDED: The best secret and hidden parks in Singapore and the best hiking trails in Singapore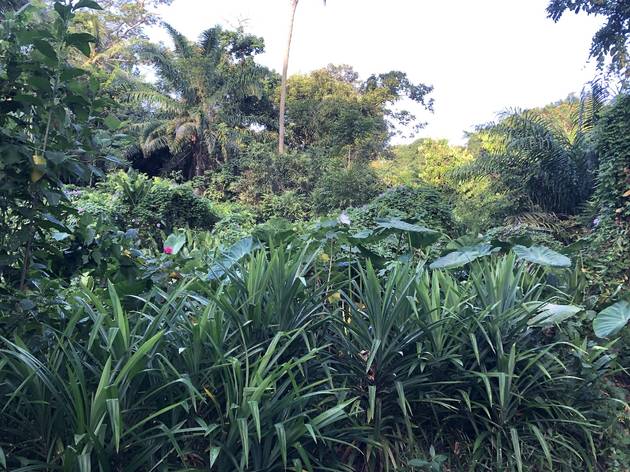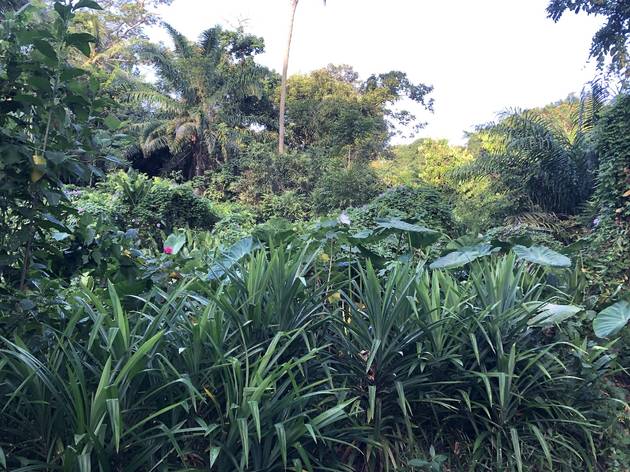 Photograph: Cheryl Sekkappan
Nearest MRT: Buona Vista
Dover Forest is a modest 33-hectare piece of land that is easily accessible from either Buona Vista or Dover MRT. It was part of a rubber plantation which was abandoned after World War II, and has been sitting untouched since the 1980s. Getting to the entry points is easy – it becomes a bit more of a challenge once you're in the forest itself. Thick undergrowth and random tree stumps have to be dodged around, and there are veiny roots underfoot that threaten to trip you at any moment. But the trek is well worth it – at some point you will emerge into open fields of green foliage, come across huge rubber trees, and spot some wildlife. This forest is home to 'critically endangered' and 'endangered' species of plants and animals though, such as the Asian softshell turtle, so tread lightly.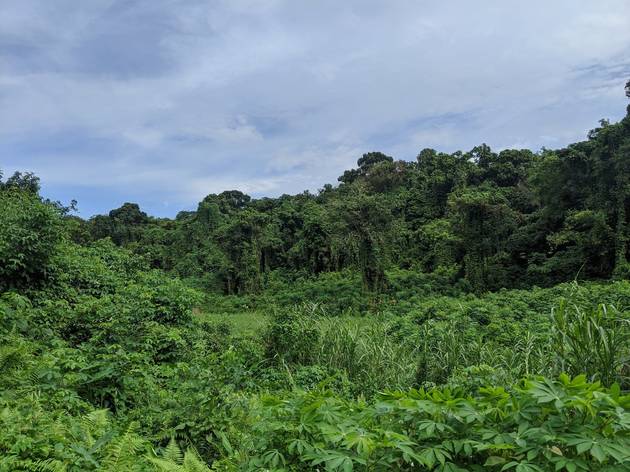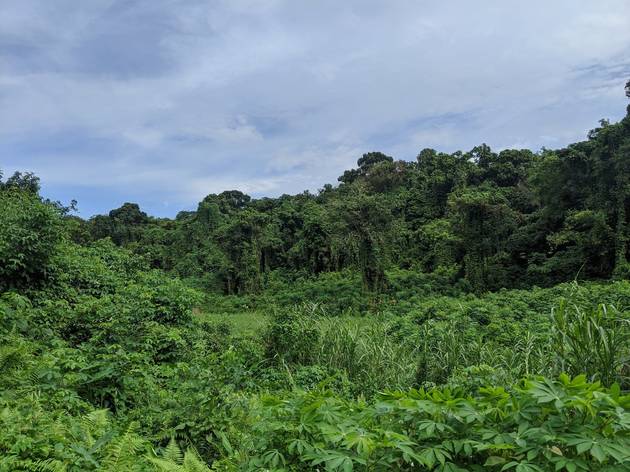 Photograph: Delfina Utomo
Nearest MRT: King Albert Park
The rail corridor was formerly a railway line that was used for commuting and transporting goods from Singapore to the rest of the Malay Peninsula. Today, the 24-kilometre route has been converted into a recreational path that brings you through some of Singapore's parks and reserves – as well as neighbourhoods. Discover the untouched Clementi Forest located 10 minutes away from the former Bukit Timah Railway Station – but be prepared to go off-trail. Hike through muddy paths and trails to see a sprawling valley, or trudge through thick vegetation to uncover old rail tracks that lead to the nearby Maju Forest. Pro tip: put on proper hiking shoes to navigate the muddy terrain and knee-length grass.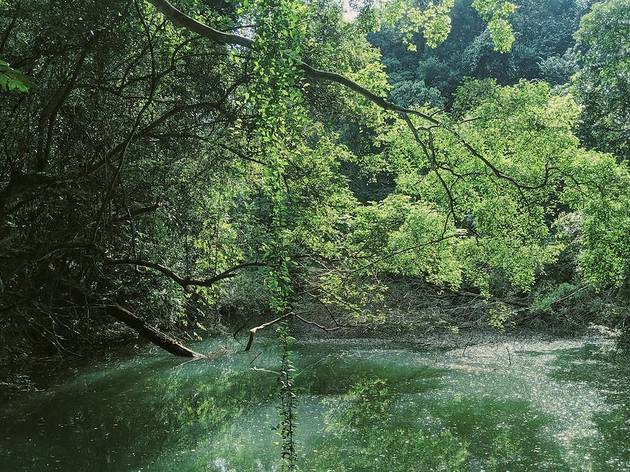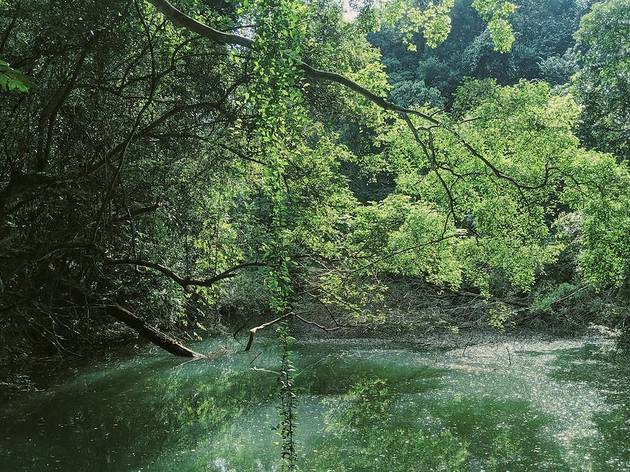 Photograph: Delfina Utomo
Nearest MRT: Harbourfront
If you're willing to go off the main path, bash through some super tall ferns and wild grass and get slightly scratched by thorny plants and stems to find the secret Keppel Hill Reservoir, you will be greatly rewarded. There's nothing like a challenging hike and the beautiful and in this case, elusive views at the end. Formerly used as a private reservoir in 1905 and then a swimming hole from the 1940s, the body of water was totally left out on official maps of Singapore from 1954. Start your trek on Keppel Hill Road before slipping into a man-made path which leads to the reservoir.
Nearest MRT: Tampines
Continue along the Pasir Ris park connector towards Tampines and you'll come across sprawling greenery formed by open grasslands, freshwater wetlands and a secondary rainforest. You'd never guess that this green space exists, wrapping around one of the most populous neighbourhoods in Singapore. Wade through the greens as you take on the walking trail within the sanctuary to uncover its rich biodiversity, featuring many species of birds, butterflies, dragonflies and spiders.
Sit on one of the rustic wooden benches while you admire the marshes and listen to the unique sounds of wild birds – and the expressway. No cycling is allowed in the park, though, but you can either push your bike along the trail or leave them at the designated parking spots nearby. There is also no public parking at the park so if you're driving, you have to park the car at the nearby HDB estate and make your way by foot. The park is mostly left untouched so you might need to put on some proper trekking shoes to conquer the – sometimes – muddy trails and bring along some insect repellent for pesky mozzies.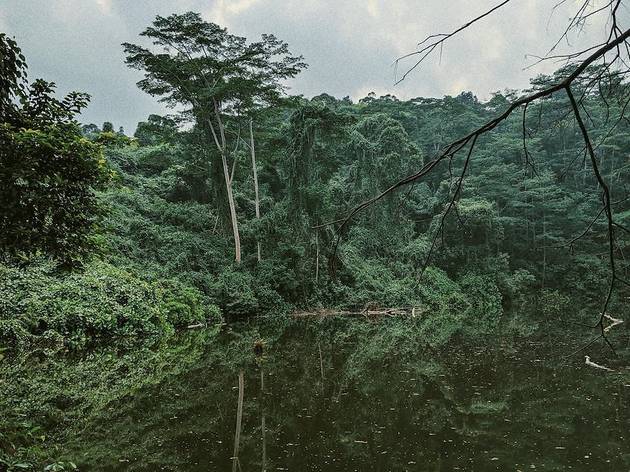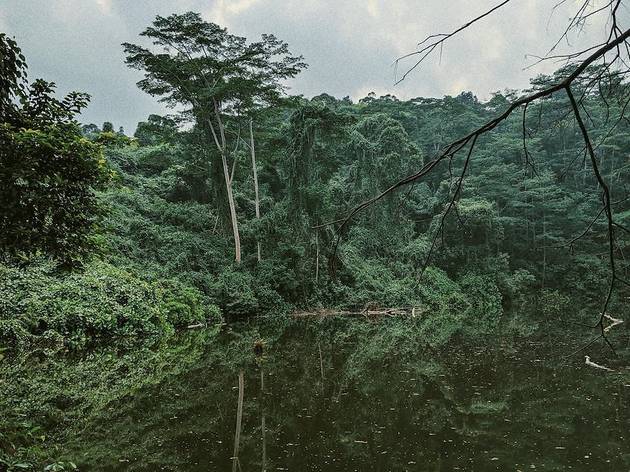 Photograph: Delfina Utomo
Nearest MRT: Bukit Gombak
Said to have water with magical properties, Seng Chew Quarry in Bukit Gombak is a product of the mining heydays in Singapore. Only thing is that it isn't as prominent (and as accessible) as the other quarries in Singapore. Though it is not completely a restricted area, it is mostly undeveloped and can be dangerous. The hidden quarry is located behind a residential block of flats in Bukit Gombak. Wear proper non-slip shoes because you have to climb steep hills before you find a huge drain at the top. Follow the drain and Seng Chew is just a short walk away from. Beware of the mosquitoes and tread the muddy trails carefully – but the views are worth the climb.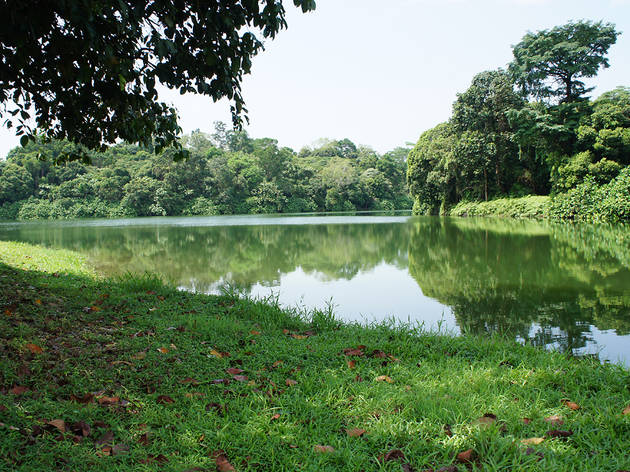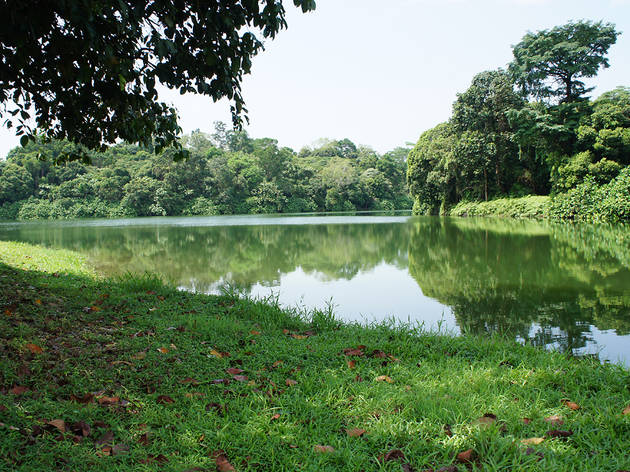 Photograph: Alan Tan Keng Hoe/Flickr
Nearest MRT: Kranji
Mandai Track 15 may not be the easiest to get to – and the trail itself is not a loop – but the sprawling route is especially popular with mountain bikers. The trail itself begins at Mandai Road near the Singapore Zoo, and ends at the Chestnut Trail and carpark. Though there is a main path carved out for you from all the bike riders and trekkers, there are plenty of side footpaths that you can explore that will take you to the reservoir side and more.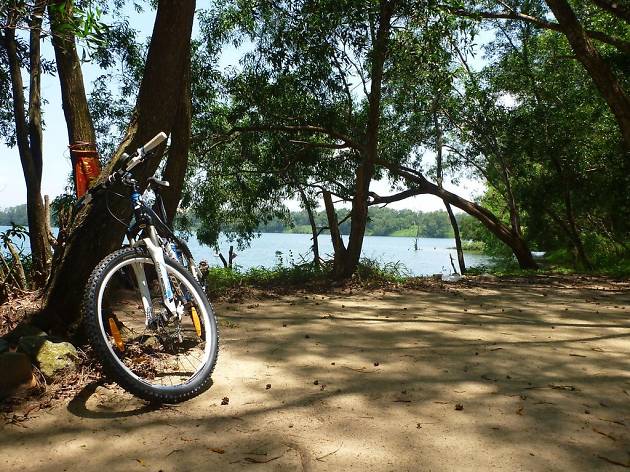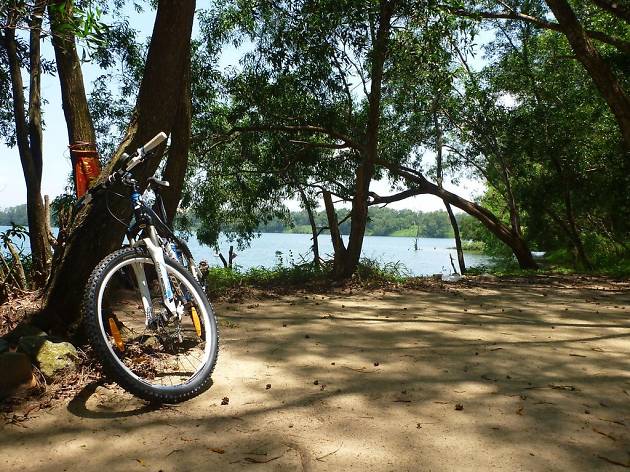 Photo: Thomas Timlen/FLickr
Nearest MRT: Tampines West
Located just opposite Bedok Reservoir, Tampines Quarry is a former sand quarry – now filled with rainwater. Though hidden, it is a favourite spot for fishing, racing remote-controlled boats, biking, picnics and droning. There might be a fair bit of bashing to do to get to the lake's edge, but look out for anglers making their way in for alternative entrances to the park.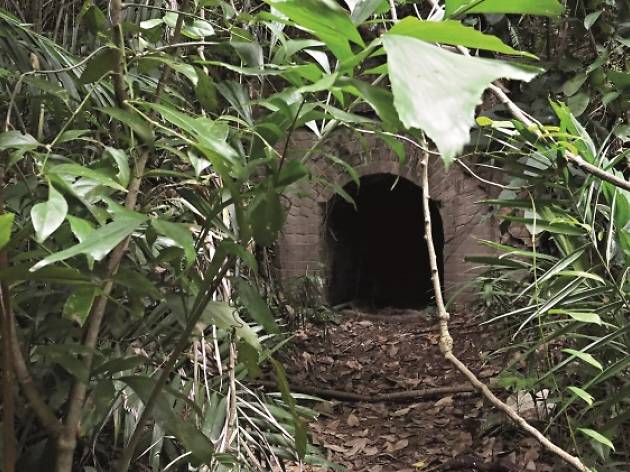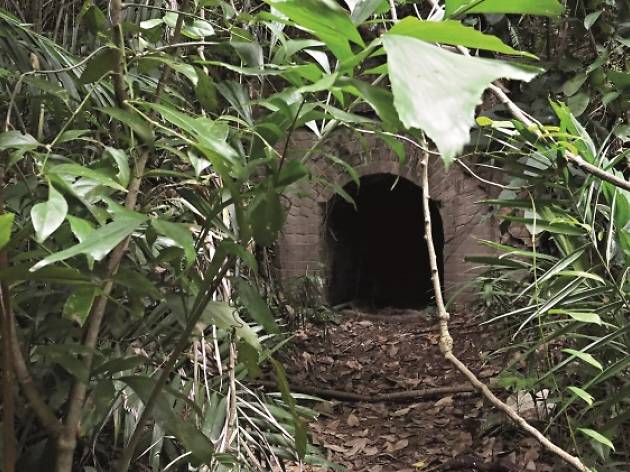 Photograph: Mia Chenyze
Nearest MRT: Harbourfront
The hidden WWII bunker at the foot of Mount Faber is located behind the Seah Im carpark. Built into a slope, the entrance leads to a tunnel that's connected to the elongated bunker. As it is dark in the bunker, bring torchlights to guide your exploration of the bunker. Those who have a fear of geckos, however, be wary as long disuse has turned the bunker into a nesting ground for the reptile. Tree roots have also grown through the ventilation holes on the walls. The Seah Im bunker was most likely an air-raid shelter as its entrance is similar to that of an air raid bunker in Cartagena, Spain, used during the Spanish Civil War.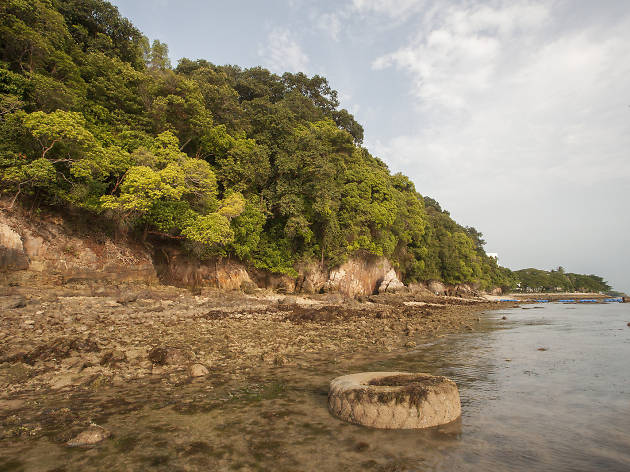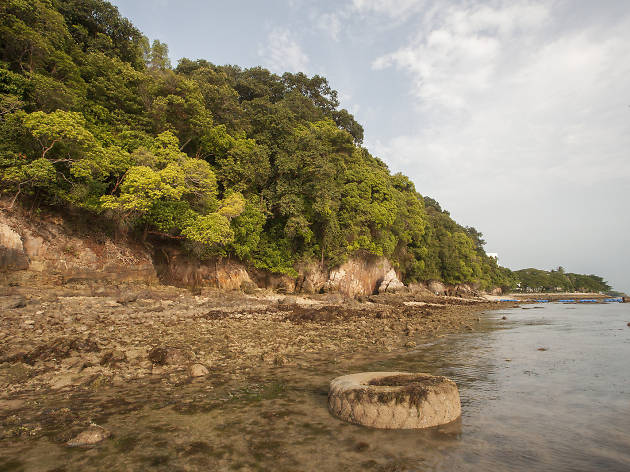 Photo: Time Out Singapore
Nearest MRT: Harbourfront
Near the western edge of Sentosa, Tanjong Rimau beach can be accessed via the edge of the compound occupied by Shangri-La's Rasa Sentosa Resort & Spa and by descending the rocky slope to the beach. During the low tide, you can spot many marine creatures such as corals, starfish and crabs along the coastline. Walk along the tidal pools, mangrove trees and caves nearer the coastline and look out for the pitcher plants on the cliffs. If you head towards the Tanjong Rimau beacon, you'll be able to see Labrador Nature Reserve across the waterway. When walking along the beach, be careful of stonefish – their spines on their dorsal fin are venomous.