Heads up! We're working hard to be accurate – but these are unusual times, so please always check before heading out.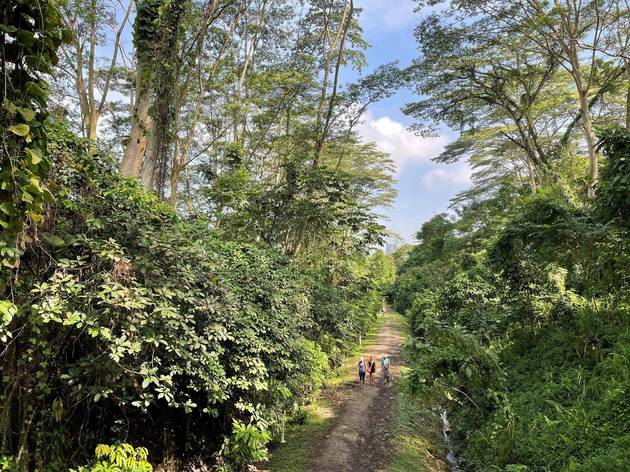 The best hiking trails and spots in Singapore
Strap on a pair of good shoes and get in touch with nature at these green hiking trails
How far? The Rail Corridor covers about 24km, but the central stretch, which recently reopened, is about 4km-long.
How long will it take? Depends on the route you choose as there are many things to do and see along the way.
Why go? Besides its lush natural landscapes, the Rail Corridor is also known for its rich heritage. The railway line was used for commuting and transporting goods between Singapore and Malaysia from the beginning of the 20th century until 2011. And now it has been enhanced for easy access. Look forward to the sensitive restoration of landmarks like the Bukit Timah Railway Station and two steel truss railway bridges, lookout decks to soak up nature's beauty, and paths to immerse in the rainforest experience.
What's there to see? Besides the Bukit Timah Railway Station and the truss railway bridges, you can also head to the nearby Singapore Quarry where you can spot rare birds, fishes, turtles and even monitor lizards if you're sharp. For more wildlife, trek down to Dairy Farm Nature Park, Bukit Timah Nature Reserve, and Hindhede Nature Park.
Read our guide to the Rail Corridor for more things to do here.
How far? To get into the rainforest proper, the MacRitchie Trails offer both easy boardwalk treks and ambitious hikes that can be as long as 11km.
How long will it take? Depends on the trail you choose!
Why go? Singapore's oldest and most popular nature park is a haven for joggers, families and weekend strollers. The highlight is the HSBC TreeTop Walk, a suspension bridge positioned 25m above the forest floor, which connects the two highest points in the reserve and offers splendid panoramic views. Traffic on the bridge is one-way, so there's literally no turning back.
What's there to see? Wildlife – from flying lemurs to tree frogs and pangolins – is abundant but rarely seen. Long-tailed macaque monkeys are more common, but be wary: they can be quite ferocious, as they're used to being fed by irresponsible visitors.
How far? The hiking trails cover a total distance of 5.6km and the biking trails 8.2km.
How long will it take? Two to three hours.
Why go? Split into North and South regions, Chestnut Nature Park covers 81 hectares, making it Singapore's largest nature park. It has separate mountain biking and hiking trails that are clearly marked out, too. The former has winding slopes and a pump track where bikers can practise their stunts, while the latter, especially along the 2.1km Southern Loop, takes you through varying terrains and steps.
What's there to see? Hidden streams and lakes, squirrels and endangered bird species such as the straw-headed Bulbul, the banded woodpecker and orange-bellied flowerpecker.
How far? 2.5km.
How long? Less than an hour.
Why go? Located in the far end of the North East, Coney Island is a rustic escape that preserves the island's natural character. This ecologically sustainable park also uses timber from fallen trees for all the signage in the park, benches and the boardwalk over the mangrove swamp.
What's there to see? Keep your eyes open for native macaques, rare birds and butterflies on the island while you explore the woods and the hidden beaches. Look out for snakes if you're venturing into the woods!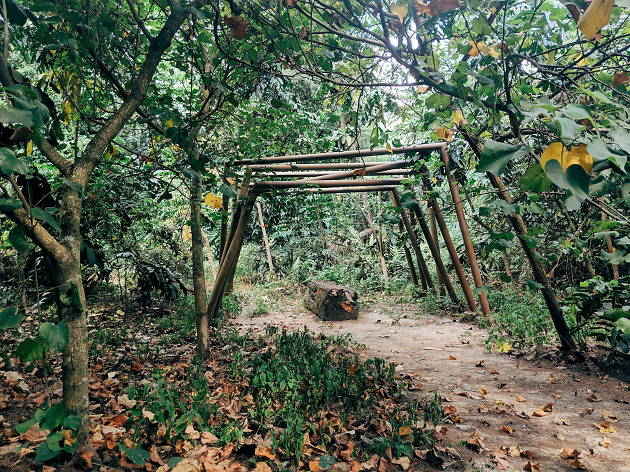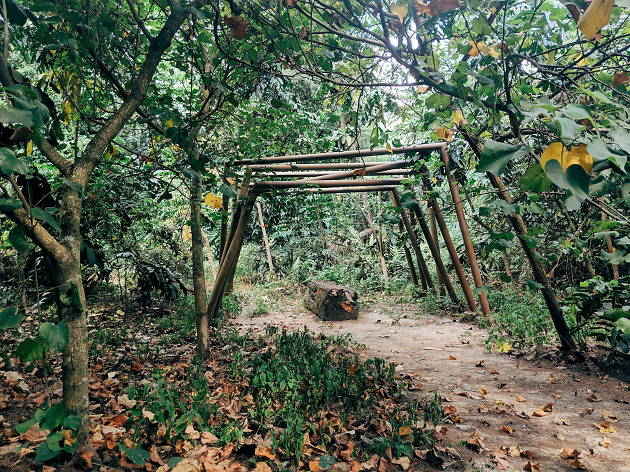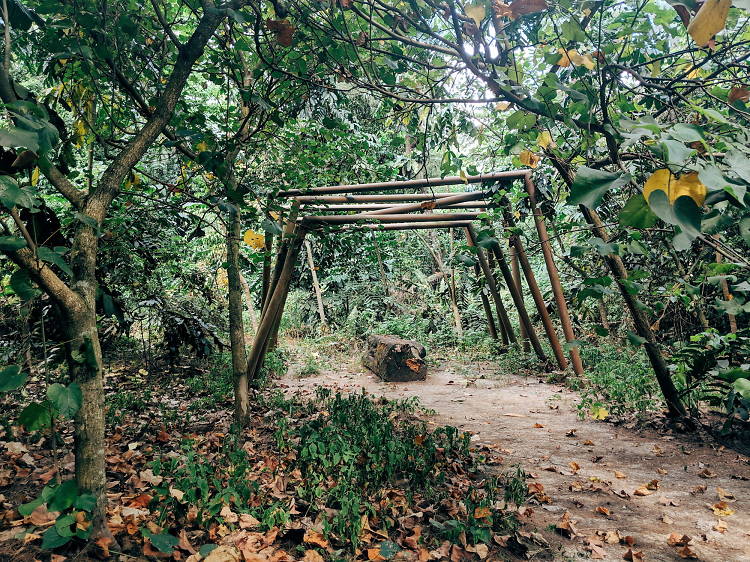 Photograph: Delfina Utomo
How far? 36km.
How long will it take? Seven hours or more depending on how much you want to see.
Why go? The 36km Coast-to-Coast (C2C) Trail cuts across the island and links Coney Island in the northeast to Jurong Lake Gardens in the west. If you're feeling ambitious, you can embark on this 36km trip and walk through some of the best parks and nature reserves in Singapore like Bukit Batok Nature Park, Macritchie Reservoir Bishan-Ang Mo Kio Park and Singapore Botanic Gardens. Just note that you have to use roadside paths and park connectors to get there.
What's there to see? Quarry lakes, parts of an old cemetery, rustic forests. If you're lucky, you might also spot Singapore's otter family at the Bishan-Ang Mo Kio Park and rare migratory birds at Coney Island.
How far? 3km.
How long will it take? Less than an hour to see all the sights.
Why go? It is one of the largest parks in Singapore, Bishan-Ang Mo Kio park comprises two sections, separated by Marymount Road. On top of the nature stuff, there's also a spa and some eateries at the park where you can fuel up.
What's there to see? Kallang River which flows through the park. Walk on the banks to be close to the waterside – you might even spot the famous river otters of Singapore sharing a snack or lazing on the banks.
How far? There are five trails to choose from that span over 3.8km.
How long will it take? One to two hours, depends on which trails you want to see.
Why go? The seventh nature park on the island joins in other existing parks such as Chesnut, Springleaf and Windsor to act as a green 'buffer' – to reduce visitorship pressure – for the Central Catchment Nature Reserve.
What's there to see? Loads! Each trail takes you on a sightseeing tour to see greenery, ruins, macaques, streams and the Raffles' banded langur – a highly elusive and endangered monkey. Other wildlife residing in this reserve also includes the Sunda pangolin and the Malayan porcupine but you have to be extremely lucky to spot them in the wild. The nature park also houses a former Hainan village in Singapore and visitors can get a glimpse of this from the ruins and rubble that have been left behind from its heydays in the 60s. See the remnants of a rambutan plantation, a farm and several old village houses (one of them used to belong to the family behind popular Singapore eatery, Han's). Old street signs have also been left untouched so you're literally walking through an old kampung in 1960s Singapore.
How far? About 2.5km.
How long will it take? Less than an hour.
Why go? Located in the Botanic Gardens, the Learning Forest was designed to integrate with the existing six-hectare rainforest to form an enlarged forest habitat. Unlike the rest of the Botanic Gardens, the Learning Forest is a little more rustic and sprawling, segmented into different areas. Plus, did we mention that the forest is over 100 years old?
What's there to see? The bamboo garden, an arboretum of wild fruit trees, and wetland ecosystems for curious sorts to explore, discover and like its namesake, to learn about Singapore's rainforests.
How far? Approximately 2km.
How long will it take? Less than an hour.
Why go? Part of the Southern Ridges, Labrador Nature Reserve contains the only rocky sea-cliff in Singapore and offers a panoramic view of the sea and cliff-side vegetation. Take a waterside stroll or explore the tunnels and fort that are remnants of WWII.
What's there to see? Thriving with wildlife, the park is a favourite haunt of nature lovers. It is not uncommon for visitors to hear songs from a variety of bird species, including those of the oriental magpie-robin and black-naped oriole. Take a leisurely stroll along one of the nature trails, and you may spot the resident squirrels scurrying up trees.
How far? 1km (area open to public), 3km (for a guided tour in the conservation area).
How long will it take? Less than 30 minutes.
Why go? Home to 170 species of birds, 54 types of butterflies and 33 different kinds of dragonflies, this nature reserve is the perfect recreation area to observe and enjoy the island's wildlife. At 57 hectares and with a range of natural and green habitats, Kranji Marshes is Singapore's largest freshwater farmland.
What's there to see? Bird enthusiasts will love the bird hides located around the park to spot species like woodpeckers and eagles. If you do want to check out the core conservation area which is not open to the public, do make an appointment with NParks via the website – it's worth it.
How far? About 10km.
How long will it take? More than half a day to see everything on the island.
Why go? Take a walk on the wild side as you step foot on one of Singapore's last surviving kampongs. At a sprawling 1,020 hectares, Ubin boasts lush greenery and abundant wildlife, drawing nature lovers and outdoor enthusiasts to explore the many wonders of the granite island.
What's to see? Whip out your binoculars to spot birds at Pekan Quarry, wander through nature trails, and hike 75m up Puaka Hill for a breathtaking panoramic view of the islet. Though it's much easier and faster to get around the island on a bike, it's still pretty much walkable with friendly inclines and well-made paths. At Chek Jawa Wetlands, get up close with the mangroves and coastal forest ecosystem.
How far? 1.2km.
How long will it take? Bukit Timah Hill stands 164m above ground level so the trail has a moderately steep incline – it might take you 30 to 45 minutes to reach the summit.
Why go? This nature reserve is renowned for having one of the richest and most diverse ecosystems in the world. Besides hundreds of animal and insect species, it also contains more tree species than the whole of North America. Weekends are busy with walkers, nature lovers and mountain bikers, so come on a weekday if you prefer a quiet trek. There are four walking trails. A steep paved path takes you directly to the peak, but more interesting are the unpaved trails; route 3 (green) follows a winding forest path, past caves used by Japanese soldiers in World War II.
What's there to see? Look out for long-tailed macaques, squirrels and snakes, and listen for the incessant chirping of the striped tit-babbler. After the hike, head to the adjacent Hindhede Nature Park to look at the quarry lake.
How far? 90m.
How long will it take? Less than 15 minutes.
Why go? If you're looking for a leisurely hike with the family, take the easier option and head to Hindhede Nature Park located next to Bukit Timah Nature Reserve. It has easy trails and well-defined footpaths perfect for families, children and hiking beginners. Scenic and serene, it is also an excellent spot for wildlife watching.
What's to see? It is home to inhabitants like the banded woodpecker, clouded monitor lizard and plantain squirrel so it pays to keep your eyes open when taking a walk. The main highlight, of course, is the picturesque Hindhede Quarry which is located at the end of the park.
How far? There are many trails spanning up to 3km
How long will it take? One to two hours
Why go? Strap on your best walking shoes and trudge through the swamps of Sungei Buloh Wetland Reserve to learn more about the flora and fauna that call this mangrove forest home. Weekly, volunteer-led tours – they regularly change – introduce the plants, birds, insects and other indigenous species found in this ASEAN Heritage Park (Singapore has two, the other being Bukit Timah Nature Reserve).
What's to see? This wetland reserve of mangrove swamps, ponds and the secondary forest is also home to 140 species of birds. Take a spot at observation hides or rent binoculars to bird-watch. There are also nature trails where you can also spot mudskippers, monkeys and climbing crabs on the mangrove boardwalks.
How far? There are three easy trails, the longest being 2.2km.
How long will it take? Two hours.
Why go? Windsor Nature Park is another buffer park to protect the Central Catchment Area but there's still plenty of interesting things to see. As it is a low-lying area prone to flooding, you will be walking on boardwalks for some parts of the walk.
What's to see? Plenty of fruit trees such as jackfruit and bananas. On your path, look out for the dragonflies, too. NParks has recorded 56 species of the insect in the park, almost half of the 122 dragonfly species found in Singapore.
How far? Less than 4km.
How long will it take? One to two hours.
Why go? The serene Bukit Batok Nature Park was developed on an abandoned quarry in 1988. For a bit of a history lesson during your hike, head to the WWII memorial at the top, which commemorates the location of one of the fiercest battles that took place in Singapore during the war.
What's to see? There are various lookout points with stunning views of the quarry from all angles. You'll definitely stay for a while to look at some magnificent rocks.
Prefer cycling instead? Check these out
A cycle through the Eastern Coastal Park Connector Network is a tranquil, easy and leafy experience
Bring a camera along when you take this green-swathed route through parks and temples
You'd be surprised by the number of nature parks and quarries on the Western Adventure Loop