Whampoa Drive Food Centre and Market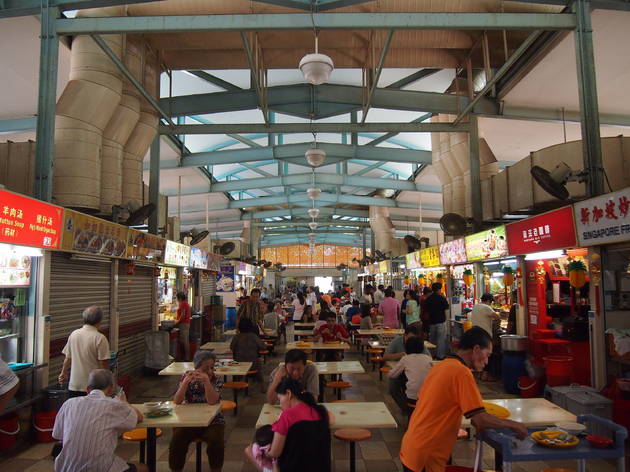 Time Out says
What it's like Overflowing with heartland-y, salt-of-the-earth locals, the Whampoa Drive Food Centre packs 80 stalls serving solid hawker staples, done fresh, well and cheap.
What to eat Whampoa Drive has long been known for having the best rojak in Singapore, courtesy of Hoover Rojak (#01-06), which dates back to the '60s – it's not uncommon for otherwise impatient uncles to queue for up to 20 minutes just for a serving (from $10). The barbeque chicken wings from Whampoa Barbeque Seafood & Chicken Wing (#01-83) are another renowned favourite at Whampoa – you'll see plenty of tables with diners both young and old making quick work of the juicy joints in front of them.

In addition to those two faves, there are plenty of solid hawker staples – try the satay bee hoon ($4) at Wham Poa Satay Bee Hoon (#01-38), which is flavoursome and spicy, or the dark carrot cake ($3) at Kim Kee Homemade Carrot Cake (#01-27), which is fried up by a friendly hawker operator who'll happily chat up a storm while you wait. For something different, Rabiah Muslim Food (#1- 34) notably offers a nasi Melayu selection including mutton curry, deep fried potato and sambel tempe tahu ($7).

For a quick snack, stop by the Yuen Long Hong Kong Pastry & Buns (#01-72), a charmingly pokey stall where physical space is almost completely forfeited for oven space: the distance between the oven and the display case can be measured in mere centimetres. The house favourite char siew polo bun comes recommended, while the Mexico raisin is a promising outside choice (both $1.30). Thomas Moir
Details