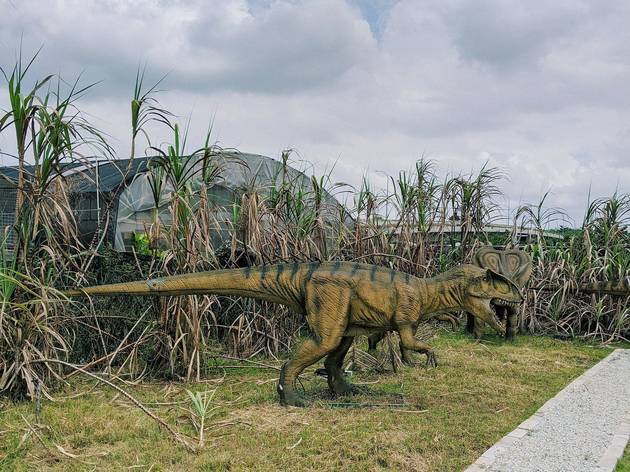 Where to find life-sized dinosaurs in Singapore
Live your Jurassic Park dreams and have a roaring good time at these dinosaur attractions
So you can tell the apatosaurus from the brontosaurus, and back the scientific theory that almost all dinosaurs were covered in feathers. Dino-enthusiasts, we see you. With the hype around Changi Jurassic Mile, it seems that the childhood fixation with dinosaurs hasn't completely vanished in us adults. Whether you're a massive fan of the blockbuster film franchise Jurassic Park/Jurassic World, or the award-winning TV series Walking With Dinosaurs, these dinosaur attractions will delight dinosaur lovers of all ages, young and old.
RECOMMENDED: The best nature trails in Singapore and where to spot wildlife in Singapore
Located along the Changi Airport Connector is the city's largest permanent outdoor display of life-sized dinosaurs. Changi Jurassic Mile is home to over 20 different prehistoric, colossal creatures including the tyrannosaurus rex, velociraptors, and parasaurolophus – the tallest standing at about 5-metres high. While you explore the grounds, look out for the baby dinos hatching from their massive eggs, and try to spot all nine species along the one-kilometre cycling and jogging path.
Let the kids run riot among dinosaur sculptures at Fu Shan Garden. Unlike the Changi Jurassic Mile, this mini Jurassic Park in Woodlands allows you to play on rides and slides disguised as dinosaurs such as the dimetrodon, sauropod, pteranodon, triceratops and of course, the mighty tyrannosaurus rex. These prehistoric creatures are accompanied by signs with bite-sized facts about them, and are also recently joined by new, more colourful neighbours including a stegosaurus and triceratops with hollow bellies that make great hiding spots.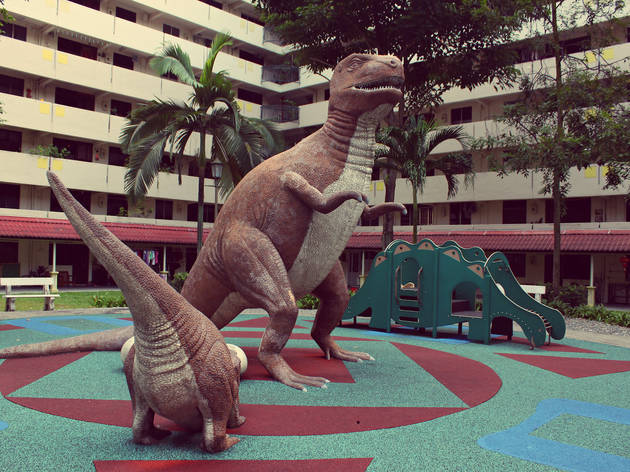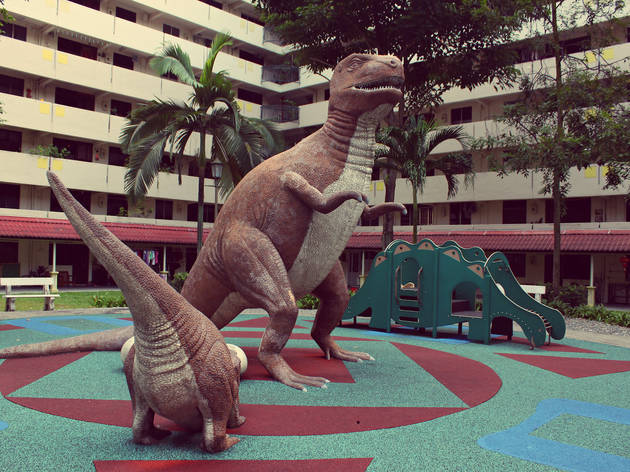 Photograph: Tan Yong Lin/Flickr
Another heartland Jurassic Park can be found at Kim Keat Avenue. Not as extensive as Fu Shan Garden, this one features a gigantic, three-metre-tall tyrannosaurus rex surrounded by white eggs, and a baby t-rex nearby. From the looks of its fierce face, we reckon no other dinosaurs are keen to join it. However, there is a green platform in the shape of a stegosaurus where kids can hide. Still, it's a sight to see, especially in a HDB estate.
The perfect getaway for adrenaline junkies, USS prides itself on having the world's tallest dueling roller coasters, and a soaking white water rafting that ends in a hair-raising drop. The latter ride is none other than the Jurassic Park Rapids Adventure where you explore the Lost World on circular rafts. Expect a white water raft system with state-of-the-art prehistoric animatronics, and a roaring – and most definitely splashing – good time. Other dinosaur-themed rides include Canopy Flyer for a pterodactyl's eye view of Jurassic Park, and Dino-Saurin' where kids can pilot their own pteranodon.
For budding paleontologists and curious creatures, this natural history museum houses three diplodocid sauropod fossils which were discovered between 2007 and 2010 in a quarry in a small town of Ten Sleep in the USA. These dinosaurs were known to be among the largest and heaviest beings to roam the earth. With more than 80 percent – of which two of the skeletons come complete with skulls – the impressive display of sauropod dinosaurs is one of the rarest in the world.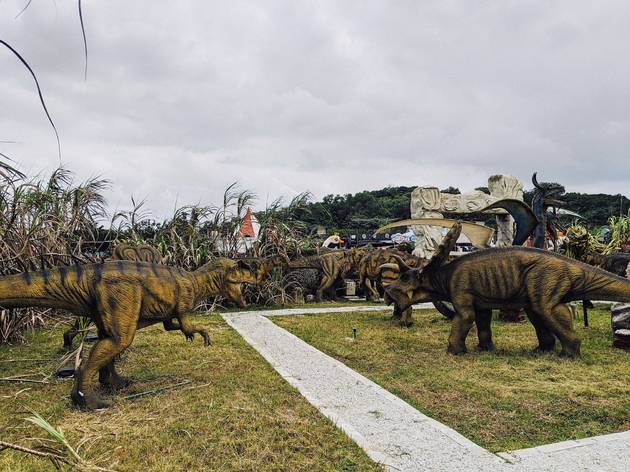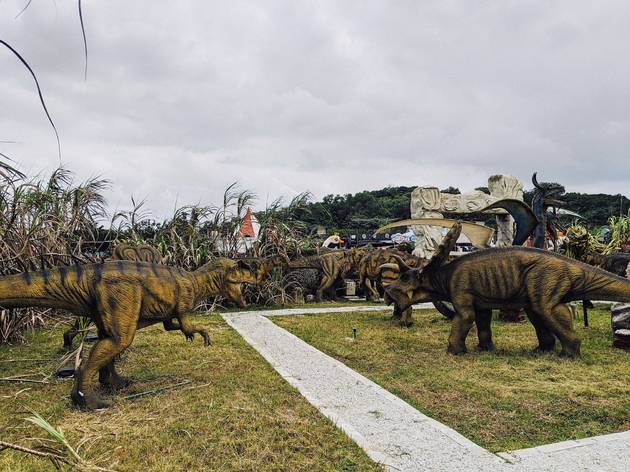 Photograph: Delfina Utomo
BONUS: Punggol East Container Park
The riverside container park in Punggol gets buzzy in the evenings when the eateries, pubs, and the neighbourhood prawning spot opens but drop by earlier in the day – you might just casually walk past some dinosaurs. Popular local travelling carnival operator Uncle Ringo may have to be on hiatus for now due to Covid-19 but some of its carnival rides and life-sized dinosaurs and dragons can be found tucked away in this little corner in Punggol. It's a fascinating sight to see while picking up ferns and succulents from the cluster of nurseries in the area but we hope to see Uncle Ringo in action again soon.