Contest: Win a trip for two to the Margaret River Gourmet Escape
A pair of tickets to the Margaret River Gourmet Escape (worth $10,000) is up for grabs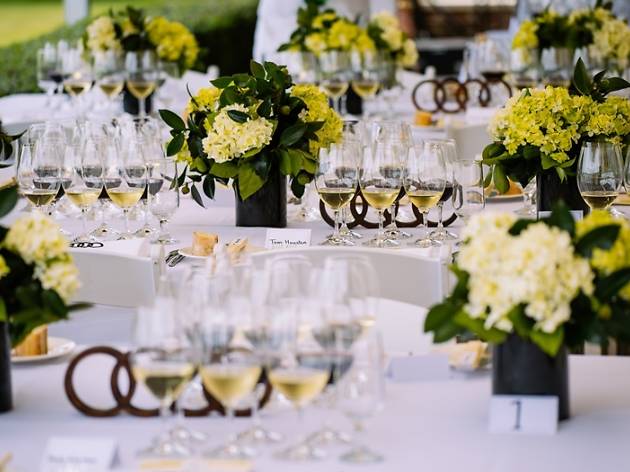 The Margaret River Gourmet Escape happens from November 20 to 22 in the wine-making region in Western Australia – and we're sending a pair of lucky readers there. We're giving away return flights for two to Perth and tickets to a bunch of events at the festival, such as the Godfather Dinner at the Vasse Felix winery, led by the enfant terrible of British cooking, Marco Pierre White.
• 2 x Return economy flights on Singapore Airlines from Singapore to Perth on Thursday, November 19, and from Perth to Singapore on Sunday, November 22
• Car hire from Friday, November 20 to Sunday, November 22
• 2 nights accommodation in the Margaret River Wine Region
• Event tickets including: (a) Audi Collaboration Series Dinner at Leeuwin Estate on Friday, November 20; (b) Gourmet Village Wine & Dine at Leeuwin Estate on Saturday, November 21, from 11am-5.30pm; and (c) An Audience with Marco Pierre White presented by Miele at Voyager Estate on Saturday, November 21
To stand a chance to win, answer the question below.
CLOSING Date: November 6
Terms and conditions
1. This contest is organised by Time Out Singapore (hereinafter referred to as the 'Organiser').
2. The prizes for this contest are neither exchangeable for cash nor transferable.
3. All persons ('Contestants') taking part in this contest agree that these rules shall be binding on them, and that the entries in this contest, including their name and likeness, may be used without restriction in any future publicity material by the Organiser.
4. The Organiser reserves the right to amend these rules or terminate the contest at any time at its sole and absolute discretion. All decisions made by the Organiser under these rules shall be final and no discussion or correspondence will be entertained. The Organiser may, but is not required to, justify any decisions relating to this contest.
5. The Contestant acknowledges that the interest and good reputation of the Organiser is of paramount importance. The Organiser reserves the right to disqualify a Contestant from the contest, or to withdraw the prize if it believes the Contestant is in breach of its obligations under the rules. The Contestant shall not by act or omission, directly or indirectly bring the Organiser into disrepute.
6. All entries are sent at the risk of the Contestant and in the event that there are technical difficulties experienced arising out of the internet or from any associated equipment or internet security is compromised, the Organiser may at its sole and absolute discretion disqualify the entire entry and shall not accept any liability doing so.
7. Contest entries may only be submitted via the stated medium of communication.
8. This contest is open to anyone above 18 years old and contestants under 18 years old are prohibited from entering this contest.
9. Each entry must be completed in full. The Organiser reserves the right to disqualify any incomplete entries in its sole and absolute discretion.
10. Contestants shall only submit one entry and multiple entries of the same shall be treated as 'spam' and shall be ignored.
11. Incomplete entries will be deemed void.
12. Entries will be judged by Time Out Singapore solely on the correctness of the answer(s) furnished and accuracy of personal details furnished with the judges' decision as final.
13. Winners will be informed by email.
14. Uses of 'aliases' shall be considered a form of deception and is prohibited.
15. The winner must produce their original IC / passport with legible IC / passport number in order to claim the prize. The winner may also be required to produce additional original proof of identity at the discretion of the Organiser.
16. All Prizes are accepted entirely at the risk of the winner, and the Organiser excludes all warranties in connection with the prize to the extent permitted by law.
17. All Contestants release from, and indemnify the Organiser, its agencies, sponsors and representatives against, all liability, cost, loss or expense arising out of acceptance of any prize or participation in the contest including (but not limited to) personal injury and damage to property and whether direct or consequential, foreseeable, due to some negligent act or omission or otherwise.
18. All personal particulars furnished are meant for identification purposes and will not be sold or given to any third parties.
19. Prizes will be forfeited if not collected within the time frame stated after the announcement of winners.
20. Winner must be able to travel between 19-22 November 2015 – trip cannot be altered to a different travel date.
21. Car hire for three days. Must have a valid driving licence to drive in Australia. Insurance, excess coverage and petrol not included. Pick up and drop off from Perth International Airport.
22. Tickets are non-transferrable and must be used for sessions specified. Cannot be exchanged or used for commercial gain.
23. Travel to and from Singapore airport, Perth airport, to the region, accommodation and to and from the different events is not included, car hire is provided for self-drive.
24. Flights do not include travel costs to and from the point of departure, travel insurance, freight, excess baggage, government taxes, airport charges, ground transportation and any other costs. Payment for taxes and airport charges must be paid prior to tickets being issued and are payable by credit card only.
25. Accommodation is based on 2 people sharing a standard room and will be confirmed once the winner is selected. It will be within an hour's drive of the Gourmet Village venue
26. Session times are subject to change, the winner will be advised of any necessary changes.
27. Contact: info@gourmetescape.com.au or the Marketing Team at Brand Events organisers of the Margaret River Gourmet Escape: +61 2 9332 9000.