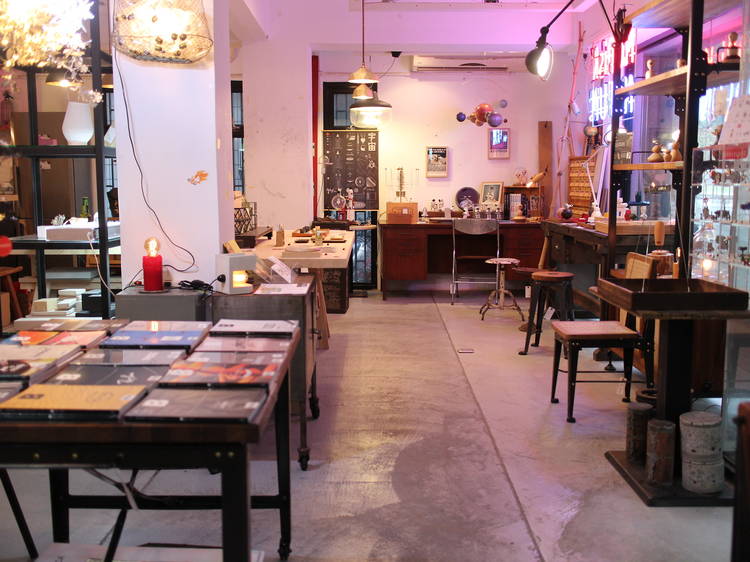 Visitors cannot conclude a trip to Taipei without catching a glimpse of its architectural pride and joy
Taipei 101
(No.7 Sec.5, Xinyi Rd, Xinyi District,
www.taipei-101.com.tw
). But save for the Observation decks on the 89th and 91st levels, the mall is just like any other shrine to consumerism. So just get your best photo with the tower and spend the remainder of your time exploring the rest of the city.
Fujin Street is to Taiwanese hipsters as Tiong Bahru is to our local iconoclasts. The tree-lined, sleepy residential district of walk-up apartments features a well-distributed layout of trendy cafes, multi-concept stores and hip retail spots.
Funfuntown
(359 Fujin St, Alley 1, Lane 2, Songshan District, +886 2 2766 5916,
www.funfuntown.com
) is a source of quirky home goods – ome old, some new and some upcycled on a small worktable carved out in the store – like Edison lightbulbs, copper Moscow Mule mugs and rare art magazines.
Of course, no visit to the street is complete without a stop at two of its pioneering joints,
Fujin Tree 355
(355 Fujin St, Songshan District, +886 2 2765 2705,
www.facebook.com/FujinTree355
and
Fujin Tree 353 Cafe
(353 Fujin St, Songshan District, +886 2 2749 5225,
www.facebook.com/FujinTree355
). The former's a cosy retail nook with imported homeware and clothes sourced from Japan, Europe and its home turf, and the Cafe's the ideal pit stop for its rousing coffee drinks.
Huashan 1914 Creative Park
(1 Bade Rd, Sec. 1, Zhong Zhen District +886 2 2358 1914,
www.huashan1914.com
) is testament to how civil activism preserved Taiwan's built and cultural heritage. The two-hectare plot of land lay abandoned from 1987 to 1997 until the Golden Bow Theatre Group staged an illegal production there ahead of a planned demolition. That sparked a two-year long battle with the authorities, transforming the area into an artist enclave. The locals come here to hang out at the numerous cafes and retail stores tucked in the different buildings, and the outdoor quad doubles as a picnic spot and events square for annual festivals like the Taipei Swing x Jazz meet.
Eslite Bookstore – known affectionately to the locals as Chenpin – is a chain that can be found dotted around the city, but we particularly love the four-storey retail space at its own
Eslite Spectrum Songyan Store
(88 Yanchang Rd, Xinyi District,
artevent.eslite.com
) in Songshan Cultural Park. As with all Eslite outlets, the English and Traditional Chinese book range is extensive and aspirational (tip for gastronomes: we spotted Chinese editions of the first two Lucky Peach issues), but the space also functions as a department store, where arts and crafts vendors await. There's even a studio on the third storey where you can create your own music box with a selection of fittings, tunes and wood-hewn scenery.