Guide to Busan
Most visitors to South Korea head straight to the frenetic capital, Seoul. Blessing Waung checks out this unsung alternative city to visit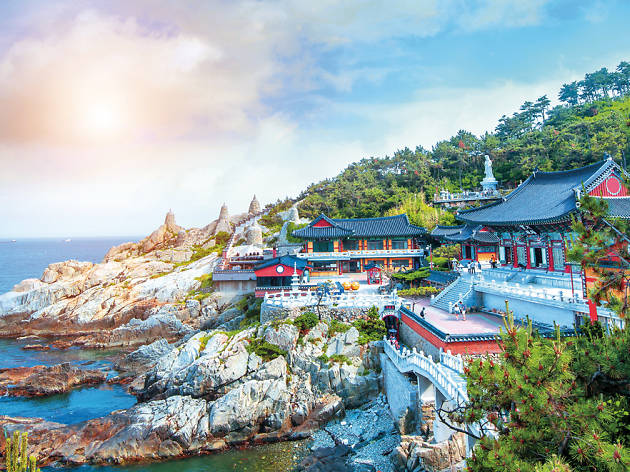 Every October, Korea's second-largest city sees the return of the so-called 'Cannes of Asia'. The annual, week-long Busan International Film Festival runs through the first half of the month, attracting flocks of crowds to the city. But besides the celluloid action, there's plenty to do throughout the year – especially if you're looking for a laid-back beach town from which to peer into traditional Korean culture, with the added bonus of big-city nightlife and lots and lots of eating.
What to do
The most famous stretch of sand is Haeundae Beach, which in the summer months gets packed with sun-seekers. In the off-season though, things are much more subdued: the beach is a near-empty 2-kilometre swathe of white sand, with a wide boardwalk popular with roller skaters and bikers – ideal for a pleasant autumnal stroll.

Haeundae Beach
Gwangalli Beach, lined with artsy cafés and chilled-out bars, is an even more serene option to grab a beer and take in views of the sea. At night, the busy seafront bars buzz with life beneath the grandly lit double-tiered Gwangan Great Bridge, which connects Haeundae and Suyeong.
South Korean citizens also know Busan as home to Hurshimchung at Hotel Nongshim (23 Geumganggongwon-ro 20 beon-gil, Dongnae-gu, Busan. +82 51 550 2200), the largest jjim jil bang, or bathhouse, in Asia. You can indulge all day in the communal baths, scrub yourself smooth with rough Korean-style bath towels, and retreat to the charcoal oxygenating room for a quick nap.
For more cultural pursuits, head to the Temporary Capital Commemoration Hall (Bumin-dong 2-ga, Seo-gu, Busan), which acted as the presidential residence from 1950 to 1953, during the Korean War. As the majority of Seoul was occupied by North Korean forces during the war, Busan was designated the temporary capital.
Nearby is the charming Bosudong Secondhand Books Alley, opened during the war by domestic refugees selling books that once belonged to US soldiers. Here you can browse through the mainly Korean selection for some weather-beaten English language titles.
Where to eat
If you're a true seafood aficionado, visit Jagalchi Market (52 Jagalchihaean-ro, Jung-gu, Busan), Korea's largest seafood market. This is a must-see for the scores of friendly ajumma (the Korean term for middle-aged women) hawking freshly caught seafood that spills out of wooden crates, while their veteran fisherman husbands drag in catches from 6am onwards. In addition to delicious snapper and white fish, if you're feeling brave you can eat live octopus or the bright red, bumpy meong-ge (sea squirts), which are consumed sashimi-style and spout seawater when they're sliced fresh in front of you.

Fresh Lobsters at Jagalchi Fish market
At night, this area comes alive with colourful lights and pochang machas (market stalls), creating a heady atmosphere of alfresco drinking where you can glug Cass or Hite (Korea's two most popular lagers) with the lively locals.
Alternatively, the six-storey Shindonga Market next door is a cleaner place to sit down for a meal. The affable owner of stall 115 on the first floor speaks decent English and can tell you the names of his produce before sending you to a restaurant upstairs to have it cooked.
In the Nampo-dong area of Busan, visit Mukja Golmick, or 'Let's Eat Alley', for traditional Korean dishes like vegetarian gim bahp (Korean sushi rolls) or ramen with bottomless pots of kimchi on the cheap.
Where to drink

The Busan skyline
There are endless options when it comes to cocktail bars and KTV lounges, packed with students from Kyungsung University, but we like The Blue Monkey (Nam-gu Daeyeon 3 sam-dong s6-2) with its bubblegum pop playlist and overthe-top lighting.
For something more upbeat, check out Club Elune in the basement of Paradise Hotel (1408-5 Jung-dong, Haeundae-gu, Busan) where DJs spin the latest dance tracks. It's also great for watching the painfully well-dressed Korean kids.