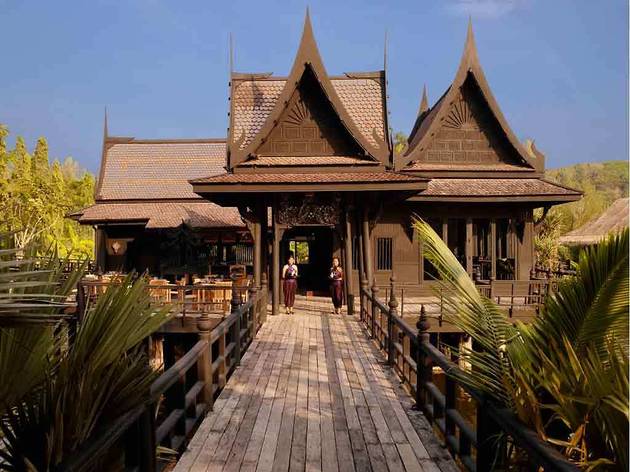 Like many five-star hotels, the Indigo Pearl ticks the expected boxes: well-designed rooms (more on those later), great restaurants (make a booking for Black Ginger), infinity pools (one just for adults) and lush landscaped grounds (designed by Bill Bensley, nonetheless). But it is the extras that elevate your stay. The resort's design seamlessly infuses modern sculpture and industrial art pieces into its humbler past as a former tin mine – keep your eyes peeled for the random arrows scattered about indicating the presence of sparkling black tin dust.

Inside the rooms, it's always a good sign when lighting has been made a priority: it shows the interior designer has done more than just roll out the standard 400-thread Egyptian cotton sheets, iPod dock and pillow menu. Here, a funky tangle of plastic-covered fairy lights artfully placed under the bed translates as sexy shadowplay. Hidden light panels in the bathroom mean sleeping beauty won't be rudely awakened or bump their knees (resulting in loud expletives) when they need to take a pre-dawn tinkle.

Other details, too, point towards a well-conceived guest experience Indigo Pearl Black Ginger that leaves you hunting, but failing, to find fault. There's the old-style plantation fan – think three big disclike structures that swing back and forth – a moulded bench at one end of the mosaic pool so you can sprawl; even the inclusion of condoms on the minibar menu.

So why the four-star rating and not a full five? A few environmental factors have to be mentioned. The Nai Yang beach pales in comparison to other beaches like Kata and Karon, and while I was there, they had a bit of a sandfly problem – most unfortunate as the memory of your stay should not be marred by leg scars three months on. The location, too: while it's only a ten-minute drive from the airport, that means exploring isn't easy, or cheap. Charlene Fang

From now till 31 Oct, take advantage of the Suite Treat deal, where booking a Kelly Quarters room gets a free guaranteed upgrade to a Pearl Bed Suite. Nai Yang Beach and National Park, Phuket, 83110 (+66 7632 7006, www.indigo-pearl.com).

HOW TO GET THERE:
Fly Singapore to Phuket on daily flights from Tiger Airways (www. tigerairways.com) and Jetstar Airways (www.jetstar.com).
| | |
| --- | --- |
| Venue name: | Indigo Pearl |
| Contact: | |
| Address: | Singapore |
| Do you own this business? | |