The ultimate guide to Tanjung Pinang
Away from the well-manicured lawns of the luxury retreats on Bintan, its capital, Tanjung Pinang, offers an authentic slice of Indonesian life, says Lester Ledesma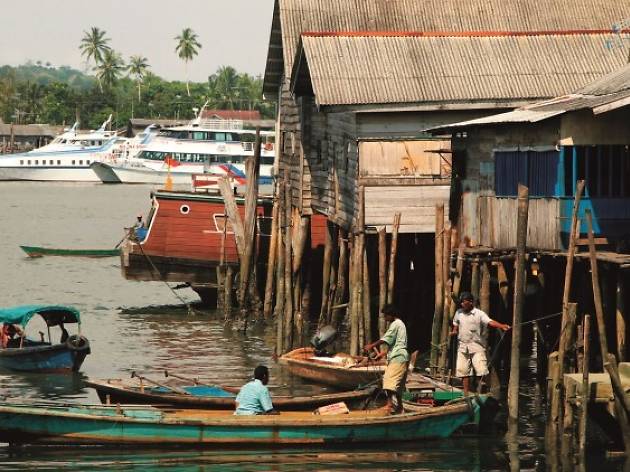 Most outsiders know Bintan only for its resort row, where a weekend getaway usually involves sleepy days on a beach. But Bintan isn't just about banana boats and seaside margaritas – beyond the pristine luxury retreats (mostly situated on the northern side of the island), there's an entire island that's also the largest land mass in Indonesia's Riau Archipelago, a shipping hub and home to over 300,000 locals.
To get a taste of the authentic local life, the best place to start is the busy regional capital, Tanjung Pinang, located on the island's west coast. It's the port for most visitors coming from Singapore via the convenient 90-minute ferry ride from Tanah Merah Ferry Terminal (located near Changi Airport). But rather than hopping straight onto a shuttle ready to whisk you off to your resort, stick around for a bit and get a glimpse into everyday life at Tanjung Pinang, with its interesting blend of local Indonesian colour and good old grit.
The downtown area is easy to navigate on foot, but ojeks (motorbike taxis) can take you on short trips between destinations in town for as little as IDR2,500 ($0.25). Longer trips outside downtown require proper taxis, which can cost around IDR20,000 ($2) for a five-minute drive. You're no longer in Singapore, so be sure to haggle tenaciously.
Here are some sights to check out around Tanjung Pinang – welcome drinks not included.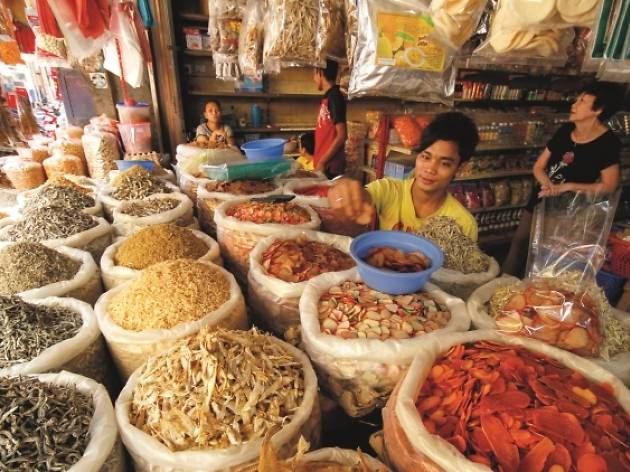 Photo: Lester Ledesma
Just down the street from the main Sri Bintan Pura Ferry Terminal, off Jalan Plantar II, this bustling street market features old Bugis women sorting produce by the sidewalk and buyers bargaining with sellers amidst antique wooden buildings on stilts. At the water's edge, rowboats ferry daily commuters to work, while bigger craft disgorge the day's haul of fish. Also nearby, right at the corner of Jalan Merdeka and Jalan Ketapang, is the Buddhist Bihara Bahtra Sasana temple, where the local Chinese community goes to worship.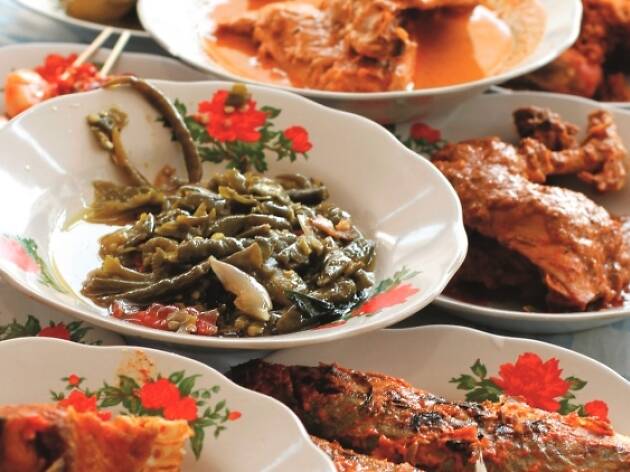 Photo: Lester Ledesma
Sure, you can get nasi padang in Singapore, but you haven't had a real taste of it until you've tried Indonesian-style nasi padang, which lays out a bountiful mini-buffet right on your table. Expect over a dozen different dishes – from fiery curries to fresh sambal-laced vegetables and fried meats – which you can pile on top of scoops of steaming white rice. You're not required to eat everything (in the end, you only pay for the dishes that you've touched), but if there's anything you particularly liked, feel free to ask for another serving of it. Your best bet here of sampling this distinctive Sumatran style of dining lies within a stone's throw of the ferry pier at Restoran Sederhana (11 Jln Hang Tuah, +62 771 23183), where a massive meal for two will set you back a mere IDR100,000 ($10).
Located right outside the ferry terminal gates, the entire seaside promenade along Jalan Haji Agus Salim becomes a sprawling open-air food market after sunset. Saunter down the jumble of hawker stalls for a thorough introduction to classic Indonesian favorites like bakso mee (meatball noodle soup), sate ayam (chicken skewers) and batagor (deep-fried meat and tofu fritters) for less than IDR20,000 ($2). Dine on these delicacies while sitting on plastic chairs under the stars, with the sea breeze and projector-powered Indonesian TV sitcoms providing the ambience. On the other hand, fresh seafood is the specialty at the Melayu Square food court, just across the street from the promenade.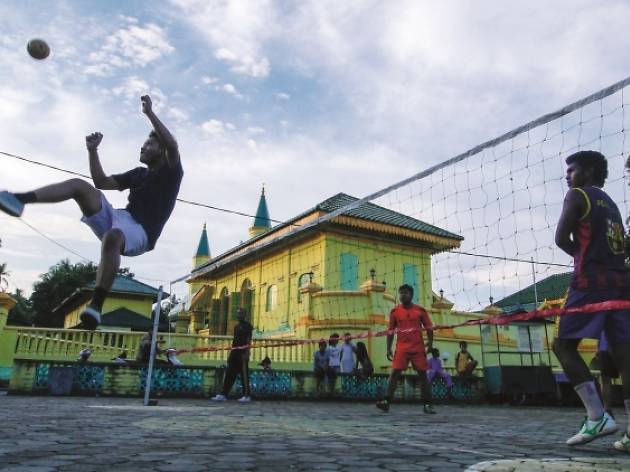 Centuries ago, Penyengat was the capital of a Malay sultanate that ruled over modern-day Johor, the Riau Islands and even Singapore. The restored remains of this kingdom can still be seen on the island. Board a commuter boat from the pier at the end of Jalan Pos (it costs IDR2,500, or $0.25 for a one-way trip) for the 1.5 km ride to Penyengat. Once you get here, you can walk or hire a tricycle with a driver for IDR 30,000 ($3), to visit structures like the grand Sultan Mosque and the remains of the royal palace. Make your way up Kursi Hill to see century-old Dutch cannons and bird's eye views of the harbour. Later on, spend an afternoon at the village plaza watching the locals play sepak takraw, a native sport.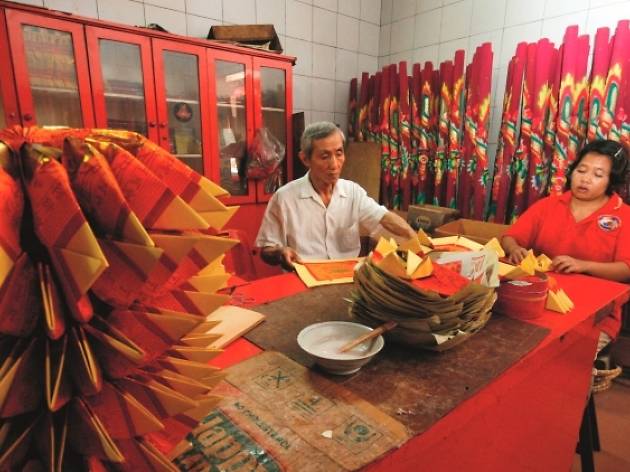 If you fancy a longer ride on the water, you can negotiate a boat tour around Tanjung Pinang harbor from the pier at the end of Jalan Plantar II (aim for about IDR280,000, or $30, for up to four hours). After taking a closer view of the busy portside activities, make your way to the north side of the bay to the village of Senggarang, which boasts traditional stilted houses and an ancient Buddhist temple complex. From here, you can also ride up the Ular River, past scenic mangrove forests and onto the Snake River Temple, another Buddhist house of worship, which takes about an hour to get to.
Where to stay in Bintan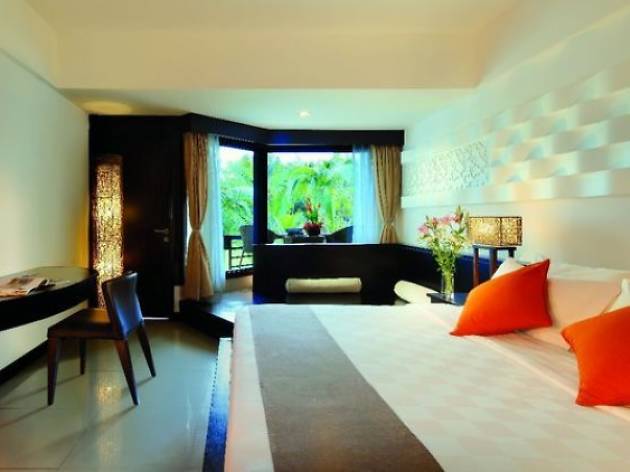 Tanjung Pinang has numerous budget options for an overnight stay. Near the promenade, Bintan Panorama Hotel (21 Jln Haji Agus Salim, +62 771 313759) offers clean, no-frills rooms from $25. Closer to the action is Hotel Lesmina (29A Jln Pasar Ikan, +62 771 315000), which is located right beside the busy market. Rooms here are cheap and basic, but the suites offer good value from $20.
If you still want to stay at a resort, most are along the north coast of Bintan, about an hour drive from Tanjung Pinang. For a golden retreat to Bintan, check out our ultimate guide for things to do, places to see, resorts to stay and restaurants to dine.
There are six fast ferry services daily (from 8.30am until 6.20pm) from Singapore's Tanah Merah Ferry Terminal to Sri Bintan Pura Terminal in Tanjung Pinang for $50 return.