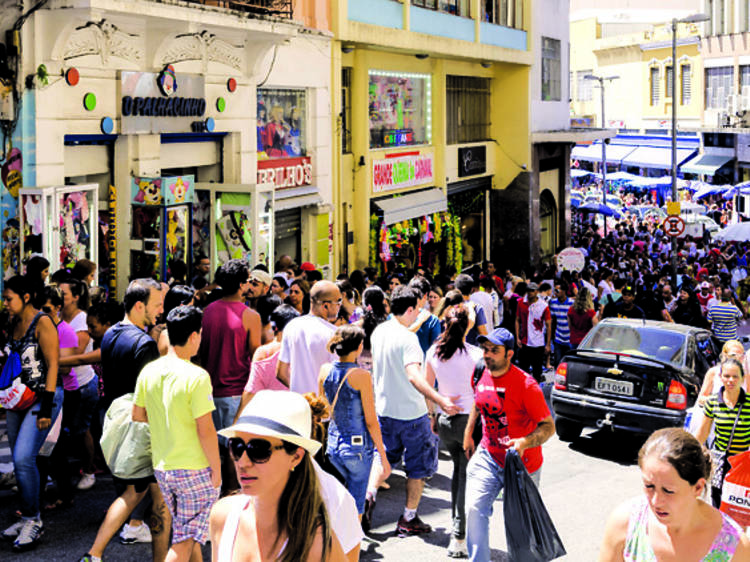 Around Town
Gritty and bustling, Centro – the old downtown area – mixes 19th-century European architecture with Latin American hustle. Packed with peddlers of kitsch and tat, shopping street Rua 25 de Março remains a tackily entertaining place to experience the city's street life, though the area can get sketchy at night. Just south of Centro is Liberdade, São Paulo's Japantown, rife with kanji and kana signage, Asian cuisine, sundry doodads for sale and a festive atmosphere at the main plaza's weekly market.
For a splash of cool green in the midst of the urban canyon of Avenida Paulista, Parque Trianon (officially Parque Tenente Siqueira Campos. Rua Peixoto Gomide 949, +55 11 3289 2160) offers precious respite as the last remnant of the original Mata Atlântica, the coastal rainforest that's been decimated by development. For the culturally inclined, São Paulo's splendid Museu Afro Brasil (Parque do Ibirapuera Portão 10, +55 11 3320 8900), located in the expansive Parque do Ibirapuera, has on display more than 4,000 impressive paintings, photographs, costumes and exhibitions related to the African strands of history and culture in Brazil and the Americas. And for worshippers of the beautiful game, the Museu do Futebol (Praça Charles Miller 1, +55 11 3663 3848), in the city's art deco Pacaembu Stadium, is a treat.
Unlike in Rio, where the homes of the poorest are always in view, São Paulo's favelas are less visible to the casual visitor. To get a glimpse, head out into the city's vast perifería on a tour with São Paulo insider, Flavia Liz Di Paolo (+55 11 3032 2692). The personal guide, who customises a variety of tours for her clientele, will take you to Paraisópolis and into the home of Estevão, whose oddly beautiful house is made of teacups and saucers, fragments of ceramic, old telephones and thousands of other bits and pieces, all embedded into lattice-work walls.