The ultimate guide to Seminyak and Petitenget
We list what to do and where to go on the Island of the Gods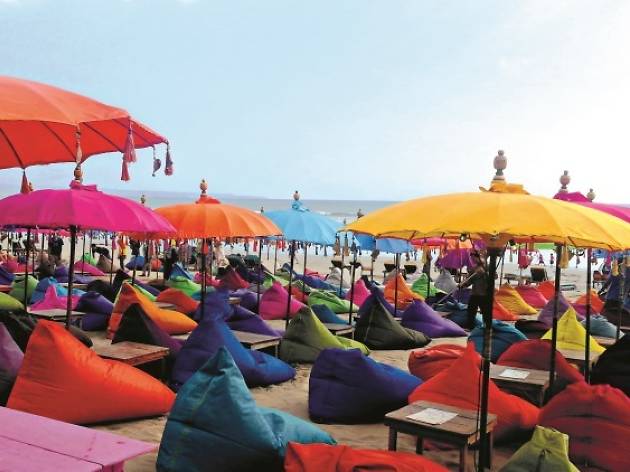 Kuta has long been known as the party and tourist central of Bali, but for those looking for somewhere more luxurious and away from the backpacking crowd, we'd suggest that you visit its northern sibling, Seminyak.
The area is known for its upmarket lifestyle, and has no shortage of fashionable boutiques, chic restaurants and Instagramworthy cafés. And should you find yourself tired, there are plenty of spas and bars to rest your tired feet – not to mention the fact that the sunsets along its fine grey beach are truly magical.
But if you want to stay ahead of the curve, then venture even further north to Petitenget, home to some fantastic hang-out spots. We've trawled through the streets of both districts to revisit some time-honoured institutions and hunt down cool new establishments, so whether you're a first timer or an annual visitor to the area, we've got you sorted.
Rates on Skyscanner for AirAsia direct flights to Bali start from $241 return.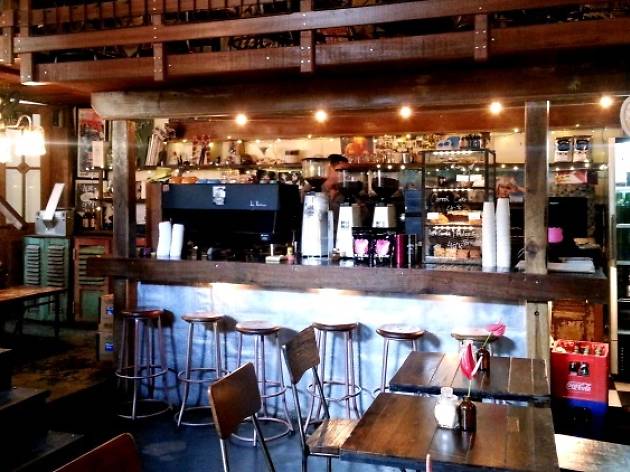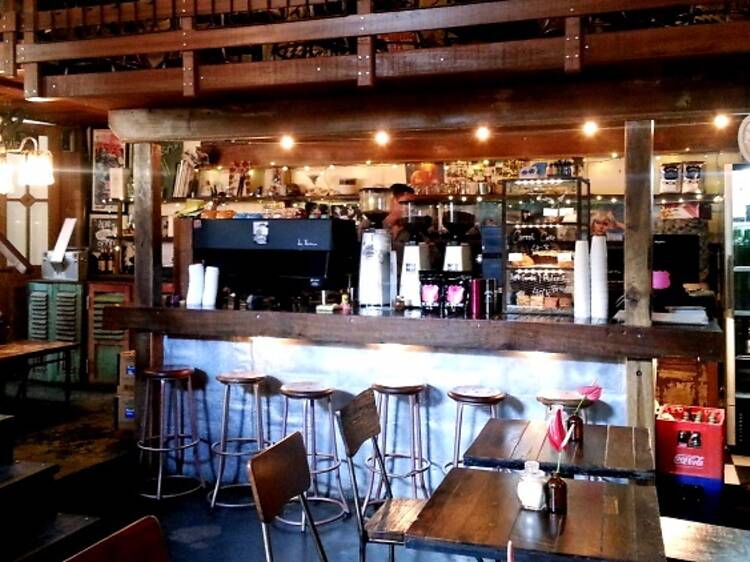 You've probably worked hard to get the perfect beach bod prior to your trip, but we're telling you right now that the real reason you got fit before arriving is so you can guiltlessly enjoy all the food that this place has to offer. The first street you'll hear about for good grub is Jalan Oberoi (also known as Jalan Laksmana and Jalan Kayu Aya; the streets here tend to have several names, so be aware of that).
There are a few cafés and brunch places on the stretch, such as Anomali Coffee (Jln Oberoi No 7B, +62 361 736687, www.anomalicoffee.com), the über-hipster Revolver (Gang 51, Jln Oberoi No 3, +62 361 7884968, fb.com/RevolverEspressoBali) and the gorgeous, Corner House (Jln Oberoi No 10A, +62 361 730276, fb.com/pages/Corner-House-Bali).
Fancy foodies can head to Ku De Ta's sophisticated dinner spot Mejekawi (Jln Oberoi No 9, +62 361 736969, fb.com/KUDETA) or Urchin (Jln Oberoi No 22, +62 361 732413, www.urchinbali.com), an Aussie-style raw bar and grill. But otherwise, we'd advise you to make the walk to Jalan Petitenget.
The start of the area is marked by the synonymously named Petitenget Café (Jln Petitenget No 40X, +62 361 4733054, www.petitenget.net), which is chilled out during the day and welcoming at night, while tea lovers should definitely check out Biku (Jln Petitenget No 888, +62 361 8570888, www.bikubali.com), which is owned by the Australian princess of Ubud and boasts a fantastic collection of tea from India – and you can even book a tarot card reading session here.
The Potato Head Beach Club (Jln Petitenget No 51B, +62 361 4737979, www.ptthead.com), whose fine dining French restaurant, Tapping Shoes, has been revamped as a bistro, is worth a visit, but for some delectable fine dining, you should book a table at Bambu (Jln Petitenget No 198, +62 361 8469797). Their chefs, including several 60-plus-year-old aunties, come from all over Indonesia and their food is authentic and superb.
Further into Petitenget, Barbacoa (Jln Petitenget No 14, +62 361 739233, www.barbacoabali.com) is a great Argentinian place, Naughty Nuri's (Jl Batu Belig No 41, +62 361 8476722) does excellent pork ribs, and Warung Eropa (Jl Petitenget No 98, +62 361 4732480) will satisfy your strongest crispy duck cravings.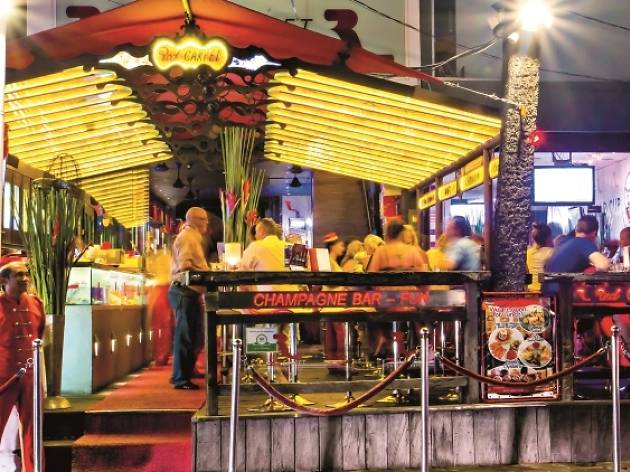 Photo: Duwi Mertiana
While it's not as intense as Kuta, the nightlife scene in Seminyak is certainly alive and well. The biggest parties of the year usually happen in August at Ku De Ta, Potato Head and W Hotel (Jln Petitenget, +62 361 4738106, www.wretreatbali.com), but Jenja (Jln Nakula No 18, +62 361 8827711, www.jenjabali.com) will call to your inner party animal. It's known for its hip hop Wednesdays and house/techno Fridays, although we've heard that Monday nights are surprisingly fun, too.
Jalan Oberoi is home to several newish places for good drinks and better times: Red Carpet Champagne Bar (Jln Oberoi No 42C, +62 361 737889, www.redcarpetchampagnebar.com) is a fun, classy affair and claims to be 'home to Indonesia's largest champagne collection', while La Favela (Jln Oberoi No 177X, +62 361 730603, www.lafavela.com) also hosts great parties.
And if you're further up on Jalan Petitenget, pop into Hu'u Bar (Jln Petitenget, +62 036 14736576, www.huubali.com), which has been around since 2001 and has hosted a range of celeb DJs. For something a bit different, head on to Salty Seagull (Jln Petitenget No 999, +62 361 8497588, on.fb.me/1tTSm7f), where crab racing takes place every Thursday night. And if it's gay bars that you're after, then head right on to Jalan Camplung Tanduk – you won't miss them.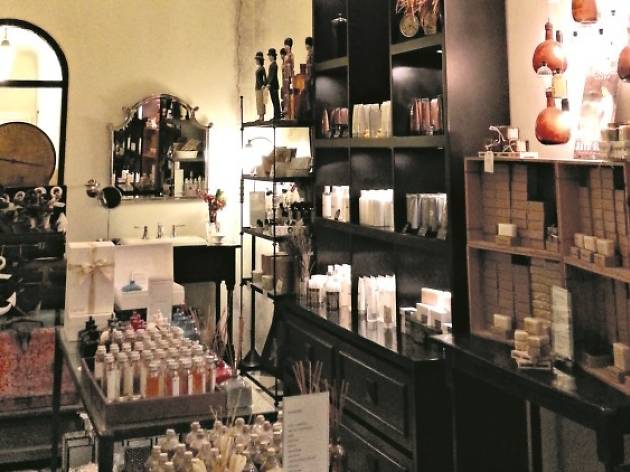 As one hotel manager wisely advised the men, 'Seminyak is a woman's shopping paradise, so just give her the credit card and give up'. He was right. You can still find touristy knick-knacks, but the boutique shops here are generally classier – and pricier. There are three main shopping streets in the area: Jalan Raya Seminyak, and the aforementioned Jalan Oberoi and Jalan Petitenget.
Ladies can treat themselves to something pretty at Biasa (Jln Raya Seminyak No 36, +62 361 730308, www.biasabali.com), Innuendo (Jln Oberoi No 117, +62 361 841 0751, www.innuendostyle.com) and Magali Pascal (Jln Petitenget No 900, +62 361 8469794, www.magalipascal.com), which are all founded by European designers based there.
Those looking for something more hip and casual for both genders, head over to Somewhere (Jln Oberoi No 52, +62 361 9262981, www.somewherestorebali.com) and This is a Love Song (Jln Oberoi No 3, +62 361 9130713, www.thisisalovesong.com/en-id), or else pop over to SimpleKonsepStore (Jln Oberoi No 40, +62 361 730393, www.sksbali.com), which stocks apparel as well as quirky accessories and designs.
For non-fashion goods, Bathe (Jln Petitenget No 100XX,+62 361 4737580, www.bathestore.com) has wonderful bath products, and if you forget to bring a book for the beach, the biggest local bookshop Periplus (Jln Kayu Aya No 1, Seminyak Square, +62 361 736851, www.periplus.com) will have you covered.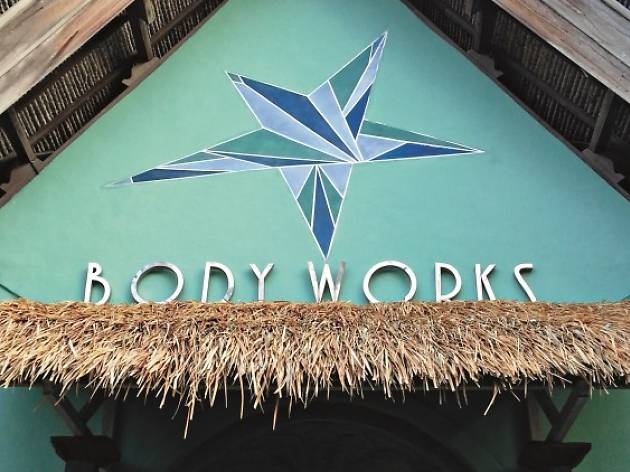 Get your culture fix by paying the little beach-side temple, Pura Petitenget, a visit. It's right by the beach and holds some beautiful ceremonies, but do be respectful of local culture as these rituals are sacred to the Balinese (a sarong is required for the ladies and any revealing clothing should be avoided, and be courteous when you're taking photos).
If you prefer something a bit more active, you – or your kids – can learn to surf at Rip Curl Surf School (Jln Arjuna, +62 361 735858, www.ripcurlschoolofsurf.com), or else indulge in a massage. Many hotels have pampering five-star spas, but Body Works (Jln Kayu Jati No 2, +62 361 733317, www.bodyworksbali.com) has been around for 20 years and offers relaxing treatments without breaking the bank. And Think Pink Nails (Jln Batu Belig No 108, +62 361 9188116, fb.com/thinkpinknailsbali) is great for a mani-pedi – they even have a car that picks up and drops off customers staying in the area.
And then, of course, there's the beach. Few things are better in life than watching the sun dip into the ocean, so plonk yourself on the colourful beanbags at one of the many lovely beach bars and soak it all in. We especially love La Plancha (Jln Mesari Beach, +62 361 730603, fb.com/laplancha.bali) on Double Six Beach.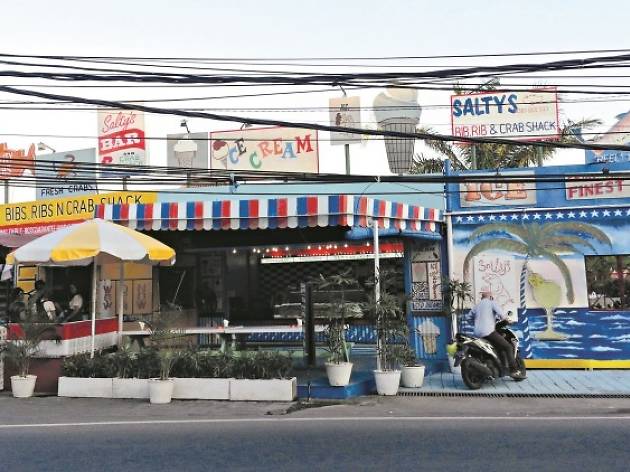 The traffic in Seminyak is notoriously nightmarish, yet the most comfortable way of getting around is still by car. Most resorts can sort you out with a set of wheels and a driver, but taxis are cheap and plentiful, too.
Blue Bird is the most trusted cab company in the area, but whichever one you take, be sure you ask the cabbies to run the meter if you don't want to be ripped off. A few brave souls do choose to take on the locals' preferred mode of transport: motorcycles. A motorbike taxi will cost around $1 to get you from Seminyak to Petitenget, and for $5 you can rent that baby all day (excluding gas).
But if you're really skint, just use those legs and walk. Seminyak is not the most pedestrian-friendly of places, and pavements sometimes do just vanish in the middle of the road, but on the whole it's definitely doable, safe and free.
Where to stay in Seminyak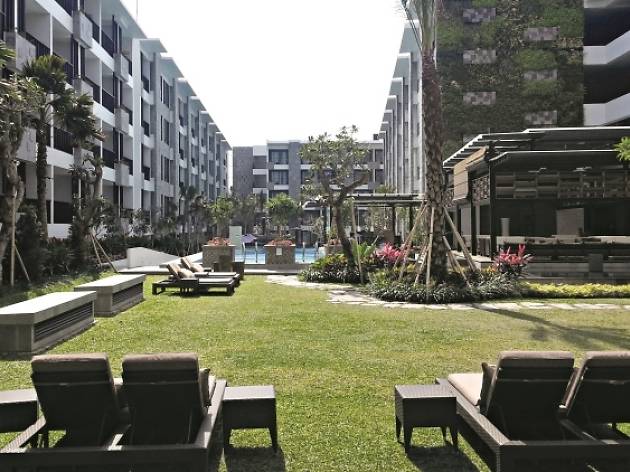 Courtyard by Marriott is known for being a business hotel, but its property in Seminyak incorporates a few extra holiday touches. It has a pool complete with underwater seats next to the bar, a spa, and a kids club for little ones to enjoy a range of activities throughout the day. It's a great choice for those who are looking for a nice, modern hotel in a central part of Seminyak without denting the wallet too heavily.

Rates start from $172/night. Jln Camplung Tanduk No 103 (+62 361 8499600, www.courtyardseminyak.com).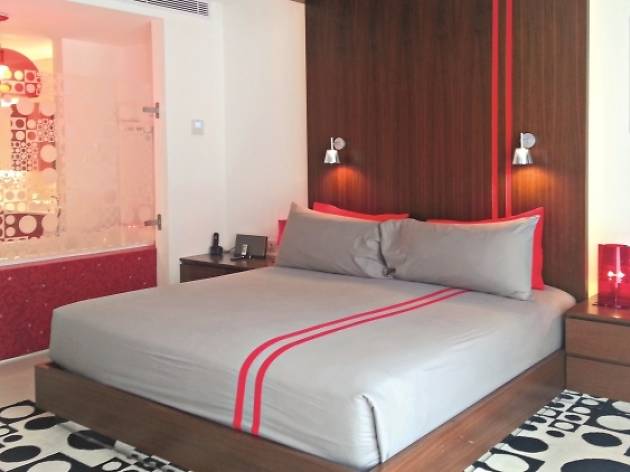 Luna2 studiotel is a great gem made unique by a bold interior design – expect fun pieces of pop art and quirky references to space exploration. The intimate hotel has 16 studio-style rooms, and there are plenty of places to chill out, such as a rooftop bar and private cinema. Or you could always get a massage in your room or wherever the masseuse can set up a table. And be sure you dine at Orbit restaurant at least once while you're there. It looks pretty simple, but the food is beautifully presented and is absolutely delicious (and they do a mean flat white, too).

Rates start from $288/night. Jln Sarinande No 20 (+62 361 730402, www.luna2.com).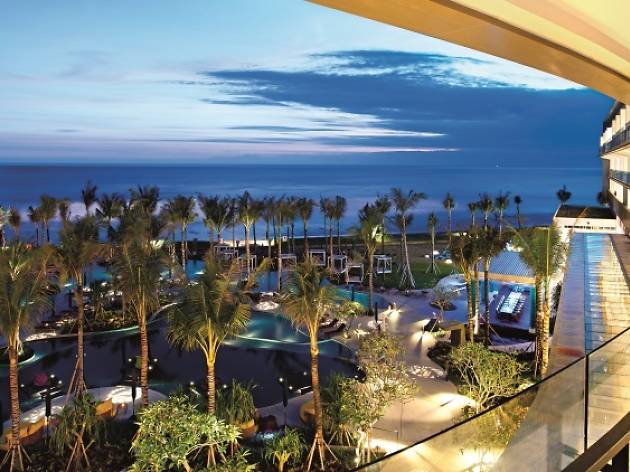 Photo: Tooten Photography Co.
W Bali, located in Petitenget, has perfected the idea of chic indulgence. We love its spacious, earthy-toned suites. Many of them have private balconies that overlook the pool and surging waves of the ocean, but opt for one of the hotel's 79 villas if you want more privacy – like your own private pool. Besides that, the signature WooBar is great for pre- and post-sunset drinks as well as party time, the 24-hour AWAY Spa is funky and contemporary but ultra-relaxing, and we wouldn't mind snuggling up with a good book or magazine in the hotel's private library, WORDS, either.

Rates start from $470/night. Jln Petitenget (+62 361 4738106, www.wretreatbali.com).