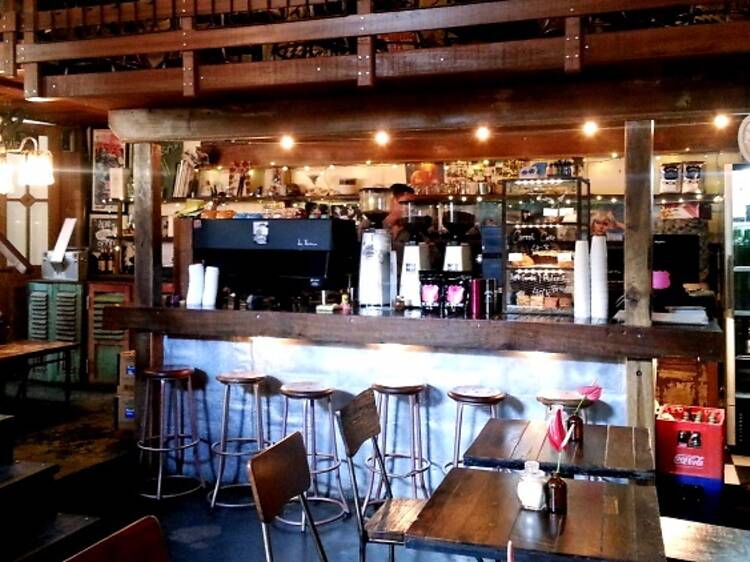 You've probably worked hard to get the perfect beach bod prior to your trip, but we're telling you right now that the real reason you got fit before arriving is so you can guiltlessly enjoy all the food that this place has to offer. The first street you'll hear about for good grub is Jalan Oberoi (also known as Jalan Laksmana and Jalan Kayu Aya; the streets here tend to have several names, so be aware of that).
There are a few cafés and brunch places on the stretch, such as Anomali Coffee (Jln Oberoi No 7B, +62 361 736687, www.anomalicoffee.com), the über-hipster Revolver (Gang 51, Jln Oberoi No 3, +62 361 7884968, fb.com/RevolverEspressoBali) and the gorgeous, Corner House (Jln Oberoi No 10A, +62 361 730276, fb.com/pages/Corner-House-Bali).
Fancy foodies can head to Ku De Ta's sophisticated dinner spot Mejekawi (Jln Oberoi No 9, +62 361 736969, fb.com/KUDETA) or Urchin (Jln Oberoi No 22, +62 361 732413, www.urchinbali.com), an Aussie-style raw bar and grill. But otherwise, we'd advise you to make the walk to Jalan Petitenget.
The start of the area is marked by the synonymously named Petitenget Café (Jln Petitenget No 40X, +62 361 4733054, www.petitenget.net), which is chilled out during the day and welcoming at night, while tea lovers should definitely check out Biku (Jln Petitenget No 888, +62 361 8570888, www.bikubali.com), which is owned by the Australian princess of Ubud and boasts a fantastic collection of tea from India – and you can even book a tarot card reading session here.
The Potato Head Beach Club (Jln Petitenget No 51B, +62 361 4737979, www.ptthead.com), whose fine dining French restaurant, Tapping Shoes, has been revamped as a bistro, is worth a visit, but for some delectable fine dining, you should book a table at Bambu (Jln Petitenget No 198, +62 361 8469797). Their chefs, including several 60-plus-year-old aunties, come from all over Indonesia and their food is authentic and superb.
Further into Petitenget, Barbacoa (Jln Petitenget No 14, +62 361 739233, www.barbacoabali.com) is a great Argentinian place, Naughty Nuri's (Jl Batu Belig No 41, +62 361 8476722) does excellent pork ribs, and Warung Eropa (Jl Petitenget No 98, +62 361 4732480) will satisfy your strongest crispy duck cravings.