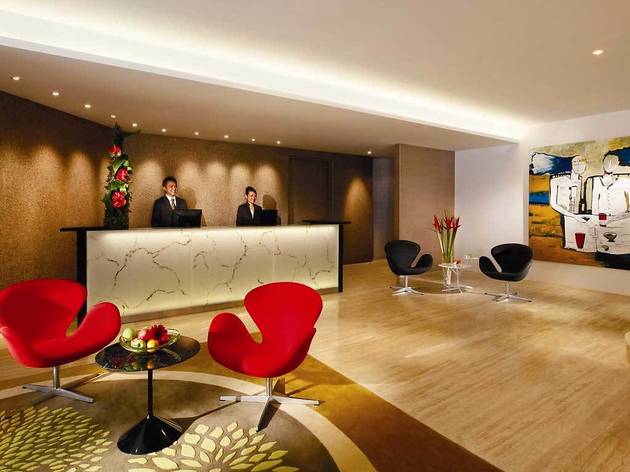 We are betting that whoever dreamt up Wangz was an avid fan of Field of Dreams. It's hard to think of a less appropriate area to plonk a trailblazing design hotel than this end of Outram Road, a no man's land equidistant from the sleepier side of Outram Park and largely residential Tiong Bahru, where its barrel-shaped, metallic exterior towers above a string of distinctly non-boutique hawker stalls.

With only 41 rooms at six levels of sumptuousness (and concomitantly tiny car park), it's clearly not intended for mass consumption. The devil's truly in the detail, an ethos evident from a cursory glance at any of the bedrooms, whose unobtrusive cosiness is augmented by chi-chi traveller treats such as mini ironing boards, top-of-the-range iPod docks and Molton Brown toiletries in the rain shower.

An East-meets-West style template is all very well, but garishly juxtaposed daubings emblazon corridor walls, the elevator and mealtime mecca Nectar, a sort of Disneyland for diners whose bright orange seats and rattling roadside walls hardly complement an intimate culinary evening.

On our visit just one other couple partook of the evening's fare – a shame, since both set menu and à la carte selections yielded bountiful pleasures for the palate, including an irresistible cooked-in-its-skin chicken quarter, lamb as juicily tender as it was plentiful and a richly satisfying molten chocolate dessert (although yam-and-pumpkin pudding is a taste we probably won't be acquiring).

One comfort-cosseted sleep later, Nectar came alive for a continental breakfast roundly appreciated by young families, priapic businessmen and easy-on-the-eye flashpackers. But we couldn't help wondering whether Nectar might work better on the roof, as its bustling lobbyside space seemed tailor-made for a swanky bar like the one occupying the top floor.

Halo, in fact, was our previous night's watering hole of choice, a self-styled 'playground for the soul'. Admittedly its stripped-back chic flatters to deceive – the slimline lighting's seductive twinkle and style-savvy seating eventually deliver unexceptional views, and baffling cocktail concoctions – but we could well imagine this spot becoming a romantic alternative to nearby Speakeasy, if not a challenger to the more handily located Screening Room or Breeze.

Eight months after opening, Wangz is a bolthole still finding its feet in a crowded marketplace. With no obvious USP, it doesn't flaunt a novelty theme like Scarlet, boast Naumi's aesthetic allure or scream 'super-chic' à la New Majestic. But its arty quirks, eager-to-please staff and impeccable cuisine hint that now that it's been built, they may yet come. Jonathan Evans
Venue name:
Wangz Hotel
Contact:
Address:
231 Outram Rd
Singapore
169040

Do you own this business?