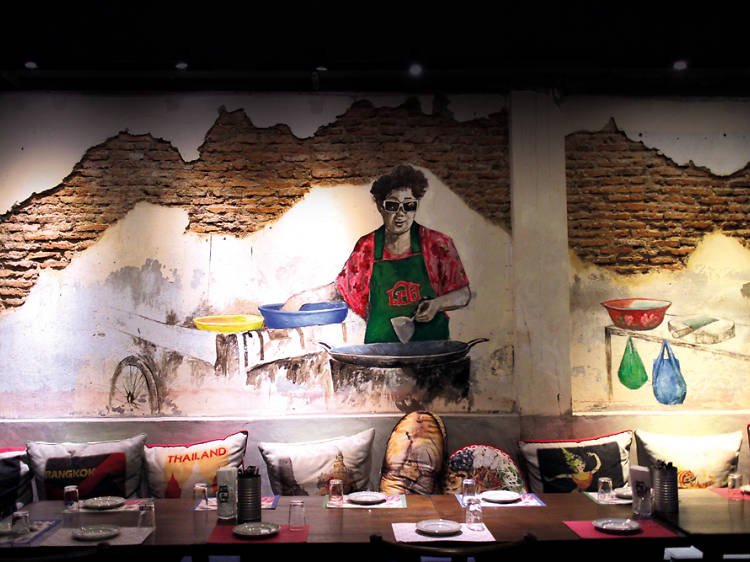 Err
Thai fine dining spot Bo.lan is widely regarded as one of the country's foremost keepers of authentic local cuisine, but sitting through a seven-course meal there can cost upwards of THB2,680 ($104) per head. If all you've packed for a weekend trip are holiday berms and Kratingdaeng singlets, check in to Err instead.
Consider it the diffusion brand of Bo.lan flagship that has a lot more fun than her older sister. Hidden down a short darkened alley not far away from the Grand Palace, Err is a technicolour eatery where racy food competes for attention against graffiti, screen-printed Visit Thailand posters, and nostalgic tchotchkes – some familiar even to Singaporean audiences.

Duangporn Songvisava, the 'Bo' to Dylan Jones' 'Lan', also has a hand in the food here. The friendly staff encourage a party of four to order six or so dishes from the menu that includes preserved, pickled and charcoal-grilled dishes. The recommended Chicken Movie (THB150, $6) is a deep fried and paper-thin jacket of spring chicken skin served with a housemade Sriracha dip, while Isaan cuisine gets prime representation in supple cuts of toasted, rice-covered squid, zested with lashings of lime juice. And even though the dining room can find itself filled by tourists and expats on a busy Friday night, no one gets a break from the spice in dishes like the red curry of chicken bits on the bone and chunks of sweet melon (TBH350, $13.50). To douse the gob flames are a collection of Thai-distilled rum, rice, potato and corn spirits, served by the shot (THB120-125, $4.65-$4.80) or in refreshing cocktails (THB180-250, $7-$10).
394/35 Maharaj Rd, Tatien, Phra Borom Maha Ratchawang, Phranakorn (+66 2 622 2291, www.errbkk.com). Tue-Sun 11am-3pm, 6-11pm.