The best things to do in Switzerland this autumn
We've put together a list of great things to do for the colourful season of Autumn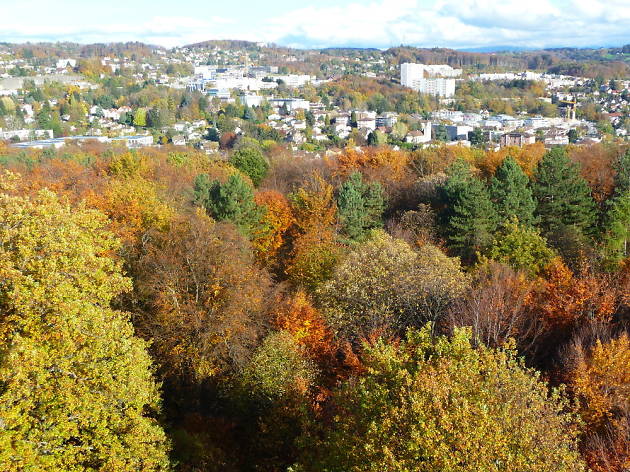 As the heated fun of summer becomes a distant memory, autumn presents new amazing things to do in Switzerland. Click through on our city lists below for more tips.
Autumn treats in Lausanne
Off the tourist trail, this fascinating museum is a must-see for those seeking an alternative to the mainstream, exactly what 'art brut' – literally 'raw art' – is all about. Since 1976 this museum has presented the collection of Jean Dubuffet, who sought to gather art from all over the world created by untrained artists on the fringes of society.
Read more
Worth a visit on a rainy day is this small museum housed in the former bishop's palace next to the cathedral. Its detailed exhibits chart Lausanne's rich history from its origins in Roman times, through its importance as a trade route during the Middle Ages, its political and social history – particularly in the 17th century – and the huge physical changes it underwent over the centuries to make its hilly landscape more accommodating.
Read more
On Wednesdays and Saturdays Lausanne's pedestrian streets take on a pleasing bustle with the arrival of the market. Multiple fruit and veg stalls set up shop on Rue de Bourg and the central Place de la Palud, or head up to Place de la Riponne for cheeses, charcuterie, bread and an ever-expanding flea market selling paperbacks, CDs, bric-a-brac and second-hand furniture.
Read more
You'd be forgiven for not realising that Switzerland is a wine-producing country, as only one percent of the one million hectolitres it produces each year actually makes it to foreign markets. But take a bus a short ride from Lausanne into the Lavaux vineyards and you'll quickly see how dominant vines are in this part of the country.
Read more
As anyone who has arrived into the main train station knows, Lausanne is rather chuffed with its self-proclaimed status as 'Olympic city', due to the presence of the International Olympic Committee's headquarters down by the lake in Vidy. A museum dedicated to the movement was created in Ouchy in 1993 and was renovated in 2013 to the tune of £36 million. As you'd hope for that amount of money, it's now well-worth a visit.
Read more
At the top of Lausanne's broad sweep from hilltop to lakeside, this forest is a pretty spot for a Sunday stroll or cycle along the leafy trails. The focal point is the lake and petting zoo – ideal for kids – and its chalet restaurant which serves Swiss classics such as fondue. In winter if the lake freezes solid enough, people go skating here. For the best view in town, head up the helter-skelter staircase of the Sauvabelin tower, which looks out over the town, lake and mountains. Visit in autumn and the turning leaves can be spectacular.
Read more
A peaceful spot for a stroll, the city's botanical gardens sit on the Montriond ridge, once a glacial moraine and now a grassy knoll sporting far-reaching views of the lake and mountains. The gardens themselves house 6,000 plants spread over terraces and in hothouses, and there's a small museum with a programme of regularly changing exhibitions. Once you've explored, head to the top of the hill and you'll easily find a spot of grass to yourself from where to gaze at the mountains and contemplate life.
Read more
In an august 18th-century villa rising from immaculately tended gardens overlooking Lake Geneva, 100,000-plus original photographs make up the extraordinary collection of the Musée de l'Elysée. One of the first museums in Europe purely dedicated to the photographer's art, it first made a name for itself with exhibitions of 20th-century masters such as Cartier-Bresson, Irving Penn and Ella Maillart as well as earlier work that showed the art form's first steps.
Read more
Autumn treats in Basel & Bern
See our city guides for more suggestions
... with our in-depth city guides, showcasing great things to see, eat, drink and do in Switzerland
Read more
With the Swiss school holidays falling in October, it's a great time of year to explore these family-friendly museums, attractions, parks, cafes plus a few places to chill out and wind down in too.
Read more