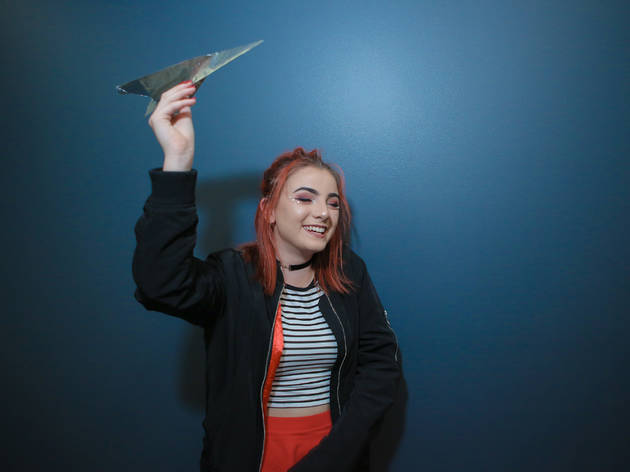 Time Out says
MCA's Youth Committee hosts an awesome arts event and everyone's invited
The Museum of Contemporary Art is reopening on June 16, and will be open Tuesdays to Sundays, 10am to 5pm. There be enhanced cleaning procedures, as well as markers on the floor to keep people from getting too close.
Can't wait that long? MCA's youth program GENEXT is going online. The museum's 20-strong youth committee, comprised of teenagers from across the length and breadth of Sydney, have pulled together an awesome program of fun stuff for folks aged 12-18.
The line-up is incredible, taking in everything from hip-hop classes run by Sydney Dance Company to an AUSLAN visual storytelling workshop inspired by Biennale artist Erkan Ozgen's video piece 'Wonderwall' and run by hard-of-hearing youth committee member Amy Wright. Including a fashion contest and a young artist showcase, the event is free for all, right across Australia.
Jo Higgins, MCA's young creative coordinator, says she can't wait to unveil GENEXT Goes Online. "The youth committee has been working incredibly hard over the last two months to transform GENEXT into an online event for their peers. Normally we'd welcome over 600 teenagers to the MCA to see our exhibitions, participate in workshops, hear live music and share ideas with new friends, and it was really important to the youth committee that this same spirit existed online."
She adds that they wanted to acknowledge "this strange, anxious moment that we're all in, and so lots of the activities also respond to life under lockdown and the importance of staying connected and creative".
Higgins is really looking forward to a live Zoom panel about mental health moderated by the teams from ReachOut and Twenty10. "These kinds of collaborations are so valuable and something that young people are really asking for right now. Our young guides would normally be taking members of the public through our galleries, and it's so exciting that their voices and ideas are part of the program. Their perspectives are always so considered and exciting and I want everyone to experience this event."
GENEXT Goes Online kicks off at 6pm, Sunday May 31. You can register here.
This article is supported by the Judith Neilson Institute for Journalism and Ideas.
Details