Comedy
Comedy clubs, comedians and comedy festivals in Sydney
You might also like...
Just for Laughs
Now in its eighth year, Just For Laughs has become a comedy fixture for Sydney, presenting a largely Antipodean, UK and American line-up across Sydney Opera House, Enmore Theatre, Factory Theatre and City Recital Hall. Highlights from this year's program include English comedy stalwart Bill Bailey, who'll be bringing stand-up, sing-alongs and satire to the Sydney Opera House in his new show, Earl of Whimsy. You know him from his laugh-out-loud roles in Crazy Rich Asians, The Hangover and Community, but did you know Ken Jeong actually started his career as a doctor before moving to stand-up? He'll be reverting back to his foundations in comedy, with a one-off Opera House performance. Iliza Shlesinger, who was the first woman to win Last Comic Standing in 2008, and has four Netflix specials to her name and the hugely popular podcast, Truth and Iliza. Improviser extraordinaire Reggie Watts, who'll be using just has voice and looping pedals to create a hilarious musical performance.  Whose Line is it Anyway? stars Colin Mochrie, Brad Sherwood and Greg Proops, who'll be bringing a touch of the Whose Line magic to Sydney in an improvised performance. Ryan Hamilton and Becky Lucas will also both take to the Opera House while Ismo, Kenny Sebastian and Mo Gilligan will hit the Factory Theatre for solo shows.  Returning this year is the popular All-Star Gala (which tends to sell out), which will again be hosted by Dave Hughes and features Reggie Watts, the stars of Whose Line is
Buy tickets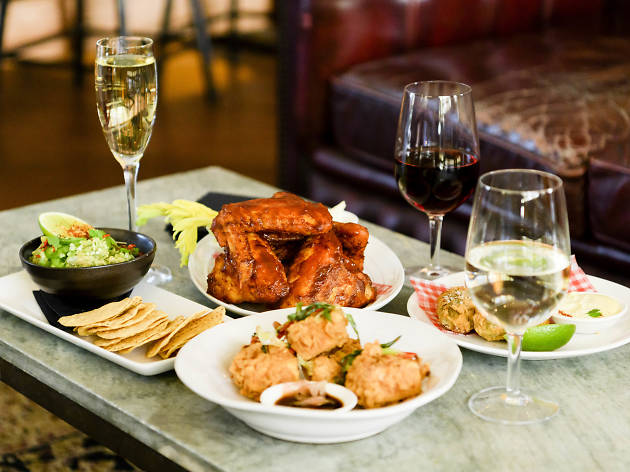 Head to Whirly Bird's aperitivo hour
Pyrmont's own cocktail and chicken devoted bar will be dishing out this new aperitivo hour every week. Inspired by the Italian tradition, you'll be able to order up glasses of red or white wine, bitter amari or Resch's Draught for just $5. If you're after a cocktail, there will be a menu of bartender's picks. You can order up an Aperol Spritz, Negroni, Daiquiri or a Paloma. To go with your drinks, you can peruse a selection of $10 snacks, including salt and pepper silken tofu, avocado and edamame guacamole, chicken and chorizo croquettes and spicy jalapeño poppers. A highlight of the $10 menu is Whirly Bird's signature messy wings, which you can order in three different styles – chilli caramel with pickled radish, sesame and lime; satay with spicy peanut sauce and green onions; or classic buffalo wings, with honey and chilli hot sauce, blue cheese dip and celery. If you're in on Thursday night you'll also find $12 burgers, and every day you can get around the rest of the full Whirly Bird menu, which includes rotisserie chicken and porchetta, buttermilk fried chicken and salads. Whirly Bird's aperitivo hour goes down Sunday through Thursday from 5pm-7pm, making it the perfect spot for after work drinks or a pre-theatre bite to eat. Find out more about Whirly Bird.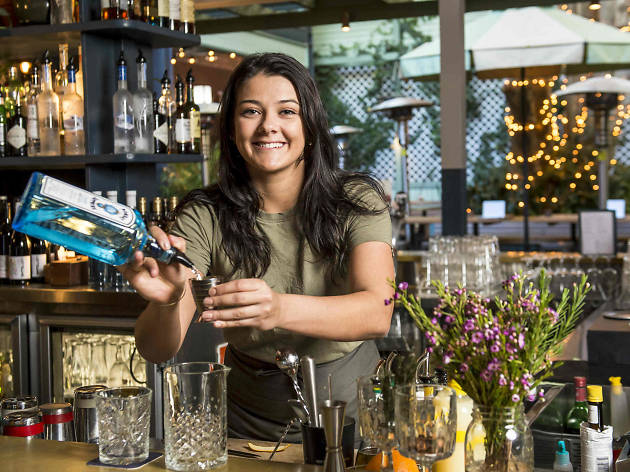 Local guide to Double Bay with Kayla Lagesse, the Sheaf
The Sheaf has a legendary status as an Eastern Suburbs party pub. Visiting this Double Bay venue is practically a rite of passage for young people, and there's a line-up of DJs and live entertainment throughout the week. Their beer garden is one of the best places to be, day or night. One of the Sheaf's biggest fans works there: duty manager Kayla Lagesse. Kayla, how long have you worked here?I have worked at the Sheaf for just over four years. I applied for a job as soon as I turned 18! I started out as a food runner in the bistro and have since worked my way up to bartender, then a bar supervisor, and now a duty manager. What do you love most about your job?Hospitality is one of the greatest industries to work in. There is always something exciting happening, whether it's a big event or helping create a new cocktail list. I'm someone who enjoys eating and drinking, and I also value being able to provide guests with a great experience and tell a story through the food and drinks they enjoy. Plus, I have met some of my greatest friends, and so many people with interesting stories along the way. Who have you met?I know many of the customers that come in very well. A mother and infant son have come in for the past three years, and some of the baby's first words were learning the staff's names! There were two girls who came in on a Wednesday night and one of the girls' boyfriends had just dumped her. They seemed a bit down, so I sent them over a couple of [complimentary] Cosm
Get around these chimney cone ice creams
Sydney has its very own dessert truck devoted to chimney cones, a traditional Hungarian dessert that takes grilled sugar dusted doughnut-like cones, fills them with ice cream, then tops it with sweet treats. Pimp My Chimney rolls around Sydney serving up the decadent, portable dessert, and now you can find it at a bunch of locations around the city and surrounds. You'll find them regularly at EQ Moore Park and in Blacktown, and also at one-off events including the upcoming Cabaramatta Moon Festival; Penrith Octoberfest and the Marrickville Festival. To keep your eye out for where you can get around the treat, follow the Pimp My Chimney Facebook. Once you track the dessert truck down, you'll be able to try one of the eight tasty chimney cones like the Naughty Nuts Nutella, Nutella brownies, vanilla ice cream and hazelnuts; the Cheeky Choc, cookies, choc fingers, flakes, sauce and ice cream; or the oozey doozy Caramel Baby, with honeycomb, caramel fudge, caramel popcorn, caramel sauce and vanilla ice cream. Find out more about Pimp My Chimney.