Film
Film reviews, festivals, special screenings and more
Sydney Film Festival sneak peek
They've announced 23 highlights of the 2019 festival, from R-Patz in space to killer (literally) fashion
Buy
The best cinemas in Sydney
You might also like...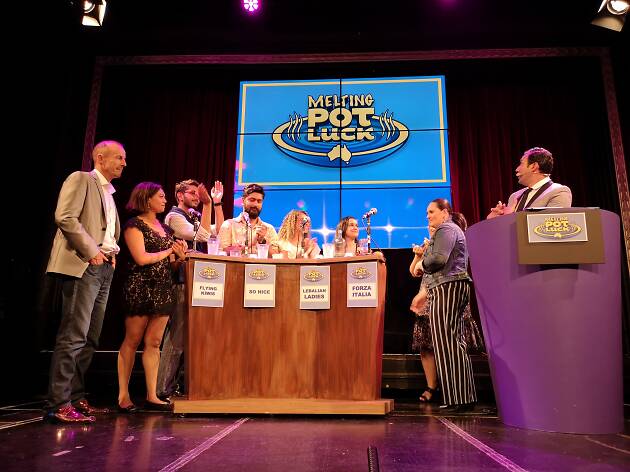 Melting Pot Luck
You're invited to come participate in Australia's first multicultural game show, live on stage at Giant Dwarf Theatre. Devised by comedian and MC Sam McCool and the Chaser's Julian Morrow, Melting Pot Luck has four teams from different cultural backgrounds competing to win. But there's a twist – to win this comp, everyone has to pull together. After a successful trial show in March, a run of four dates have been announced, the first being on Monday April 29. Billed as a way to learn more about ourselves and each other, the show aims to reframe the discussion around multiculturalism and cultural identity in a fun and lighthearted way. Contestants will use their background, knowledge and adaptability to bring about victory for their team.  Melting Pot Luck has an apt host in McCool, who speaks five languages and labels himself as one of Australia's most multicultural entertainers. Paired with Morrow, who is decidedly less multicultural but well known for being part of the satirical team the Chaser, the duo will present a night full of TLC (travel, language, and culture). If you're ready for a good time, we have some fantastic news for you – enter code 'timeout' when you buy tix online and you'll score 20 per cent off the price.  
Buy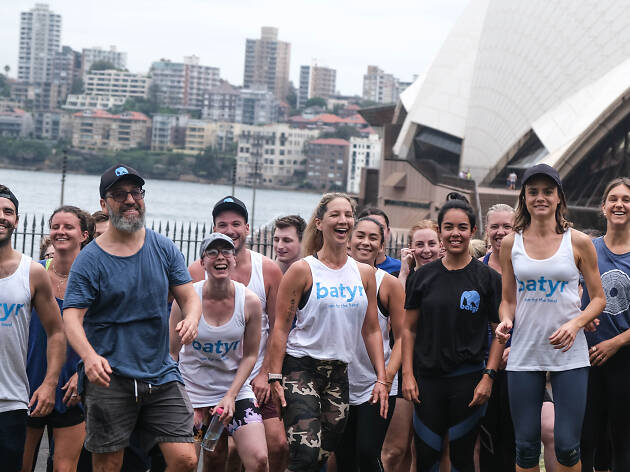 Raise money for youth mental health at this year's City2Surf
Batyr, a charity which supports young people's mental health, is getting together one of the largest teams at the City2Surf race on Sunday, August 11, and you can join their cause. The organisation focuses on both the stigma around speaking up about mental health, as well as education about services available for struggling youth. They are aiming to raise $100,000 which would allow 5000 high school kids to take part in mental health awareness training through their school program. If you register before May 18, you'll be able to nab the sweet early-bird pricing of just $68. Joining means you'll be decked out in a branded singlet and cap, as well receiving support and motivation from personal trainers in the lead up to your run. If you think you'll be able to smash it out of the park and raise $500 for your run, you can register as a charity superstar here. These spots are limited, but you'll get some great perks such as your entry fee being waived, a personalised bib, being part of the special start wave, a limited edition finisher's medal, and other exclusive merch. City2Surf is the largest fun run in the world, with 80,000 walkers, joggers and serious runners coming together to traverse the very hilly course from Hyde Park to Bondi Beach. Starting at very near to the crack of dawn at 7.50am, the 14km run will finish up about 3pm. Register for Batyr's team and check out more info about their initiatives here.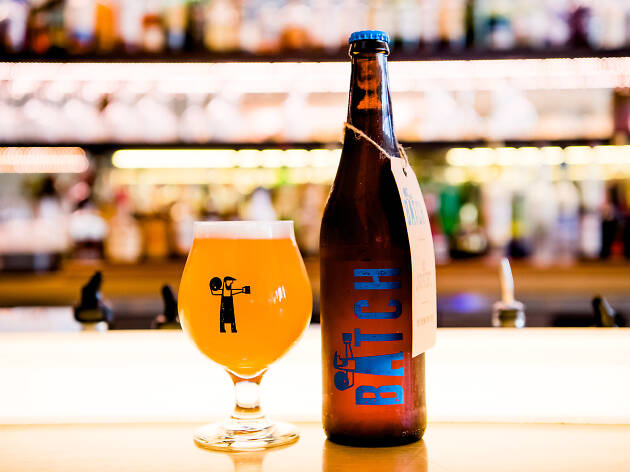 Eat, drink and be merry this chilly season at the Ternary
The Ternary at the Novotel in Darling Harbour is putting on three special events throughout winter to lay out the best of their seasonal food and drink menu. Over three nights, the dining room will play host to three different six-course menus – a lush dinner by candlelight; one paired with craft beers; and another alongside Scotch whisky. On Thursday May 23, while the lights dance outside during Vivid festival, there will be nothing but candlelight inside the Ternary dining room for Unlit. Ternary's director of culinary Anthony Flowers has put together a dinner of highlights, including Indian spiced kingfish with lentils and a gorgonzola dolce latte with poached apple and maple syrup. There'll also be a live acoustic guitar performance to match the mood lighting. The view of Darling Harbour from the dining room will also mean a free light show as the colours from Vivid play along the walls while you dine for only $169pp. Prefer beer with your fancy food? The Ternary delivers with a dedicated night to craft beers called Batch on Thursday June 20. For $169pp you'll be treated to a six-course tasting menu with matching beers brewed by local Batch Brewing Company. The food will be substantial enough to match the six beers on offer, including naan bread made from beer, Korean BBQ beef ribs, and pan-fried barramundi and crispy beef croustillant. The last of the events is Spirited, a night in association with the Scotch Malt Whisky Society where for $209pp, you'll enjoy six dis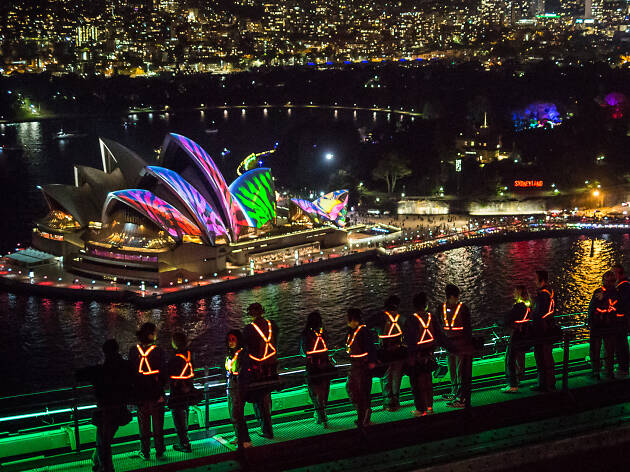 Win a double pass to experience Vivid Sydney from the top of the Sydney Harbour Bridge
There's one way to avoid dealing with the Vivid Sydney crowds this year, and that's with a climb up the Sydney Harbour Bridge with BridgeClimb Sydney. Their annual Vivid Climb is back this year from May 24 to June 15, and they're giving Time Out readers the chance to win a double pass to experience Sydney's light installations and projections from a sky-high vantage point.  The experience is worth $268 for adults and $188 for kids, and the lucky winner and a friend will get to join a group on a three-and-a-half-hour climb starting at sunset. On the way up you'll get to see the harbour from a whole new angle, and the experience will culminate in the coolest dance party once you reach the top. You'll dance on a light-up dancefloor under the stars, and when it's time to go home, winners will receive a complimentary group photo and video capturing your once-in-a-lifetime dance party with a bird's eye view. If you'd like to experience Vivid Sydney a little differently this year, enter the competition below by May 24. Enter here