Art
The best art exhibitions and events in Sydney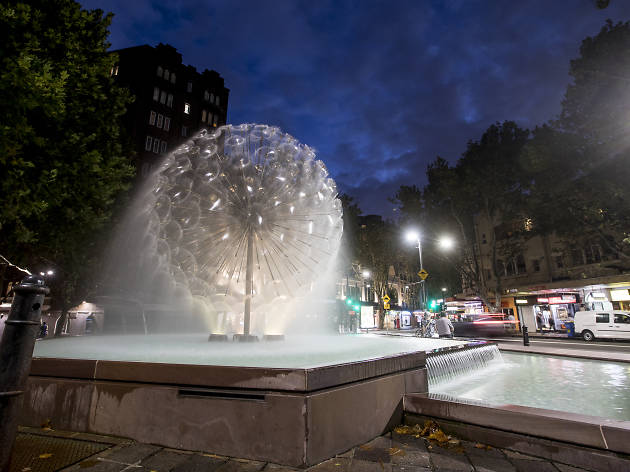 The best public art in Sydney
Public art – in any city – is a notoriously fraught business. No matter how hard you try to make everyone happy, every work will have its detractors. Some more than others, of course. Notable spats in Sydney's public art history include the time residents threatened to dismantle Ken Unsworth's 'poo on sticks' sculpture in Darlinghurst (it still stands); the time NSW Parliamentarian Helen Sham-Ho said Lin Li's 'Golden Water Mouth' sculpture in Chinatown "looks like a penis"; and the time Oz editor Richard Neville ran a cover photo of himself and two others peeing into Tom Bass's P&O Wall Fountain. That said, who could possibly argue for a city without public art? It's (mostly) good for the eyes, good for the soul, and improves even the most uninviting locations. It's also good for business, which has been part of the drive in Sydney over the last decade to revitalise laneways and commercial precincts with commissions from contemporary artists, architects and designers. In 2007, the City of Sydney appointed their first Public Art Advisory Panel – a mix of artists, curators and architects that currently includes Carriageworks director Lisa Havilah and installation artist Janet Laurence. Now you know who to thank/complain to.  Since it's Art Month in Sydney, we thought we'd share some of our favourite public art works in Sydney.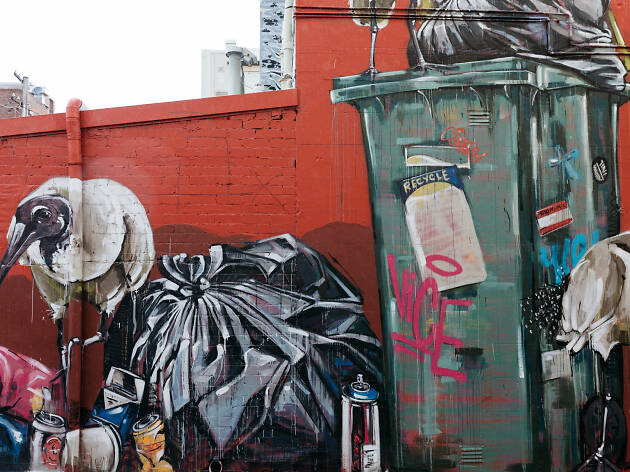 Where to find Sydney's best street art
Sydney is home to a vibrant community of street artists, always ready to bring a splash of colour, a touch of provocation, or just the perfect Instagram backdrop to our city's streets. But as with just about every piece of real estate in Sydney, these unlikely canvases are hotly contested spaces – important artworks are frequently painted over and there've been quite a few public spats over some of our more politically charged works. Here's our pick of the city's essential hotspots and artworks. Continue your art adventure around the city with the best exhibitions this month and Sydney's best galleries. RECOMMENDED: Sydney's best laneways.
Art exhibitions to see in Sydney
Your guide to contemporary, fine and Indigenous art in Sydney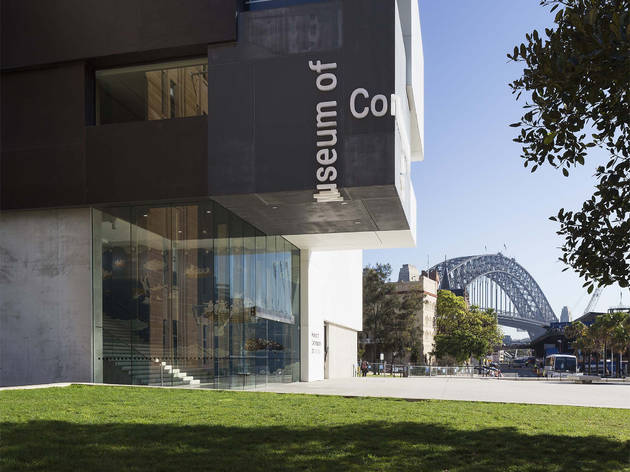 The best places to see art in Sydney
Sydney is busting at the seams with great art – from major institutions like the Art Gallery of NSW and the Museum of Contemporary Art, to incredible privately-owned but publically accessible (and free!) galleries like White Rabbit and Sherman Contemporary Art Foundation, and right down to a thriving scene of independent and artist-run initiatives. Below are some of our favourites.
Upcoming events and exhibitions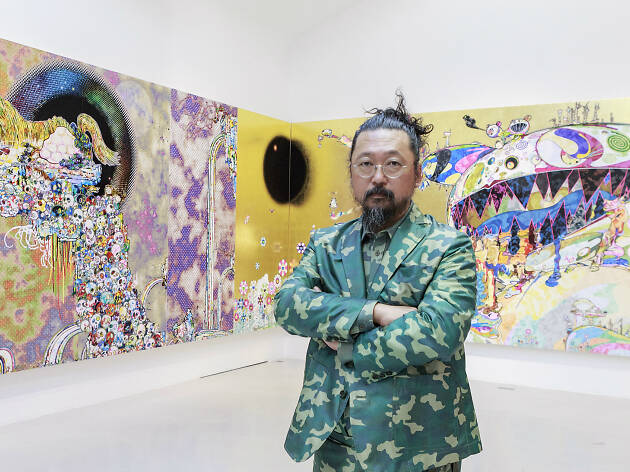 Artworks from Hokusai and Murakami are coming to Sydney in an epic Japanese exhibition
For the last two years, the Art Gallery of NSW has focussed on Europe in its big summer exhibitions: the Netherlands in Rembrandt and the Dutch Golden Age (2017-18), and Russia and France in Masters of Modern Art from the Hermitage (2018-19). But next summer is all about Japan with an epic exhibition of more than 200 artworks from artists past and present. Japan Supernatural will be at the AGNSW from late 2019 and features most prominently work from the country's most influential artist, Katsushika Hokusai – there's no word yet if one of the many prints of his 'Great Wave' masterpiece will be making its way to Sydney – and pieces from superstar artist Takashi Murakami, who'll show a massive supernatural installation in the gallery. If you've never heard of Murakami, here's what you need to know: he's collaborated with Louis Vuitton, designed the covers for two Kanye West albums and directed one of his music videos, and in 2008 was named one of Time magazine's 100 most influential people.  The AGNSW exhibition is promising to take a broad view on Japanese art and be "theatrical" and "multisensory". Colour us intrigued.  There'll be paintings, prints, Japanese cinema and animation, sculpture, contemporary comics and games. There's work from Japan's past from Katsushika Hokusai, Utagawa Kuniyoshi, Tsukioka Yoshitoshi and Kawanabe Kyosai, with contemporary work from Chiho Aoshima and Miwa Yanagi. Don't wait until the end of 2019: Head to this summer's big show at the AGNSW a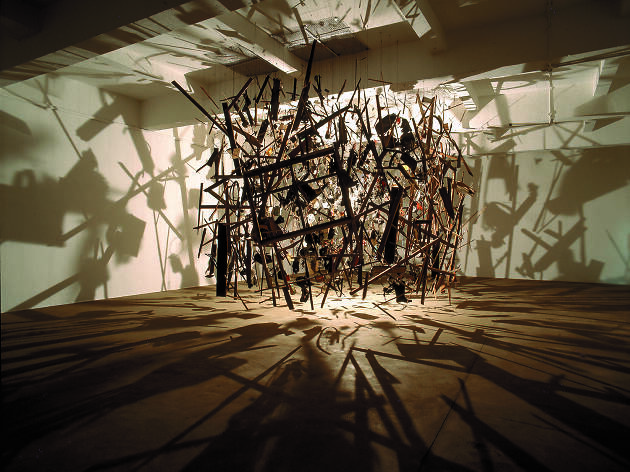 Cornelia Parker is bringing her bold art installations to Sydney
This year, the Museum of Contemporary Art's big summer show is impressive but a touch on the modest side: a career retrospective of South African photographer David Goldblatt. Next year they're back into more obvious summer blockbuster territory, with an exhibition focussed on British artist Cornelia Parker. Parker is considered one of England's biggest and most influential art stars from the last few decades and was made a member of the Order of the British Empire in 2010. But the thing that really excites us? In 1995 she collaborated with Tilda Swinton on a performance work in which Swinton slept inside a glass case, in public view, in the middle of a gallery. As far as we know, Swinton won't be napping at the MCA.   Cornelia Parker at the Parliament of the United Kingdom Photograph: Jessica Taylor   Instead, at the centre of the MCA's exhibition is Parker's breakthrough work from 1991, 'Cold Dark Matter: An Exploded View', which features a garden shed she had the actual British Army blow up with explosives. She then suspended all the fragments as they appeared in the moment immediately after explosion and placed a bright light in the centre of them, casting shadows of those fragments all around the gallery space. It's those large-scale installations for which she's best known, transforming everyday objects and suspending them in that moment of transformation. But the exhibition goes a lot further than that, and will feature more than 40 artworks, including sculp