Sunset Drive-In Cinema Ku-Ring-Gai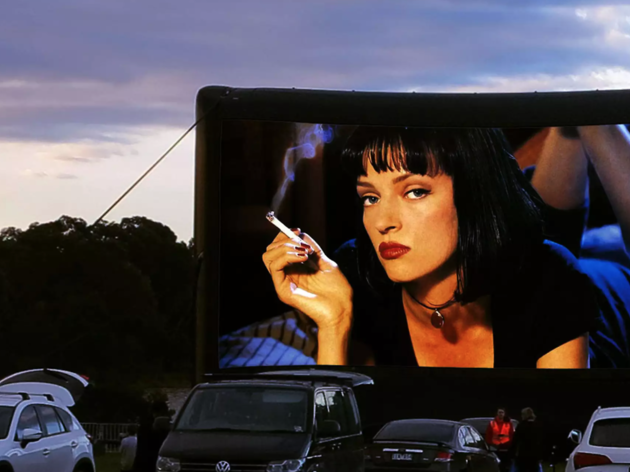 Time Out says
Movies old and new are coming to St Ives Showgrounds this October
While 2020 has been pretty terrible in just about every way, these strange coronafied times have at least proven to be a boon for drive-in cinemas, which have enjoyed a renaissance in recent months. The latest addition to the Sydney's socially distanced picture palaces, at the St Ives Showgrounds, has arrived just in time for a night of supernatural scares and grizzly gore (although after the year we've all had, we're not sure much frightens us anymore).
Two classic horror flicks headline the Sunset Drive-In Cinema's Halloween double bill on October 31: the stab-tastic Scream, and the OG found-footage nightmare fuel that is The Blair Witch Project.
If spooks and slashers aren't your thing, there's a huge program of less bloodcurdling movies on offer throughout October, including feel-good classics and brand new blockbusters. Of the more recent releases on offer, sci-fi and action fans are well taken care of, with Christopher Nolan's latest reality-warping thriller, Tenet, the X-Men-inspired psycho-drama The New Mutants headlining. Those in the mood for a chuckle should catch Seth Rogan's kooky intergenerational comedy about New York's Jewish heritage, An American Pickle.
Heading down memory lane, there's a double-feature of bougie highschool Americana with Mean Girls and Clueless, Tarantino's seminal shoot 'em up, Pulp Fiction, a night of hip-swinging romance courtesy of the late, great Patrick Swayze in Dirty Dancing, and Tim Burton's gothic fable Edward Scissorhands, as well as a bunch of other tried and true movie favourites.
Tickets are $50 per car (with a maximum occupancy of eight), which works out as an absolute steal if you don't mind sharing your ride with a few passengers. And good news for pet owners: dogs are permitted, as long as they remain leashed while outside of your vehicle.
Because no trip to the cinema is complete without snacks, you'll be able to buy popcorn, lollies, beverages (soft and alcoholic), and more substantial eats from a roster of top local food trucks.
Sunset Drive-In's Ku-Ring-Gai cinema opens on October 1, with screenings Wednesday to Sunday, every week until the end of the month. Head to the Sunset Cinema website for more details.
Details