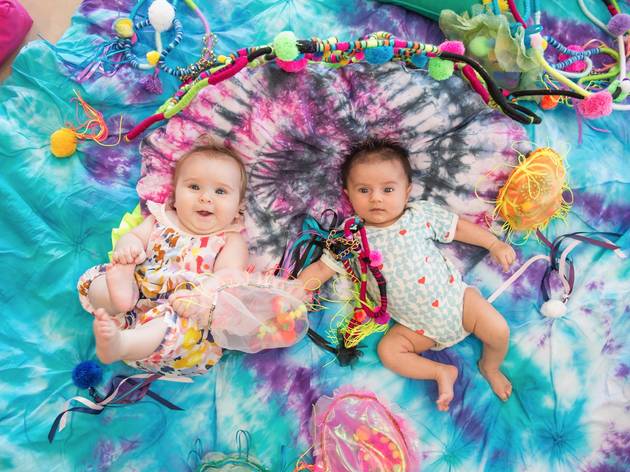 1/8
Photograph: Dan Boud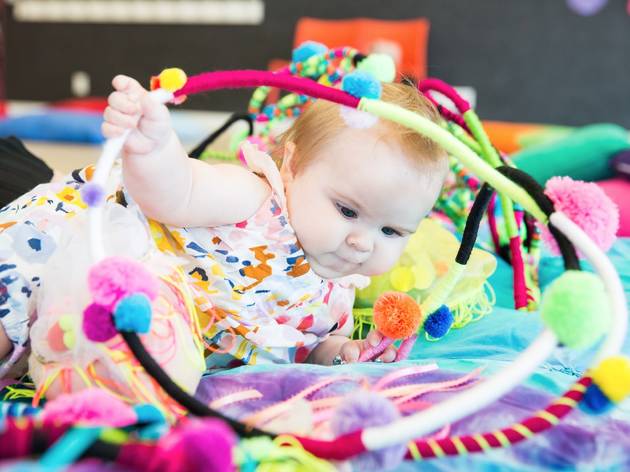 2/8
Photograph: Dan Boud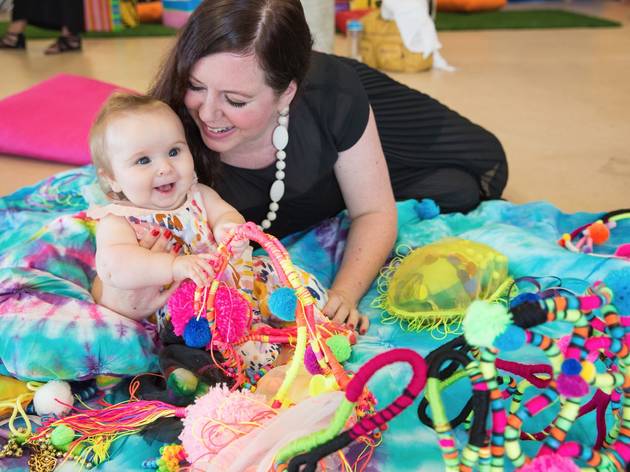 3/8
Photograph: Dan Boud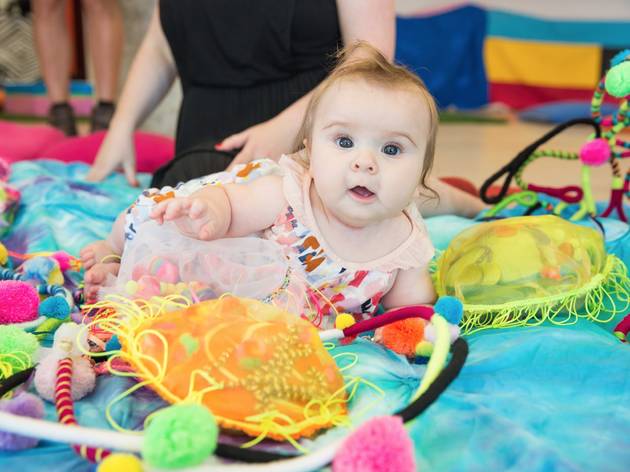 4/8
Photograph: Dan Boud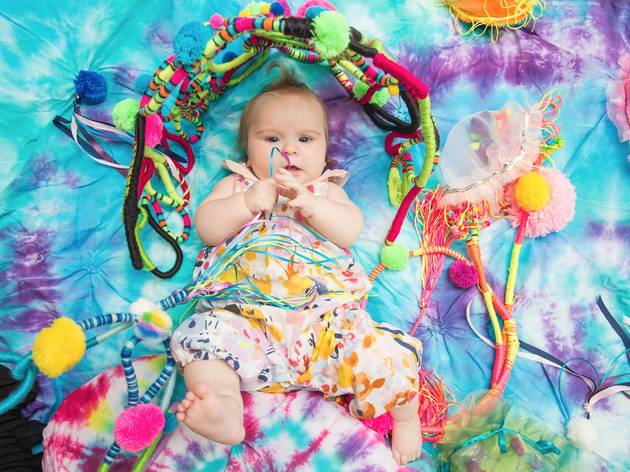 5/8
Photograph: Dan Boud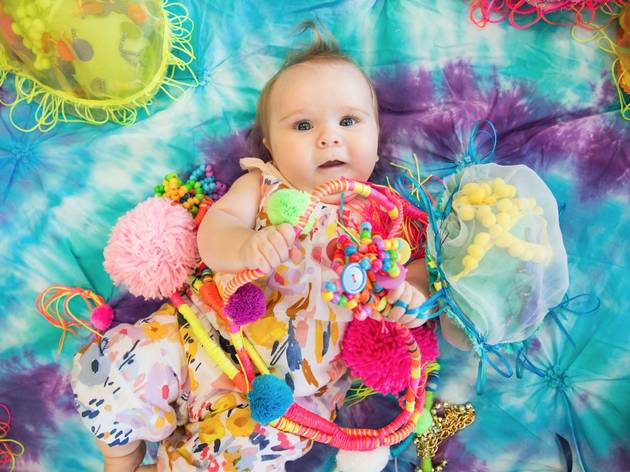 6/8
Photograph: Dan Boud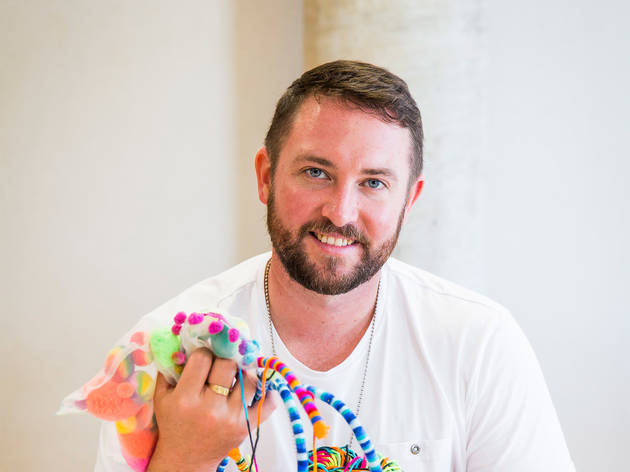 7/8
Photograph: Anna Kucera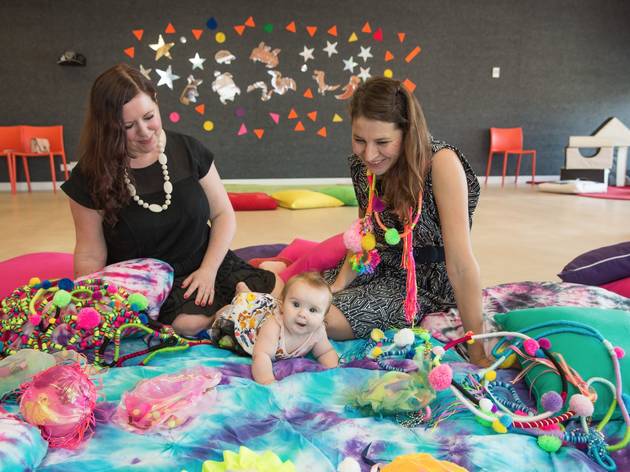 8/8
Photograph: Dan Boud
Let your bub roll around on a work of art
More than 1,800 babies have been introduced to contemporary art through the popular Art Baby program at the MCA. The flexible tour for parents and bubbies up to one year old has been running since 2007, with sessions booked out in advance by those keen to experience the gallery's latest exhibition with a guide who understands when it's time to feed, change or entertain a restless tot.
The 90-minute tours are led by artist educators, one of whom is 35-year-old Liam Benson, who designed a multisensory art blanket for babes to get some tummy time at the end of every session. His artwork is a handmade, psychedelic, tie-dyed cloud of blue and burgundy, with neon tassels and crunchy pillows that look like radioactive jellyfish filled with sequins.
"I think of the blanket as an ocean," says Benson, a practicing artist and MCA educator since 2013. "The pillows are like islands, and the little interactive, textured creatures are like sea pods and sea creatures. I was given licence to play with textures and materials that I'd never worked with before, and colours like burgundy that are usually reserved for a more mature audience."
It's a practical piece of artwork, too. The cotton and wool blanket is machine washable, so parents can be totally relaxed about vomit and poop. "I hadn't considered it christened till a baby was sick on it," says Benson. It's even washed in non-toxic, baby-safe eucalyptus oil detergent.
In addition to the baby blanket, Benson decided to create rattles and accessories for parents to wear or play with while bubs roll around, inspired by the way babies like to grab people's hair, jewellery or beards. Every piece is tactile or creates a jingling sound, so that adults and babies connect over the art.
The artwork has become such a popular edition to the Art Baby tours that parents are advised to book ahead, however, it is possible to make private group bookings for mothers' groups (maximum eight adults and eight babies). The MCA is looking to run additional sessions in 2017 to meet demand.
Of course, the blanket is only part of the experience. Tours begin in the MCA foyer (which are flexible around feeding and nappy changes) and after a 45-minute walk around exhibits like New Romance, the art educator initiates informal discussions between parents. It's as much as chance to engage with your baby over the art as it is to meet new people and have a grown-up chat about Rebecca Bauman's ticking colour blocks in 'Manoeuvres' or the trashcan robots by Wonbin Yang.
On Time Out's visit, there were babies ranging from four to seven months; ones in prams, others in baby wraps and slings; groups of mums and some parents flying solo. All the parents knew they were welcome at the MCA at any time, but there was something special about travelling together, babies meeting other babies, and everyone making as much noise as they liked.
MCA Art Baby tours are available throughout the year. To make private group bookings, email learning@mca.com.au. Babies attend free of charge.