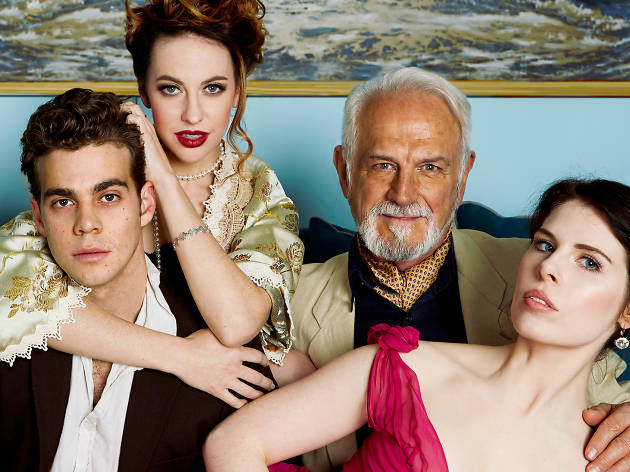 Andrew Lloyd Webber's chamber musical is coming to the Hayes Theatre in a brand new production
Just three years after he opened his globe-conquering megahit, The Phantom of the Opera, Andrew Lloyd Webber premiered a musical that defied his audience's expectations. Aspects of Love is an intimate piece focusing on the relationship between an actress called Rose and a young student Alex, who becomes obsessed with her while travelling through France. It's based on a David Garnett novella of the same name and takes place across 17 years. It also features one of ALW's most best-known songs: 'Love Changes Everything'.
The original West End production, directed by Trevor Nunn, wasn't exactly what you'd call a flop (it ran for three years, starting in 1989) but it didn't quite reach the same heights as other Lloyd Webber shows. But in the years since it's been given more intimate treatments, which is what inspired director Andrew Bevis to reimagine the work for the Hayes Theatre.
"Aspects came right after Miss Saigon and Les Mis – there were barricades on stage and big helicopters – and it wasn't overlooked but a little pushed aside because it wasn't in the world of those mega-musicals," says Bevis. "It can now be looked at for what it was."
Bevis and co-producer Nathan M. Wright are bringing an orchestra of 12 to the intimate Hayes Theatre and have now announced their full cast. Lloyd Webber's production company, Really Useful Group, has been intimately involved in the casting process and is overseeing the production from London.
Playing Alex, the young student role originated by Michael Ball, is Jonathan Hickey, who was recently nominated for a Green Room Award for his performance in The Light in the Piazza.
"He kind of just is the character of Alex," Bevis says. "What they really loved about him in London is that he's a great actor and has all the Michael Ball notes."
Caitlin Berry, soon to appear as Amalia in the Hayes production of She Loves Me, is playing Rose. Bevis says the producers were drawn to her killer acting instincts and knack for the more classically-tinged score.
"Because there have been so many shows like We Will Rock You and Mamma Mia! over the last 15 years, the style of singing that was required in the '80s when Aspects was written isn't that common; Australia doesn't have those shows very often," Bevis says.
Musical theatre and opera veteran Grant Smith (who appeared in the original West End production of Sweeney Todd and the original Australian production of Cats) will play Alex's uncle George. Bevis has wanted Smith for the role for several years.
Stefanie Jones (The Sound of Music) will play Giulietta Trapani, and school student and newcomer Ava Carmont will play Jenny.
Jay James Moody plays Marcel, Matthew Manahan plays Hugo, and Wendy Lee Purdy plays Elizabeth. The cast also includes: Hugh Barrington, Finn Alexander, Annalise Hall, Christopher Hamilton, Megan Kozak, Michaela Leisk and Sam Marques.