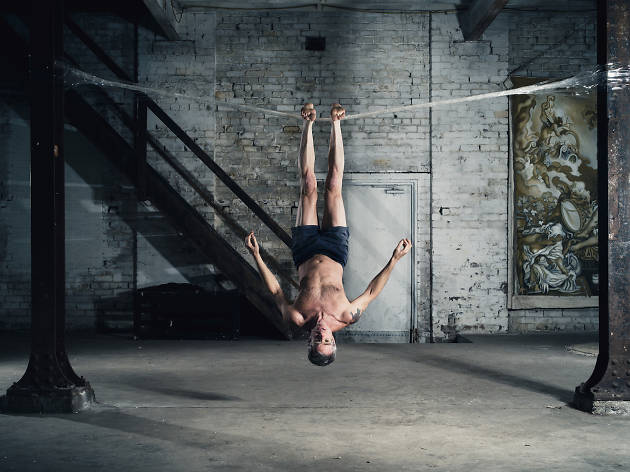 Time Out says
Sydney Opera House bi-annual festival of short, smart and surprising performances returns
Sydney Opera House is usually the home of the biggest shows for the biggest companies. But last year they decided to do something different, opening up their stages for a biannual UnWrapped series of hand picked theatre, cabaret and dance performances from Australia's best independent theatre makers.
It was a huge success, and after another successful season last May, UnWrapped is back for more, with two new risk taking shows – plus some extra fun – taking place at the House throughout September.
First up is The Irresistible, described as a "Stranger Things meets Twin Peaks darkly comic sci-fi thriller".
A co-production from the teams that brought you The Pride and The Adventures of Alvin Sputnik: Deep Sea Explorer, it sold out at Dark Mofo earlier this year and was previously nominated for Best Play at last year's Helpmann Award (it lost out to the STC/MTC co-production of The Children). It follows April (Adriane Daff) who has finally managed to put her disturbing childhood behind her – unlike her sister Bridget. So when Bridget's daughter comes to stay, the stage is set for a spectacular unravelling.
Daff picked up Best Female Actor at this year's Performing Arts WA Awards for her performance, which sees her and actor Tim Watts shift characters and zig-zag across multiple narratives at breakneck speed.
After that is the circus-inspired show High Performance Packing Tape from Melbourne's Branch Nebula. The one-man show made a splash at Liveworks festival last year and will head to Melbourne Festival next month. In it, solo performer Lee Wilson uses stationery and everyday items to push his body – and the items – to breaking point; scaling towers of collapsing boxes, suspending himself upside down and balancing on structures made from inflated balloons. It might look easy, but don't try this at home.
Finally, there's also two performances exploring the role of the artist in our climate emergency. On September 14, artists David Finnegan and Reuben Ingall (Kill Climate Deniers) will merge sounds and stories to explore what we can do about this looming planetary disaster in You're Safe Until 2012.
Then on September 15, performer and choreographer Rosalind Crisp will explore the potential of dance to capture and connect with stories of environmental destruction in her piece DIRtywork.
Details
Users say