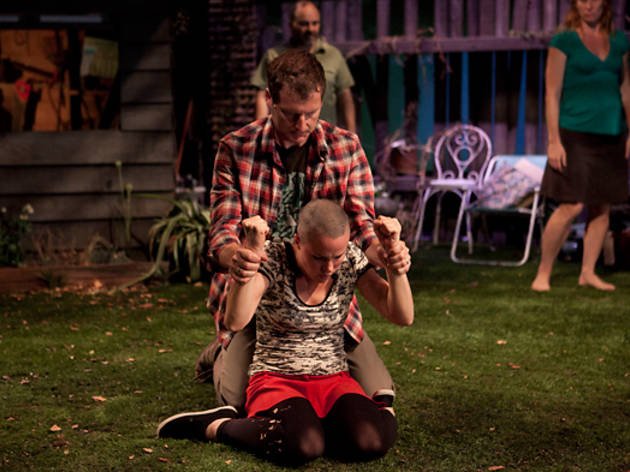 Dance-theatre makers Force Majeure take on parenting in nightmarish suburbia
Time Out Sydney's 4-star review of the 2012 production at Sydney Theatre Company's Wharf 2:
Combining contemporary dance, theatricalised gesture and text garnered from over 90 interviews, this co-production between dance-theatre company Force Majeure and Sydney Theatre Company explores an issue that seems to lie at the heart of middle-class Australia: how do we raise children well?
The result is a 60-minute collection of scenes and interludes that has the cumulative effect of flicking between radio stations. Fractured voices emerge from the dark stage; beams of light slice across the space, finally widening to spotlight a pregnant woman and a young man. The audio settles into an extended discussion between a male and female voice on the vagaries of corporal punishment, the actors moving their bodies in a beautiful distortion of everyday gesture to the rhythms of speech.
How to raise children well – it's an important question and, judging by the audience reactions on opening night, one that many people have contemplated. Without realising it, we've all formed opinions and battle-camps around the issues of parents and children. Never Did Me Any Harm taps into the conversations a lot of people are having at dinner parties, in offices, online, and the sense of familiarity (enhanced by Geoff Cobham's realistic backyard set design) is occasionally eerie.
The choreography, which draws so much from our day-to-day physical language, enhances and heightens this. There is a sense of camaraderie in the room: all around people are nodding in agreement, shaking their heads in shared distaste, nudging their partners, husbands, wives, to say: That sounds like you, or, Isn't that what I've been saying?
Whether this sense of audience concord is an exclusively good or bad thing depends in part on what you want from a night at the theatre. Sending 300-odd audience members into the foyer murmuring and nodding in consonance is one thing; sending them out into the night with a provocation would have been entirely another. I longed to see those couples bicker in the hallway; those parent-child teams stake their claims for their respective beliefs.
Never Did Me Any Harm, while touching on some potentially controversial subject matter (corporal punishment, cultural norms of breastfeeding, disabilities) doesn't really ask the audience to interrogate their positions on such issues. Without doubt or quibble, it's technically impressive work, with excellent performances all round and elegant and moving choreography from Champion. But, like so many modern parents, it soothes rather than challenges our anxieties.