Westpac Lunar Lantern Hub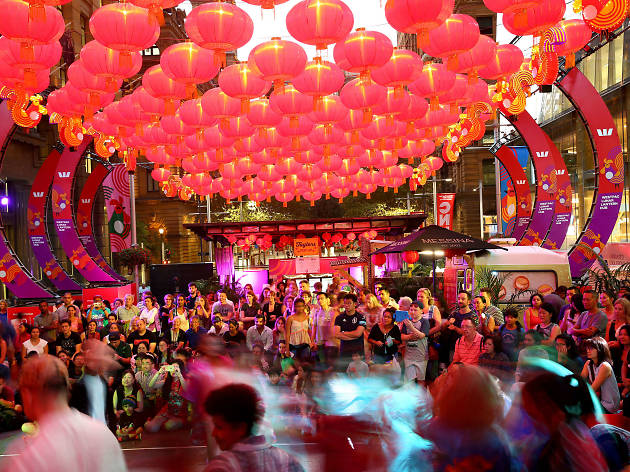 Create your own Gelato Messina cookie sandwich, play Mahjong and celebrate Chinese New Year at this free pop-up hub in Martin Place
The Westpac Lunar Lantern Hub has popped up in Martin Place for 17 nights of killer snacks, show-stopping desserts, kooky cocktails and karaoke fun during the City of Sydney's Chinese New Year Festival.
Taylor's pop-up bar will be slinging cocktails, and the boys from Bao Stop will be dishing out their much-loved Peking duck fries and pillow-soft baos.
Meanwhile Gelato Messina have created a custom cookie sandwich bar. Select your base from a red and gold macaron, a coconut palmier puff or a peanut cookie; add a filling of coconut sorbet, salted palm sugar gelato or Thai milk tea gelato; then add a mango ganache sauce. The first 200 customers to show their Westpac Debit or Credit card or Westpac Banking app each day will receive a free Messina gelato cookie sandwich.
After you've had your fill of snacks, head over to the Star's Fortune Mahjong Garden and challenge your friends to this game of skill, strategy and chance.
If you head down on Friday February 3 or Saturday February 4 you can join in on Sydney Chinese New Year Festival's 21st birthday celebrations. On Friday night, chef Adam Liaw and Dom Lau (iHeartRadio/SBS PopAsia) will be in attendance and WSFM's Jonesy and Amanda will lead the audience in a session of crowd-sourced karaoke.
On Saturday night Andy Trieu and Natalie Tran from SBS PopAsia will be bringing the noise with plenty of K-Pop, J-Pop and C-Pop fun. Special guests Rainbow Chan and Benjamin Law will also be up on stage.
On Thursday February 9 there will be a special live event featuring the SBS 'Find the Fire Rooster' competition.