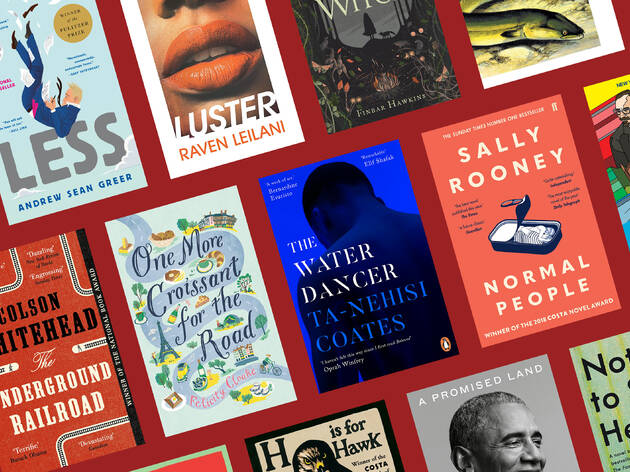 The 24 really, really great books that got us through 2020
One silver lining to 2020: more time to read. These are the books that have transported our editors this year
For many, 2020 was a year that saw them develop a new, deeper relationship with books – or rediscover a passion for reading that the treadmill of commuting, work and regular daily life had slowly eroded. Time and time again we've heard of friends and colleagues spending more hours than ever escaping from – or confronting – day-to-day reality via the pages of a great novel, or an enlightening history book, or a transporting biography. Here, a selection of Time Out editors share the great books that helped get them through a year like no other.
RECOMMENDED: 101 actually fun things to do at home
24 brilliant books that helped us escape in 2020
Image: Picador
1. 'Luster' by Raven Leilani
I went on holiday with friends earlier this year and one by one we spent a day in silence tearing through a copy of 'Luster' and then insisting someone else read it too. It is – by far – the best new novel I've read in ages. Written by first-time American author Raven Leilani, it follows a relationship between a Black woman in her 20s and a white married man in his 40s (and his wife and daughter). I don't really want to give more of the story away than that because one of the best things about it is that it never heads in the direction you expect. What I can say though, is that it's intense, addictive and full of spiky humour and piercing cultural observation. Kate Lloyd
Image: Fleet
2. 'The Underground Railroad' by Colson Whitehead
In a year that saw global protests in support of the Black Lives Matter movement sparked by the death of George Floyd, this 2016 novel about two enslaved people trying to flee America's Deep South via the country's secret Underground Railroad network felt particularly pertinent and devastating. The way Colson Whitehead paints vivid and eye-opening historic details and images is enough of a reason to pick up this book, but it's the main characters, Cora and Caesar, who'll make you struggle to put it down. You'll share in their pain on the plantation, their ecstasy of escape, their desperate fear while on the run and their urgent hope for a better future. And you'll emerge shaken, but with a renewed perspective on the fight for racial equality. Alex Plim
Image: Scribner
3. 'Waterland' by Graham Swift
I first read Graham Swift's 1983 novel at university and I've returned to it again and again ever since. It's clever and complex, with a circling, looping story that whips you from the past to the present as the narrator, history teacher Tom Crick, talks to his class about his life growing up in The Fens in England's East Anglia. The book's overarching theme is history: how history repeats itself and how our personal histories affect our lives. But, it's also a page-turning mystery that swirls towards a climax involving murder, incest and kidnap. Swift's writing is disarmingly evocative and one of my favourite things is the way he conjures up the flat, wet world of The Fens. The place comes to feel like a character in its own right, and you realise how the eel-filled, phlegmy landscape has shaped Tom's life. I'm still totally floored and bewitched by it. Alex Sims
Image: Penguin
4. 'The Water Dancer' by Ta-Nehisi Coates
This 2019 debut novel is a captivating and magical take on the Underground Railroad – the network of safe houses and routes used by people fleeing slavery in nineteenth-century America. It proved very timely given the rise of BLM in 2020. It's a wonderful read. The story centres on Hiram Walker, the mixed-race son of a plantation owner and an enslaved mother who was sold off. Hiram is robbed of all memories of his mother but given the mysterious power of conduction – the ability to travel by and through water. While Hiram seeks freedom he meets historical figures like Harriet Tubman and also explores how freedom may not feel free at all if not accompanied by loved ones. This unexpected journey takes Hiram from the corrupt grandeur of Virginia's proud plantations to desperate guerrilla cells in the wilderness, from the coffin of the deep South to dangerously utopian movements in the North. Anjali Virmani
Image: Viking
5. 'A Promised Land' by Barack Obama
Inspirational, tear-jerking, elegant, vivid, intimate – this is the behind-the-scenes account of the election of America's first Black president and its fiercest First Lady. Tackle it in instalments: Obama uncut is just a little too much of a good thing for anyone. So much empathy! So much conscience! So much self-questioning! But his memoir is not ponderous despite its length (29 hours on audio). He takes writing seriously and reads as well as he speaks. This is a tale of two love stories: Barack's unrequited affair with America, and his sweet, solid, spiky long-term marriage to Michelle. America is tough; Michelle is tougher – in the best possible way. She challenges him, cherishes him and refuses to let him get too big for his boots. He wakes her up to tell her he's won the Nobel Prize: she says, 'That's wonderful, honey,' rolls over and goes back to sleep. The big questions which defined his presidency and the next are brought home through vivid, human relationships and conversations with a supporting cast of what seems like hundreds of close friends, aides, organisers, allies, world leaders, family members and White House-visiting celebrities. A historic book about a historic moment. Caroline McGinn
Image: Sphere
6. 'Still Life' by Louise Penny
Canadian author Louise Penny's murder mysteries are so gentle and lovely that I smashed at least six of them in lockdown. Her detective is Chief Inspector Armand Gamache, and her mysteries are set in the fictional village of Three Pines, where everyone is very cultured and motives for murder often have to do with poetry or art. Start with the first book, 'Still Life', in which a talented artist is murdered on the eve of finally showing her work. The clues to the murderer are hidden in a series of paintings, which art-loving, Latin-speaking, poetry-quoting Gamache must analyse. Penny includes a lot of Canadian culture, including the tensions in Quebec between English and French speakers. The novels are gripping, well-written mysteries, and gentle Gamache is always kind and noble. Cass Knowlton
Image: Zephyr
7. 'Witch' by Finbar Hawkins
In seventeenth-century England, Evey witnesses the murder of her mother, who is accused of being a witch. What follows is an enthralling, sometimes nightmarish, trip through a land rife with zealotry and dogma, as Evey tracks down her mother's killers while trying to protect her little sister Dill. Finbar Hawkins's debut novel is notionally a young adult title, but grown-ups will find it darkly satisfying – a brilliantly paced and compellingly atmospheric story of society's need to find victims, how fear spawns mania and how the 'other' is persecuted. Should sound familiar in 2020. Chris Waywell
Image: Europa Editions
8. 'My Brilliant Friend' by Elena Ferrante
It's hardly original to recommend reading Elena Ferrante; around half a dozen friends/aunts/friendly bookshop clerks had done so by the time I picked up the first of the pseudonymous author's Neapolitan quartet, in late January. But it turns out they were on to something. Ferrante's work, which delves into the mirror-like intimacy of female friendship, engendered a kind of all-consuming reading experience – late nights, skipped meals – I haven't been able to replicate since adolescence. I flew through each subsequent novel as winter ebbed into spring quarantine. Their conclusion, as pedestrian as it is devastating, rocked me like a physical blow. Emma Krupp
Already love Elena Ferrante? Check out her 40 favourite books by women.
Image: Vintage
9. 'H is for Hawk' by Helen Macdonald
I finally got round to reading this classic shelf-sitter after years of putting off tackling what I thought would be a pretty naff tale about training a goshawk. In fact, it's an incredibly moving and incredibly cool tale about training a goshawk. Macdonald was at a very, you might say, 'liminal' stage in life (her dad had just died, she'd broken up with an ex, she'd lost her job) and decided to take on an exhilarating new hobby. It's lushly, poetically written. It sings with love and affection for Mabel, her best friend at a particularly rough time. And as our world seemed to turn upside down, it inspired me to think about what I personally could possibly get out of the overwhelming shitness of 2020 (not much, it turns out, but it was a nice thought anyway). Huw Oliver
Image: Mudlark
10. 'One More Croissant For The Road' by Felicity Cloake
I loved 'One More Croissant For The Road' by food writer Felicity Cloake, best known for her 'How to make the perfect…' column in The Guardian. Structured as her very own culinary Tour de France, with each chapter exploring a different region (or 'stage'), the book charts her journey cycling 2,300km across France in search of classic French dishes and the perfect croissant (each chapter ends with the total number consumed and an average mark out of 10). I started reading it when my own cycling skills were improving in lockdown and it made me long to do my own culinary adventure on two wheels, although I'm not sure I could take on that kind of distance just yet. For now, reading it is the closest I've got to leaving the country this year. Isabelle Aron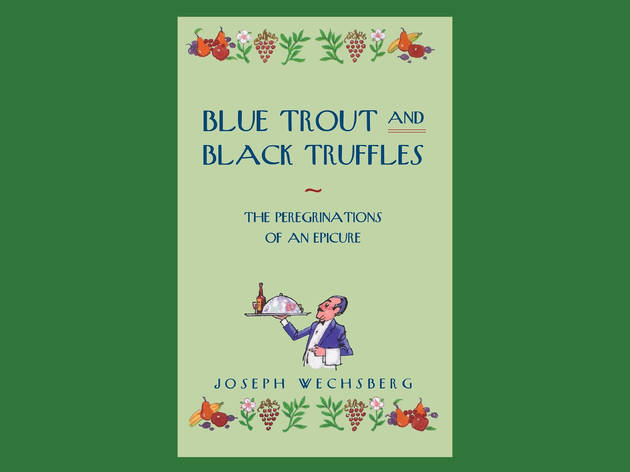 Image: Academy Chicago Publishers
11. 'Blue Trout and Black Truffles' by Joseph Wechsberg
Some of my favourite ever reads have been serendipitous junk-shop finds, and this is one. Joseph Wechsberg was a lawyer, traveller, violinist, soldier, polyglot and journalist, a Czech emigré who seemingly spent the best part of 40 years roaming the greatest restaurants in Europe. 'Blue Trout and Black Truffles' is a poignant, prelapsarian portrait of European society, high and low, between the wars: essential reading for anyone wishing they could take up permanent residence at Wes Anderson's Grand Budapest Hotel. It's also the hilarious memoir of a diehard diner (Mr Wechsberg must have been one hell of a +1) and a timely reminder that restaurants are magic. James Manning
Image: Faber & Faber
12. 'Normal People' by Sally Rooney
I read Irish author Sally Rooney's second novel, 'Normal People', right before the TV adaptation premiered this year and found it to be one of the most refreshing pieces of literature that I've tucked into in some time. The book is beautiful in its simplicity. Expect the story about two pretty average people falling in love to warm your soul and remind you that – one day, hopefully – we'll be back to living a pretty normal life. Anna Ben Yehuda
Image: Penguin
13. 'On Solitude' by Michel de Montaigne
I think the reason that French renaissance philosopher Michel de Montaigne's 'On Solitude' resonated this year is that, as opposed to being a 'thought leader' type of read with easy answers, Montaigne writes about tough universal truths. It's an exercise in letting go and learning to not beg for answers to questions like, 'How can I better deal with my loneliness?'. References in this sixteenth-century text to the Roman historian Sallust may go over your head – they definitely went over mine – but don't fight it; move on and go for the ride. Otherwise, if you're all about knowing what the references are all about, pick the latest Penguin reprint for its annotations. JP Karwacki
Image: Penguin
14. 'Wunderkind', Carson McCullers
Not a novel, but a collection of short stories slender enough to slip into a shirt pocket: 'Wunderkind' by Carson McCullers, the Georgia-raised author who was writing mainly in the 1930s to '50s. There was a point in lockdown where I found reading difficult. I'd open a book and my brain cells would go on hiatus, floating about in my head like deceased sea urchins, refusing to absorb ideas in any coherent way. I'd had this 'Mini Modern Classics' copy of McCullers' stories for around two years and never read it, but its pocket size made it seem manageable, a short power walk instead of a marathon. Her writing was like nothing I'd ever seen before. McCullers majors in misfits, and plays out their awkward inner lives like a virtuoso pianist. The title story, 'Wunderkind', about an anxious young musician, is semi-autobiographical – at one point, McCullers had planned to study piano at Juilliard. Each story is filled with disarmingly-good lines that make you stop, stare and reach for the highlighter. I don't think I'll ever be able to look at a piano again without thinking about that ailing child prodigy in 'Wunderkind' whose 'hands seemed to gum the keys like limp macaroni'. Thank you, Carson McCullers, for teaching me how to read again. Katie McCabe
Image: Daunt Books
15. 'How to Cook a Wolf' by MFK Fisher
I picked up this recipe book (although it's more than that) at the beginning of the pandemic when the shelves of grocery stores felt desolate. Stuck in my tiny apartment, I turned to cooking as a form of solace – an approach which is talked about in this book. MFK Fisher wrote it during WW2 during food shortages to rally and inspire home cooks. Her recipes and commentary are humorous, thought-provoking and smart. They provide a lot of comfort. Kathryn Vaughn
Image: Penguin
16. 'Girl, Woman, Other' by Bernadine Evaristo
Banished from friends and family during lockdown, I spent the spring in the company of the full cast of Bernadine Evaristo's Booker Prize-winning novel. The 12 womxn in this powerful, emotional, accomplished and uplifting work of interlocking stories share their experience of being Black and living in the UK, whether that's arriving in the country as part of the Windrush generation or coming of age as the Black Lives Matter movement takes shape. Each character is complex, each perspective is new. If you vowed to educate yourself this summer, this window into the Black and female experience is a good place to start. Laura Richards
Image: Abacus
17. 'Less' by Andrew Sean Greer
This Pulitzer Prize-winning novel from 2017 achieves that literary sleight of hand that makes a bestseller: a read that, while easy and accessible, still grapples with deeper, essential truths. Arthur Less, our titular hero, is a middle-aged, overlooked, and unexpectedly single gay writer, who, finding himself untethered from an almost-relationship he never managed to lock down, decides that commitment must become his new raison d'etre. Accepting any and all professional opportunities that come his way, he embarks on a worldwide journey that helps him come to terms with turning 50 alone. Andrew Sean Greer is a masterfully witty writer, with a control of language that makes every sentence sing with humour and smarts. In a tale where the stakes aren't particularly high, the bittersweet whimsy and sheer cleverness of the storytelling is more than enough to make you fully invested in Arthur's emotional awakening. Maxim Boon
Image: Atlantic Books
18. 'The Library Book' by Susan Orlean
One of my favourite views out the window of the Time Out L.A. office – a place I think still exists (I haven't been there since March) – is of the mosaic pyramid atop the Los Angeles Central Library. So I went into this as a way to reconnect with one of my favourite but temporarily-off-limits spots in the city. What I got was an engrossing nonfiction story that scratched a lot of personal itches: a 1980s arson mystery that evolves into an examination of architectural tastes, City Librarian power struggles and how exactly you go about drying thousands of wet books, plus a general love letter to the community and fountain of knowledge that libraries provide. Do I feel guilty I read the ebook version? Yep. But at least I borrowed it from the L.A. Public Library. Michael Juliano
Image: Pan
19. 'Lonesome Dove' by Larry McMurtry
​Simultaneously really, really long and not nearly long enough, this Pulitzer-winning western by Larry McMurtry was the best thing to happen to my lockdown. Superficially, it's about a bunch of cowboys driving cattle across thousands of miles of hostile ​terrain rife with bandits, snakes, torrential rivers, insane storms, clouds of locusts, and other, even more venomous snakes. But really it's about mortality, that feeling when the end of the road may be hoving into view, as ruminated on by some of the richest characters I've ever had the pleasure to spend time with. Now for the other 90-odd Pulitzer winners. Phil de Semlyen
Image: Penguin
20. 'Braiding Sweetgrass: Indigenous Wisdom, Scientific Knowledge and the Teachings of Plants' by Robin Wall Kimmerer
This is a must-read for anyone who cares about the Earth and the complete shitshow that humans have wreaked on it since colonisation. Robin Wall Kimmerer is an Indigenous botanist who combines scientific precision with Native American wisdom to beautifully and poignantly portray the secret workings of the North American wilderness (how trees speak to each other underground, why purple and yellow flowers grow near each other, and more things that will blow your mind) and also how much plants, animals and landscapes have been unalterably changed. But don't think it's preachy or hard-to-read; it's not. Instead, Kimmerer's prose is poetic in the way she acknowledges how much modern western civilisation is removed from nature and also in her encouragement for us all to return to a reciprocal relationship with the land and all its creatures. All in all, it will completely transform your relationship to this world. Sarah Medina
Image: Text Publishing Company
21. 'Nothing to See Here' by Kevin Wilson
Before reading Kevin Wilson's 2019 novel I listened to a radio interview with the author on NPR's 'Fresh Air' and found him endearing (his southern drawl is delightful) – but I didn't for a second care to read his book about a young woman taking care of two kids who spontaneously burst into flames. Woah, was I wrong. 'Nothing to See Here' is a quirky, heartwarming and hilarious portrayal of parenthood. It's filled with compelling, complex characters, specifically the narrator, Lillian, whose self-deprecating nature and keen observations of the bizarre situation she's found herself in somehow make you overlook the impossible premise. It's a weird and wonderful book you won't want to put down. Virginia Gil
Image: Picador
22. 'Station Eleven' by Emily St John Mandel
I really leaned hard into Pandemic Aesthetics at the beginning of all of this, and I re-read two classic 'everyone catches the virus and dies' novels: Stephen King's 'The Stand' (not so comforting) followed by 'Station Eleven', which I feel far more comfortable recommending to people. Both had a lot of really timely things to say about how going through world-changing events can present rare opportunities for personal transformation, which I found comforting. Will Gleason
Image: Viking Press USA
23. 'Medallion Status' by John Hodgman
During a year in which I didn't ride an airplane, John Hodgman's 'Medallion Status' served as a vicarious companion pass to places that weren't my living room. The collection of essays is based around the former 'The Daily Show' contributor's obsession with an airline rewards program, racking up miles as he travels across the country, dipping into exclusive airport lounges and the headquarters of secret societies at Yale. Hodgman's stories offer a clever and funny look at how fame and status changes the way that one can navigate the world – and what happens when you're eventually downgraded. Zach Long
Image: Bloomsbury
24. 'The Silk Roads' by Peter Frankopan
'The Silk Roads' by British historian Peter Frankopan is a challenge to the Greco-Roman centric view of the roots of modern civilisation. Throughout we get an honest look into how civilisations such as the Persians (who are often only portrayed as 'the bad guy' in western media – remember the film '300'?!) influenced the world around them, and just how influential the silk roads were. The book gave me plenty of areas to read further into, but my next stop is Frankopan's next book, 'The New Silk Roads'. Ben Allen
More incredible reads
Science fiction isn't all space battles (though there is a lot of that), and when it's good, it's a proper escape from the real world. But what makes it special is that great science fiction isn't just about spaceships, it uses spaceships to tell a story about our time.
Every week, we spotlight a highly regarded author and recommend the best entry point into their work – whether that's a novel, play, or short story. If you like what you read, we have advice on what to go for next. Allow us to ease you in gently to the world of Very Good Books.
Best selling Time Out Offers