[Update, March 15] The 2023 cherry blossom season has officially begun in Tokyo. Get the deets here.
***
You wouldn't be mistaken in thinking this winter is slightly warmer than usual. The pleasant climate we've experienced lately indicates that cherry blossom season will arrive sooner than expected this year. Rumour has it that Tokyo will start seeing cherry blossoms sometime this week, with the flowers set to bloom roughly nine days earlier than usual. Here's a closer look at the latest forecasts from the Japan Meteorological Corporation, with predicted dates for sakura in Tokyo as well as other parts of Japan.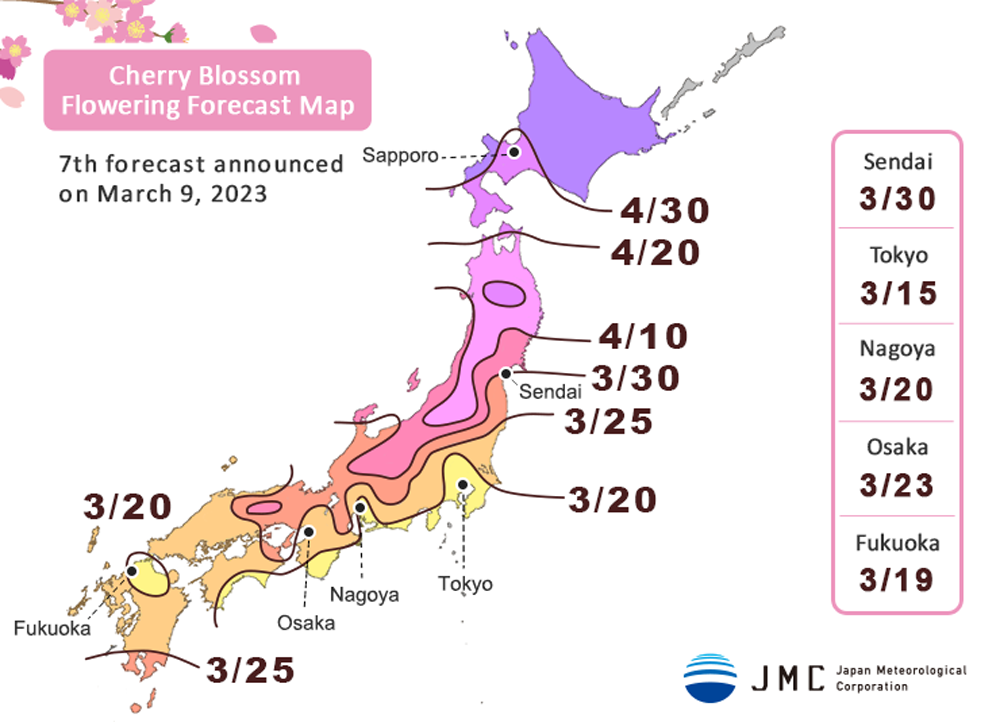 Tokyo will be one of the first cities to see cherry blossoms, where flowers are expected to bloom around March 15 and peak on March 22. Meanwhile, Kyoto's and Osaka's blossoms are predicted to begin flowering on March 22 and 23, respectively. Kyoto is expected to hit peak blooming time on March 30, while Osaka will flourish on March 31.
As usual, the sakura season in Japan's northernmost prefecture of Hokkaido is expected to overlap with the Golden Week holidays in early May. In Sapporo, the flowers are predicted to bloom on April 26 and peak on April 30.
The forecasts are subject to change as we draw closer to spring, but we'll keep you updated as more information is released. In the meantime, start planning your trip with our guides to Tokyo's top sakura spots and Japan's three greatest cherry blossom trees.
This article was published on January 11 and updated on March 13.
More from Time Out Tokyo
Tokyo parks will allow cherry blossom picnics for the first time in four years
The 3 greatest cherry blossom trees of Japan and where to see them
These are the 7 best experiences in Japan according to Japan Travel Awards 2023
Roppongi Art Night to return in May 2023 as a weekend arts festival
Blackpink are coming to Tokyo and Osaka for concerts in spring
Want to be the first to know what's cool in Tokyo? Sign up to our newsletter for the latest updates from Tokyo and Japan.