Cold weather got you down? Keep your chin up, because we're not too far away from sakura season. In fact, the Japan Meteorological Corporation has just released its first cherry blossom forecast of 2023, with predicted dates for sakura in Tokyo as well as other parts of Japan.
These forecasts are based on the Somei Yoshino cherry tree, which is considered to be the most popular variety of sakura. According to JMC, the warmer-than-average temperatures we've experienced from autumn 2022 till now indicate that the cherry trees will break dormancy a little later than usual, but this will only push peak blooming time back by a few days, if at all.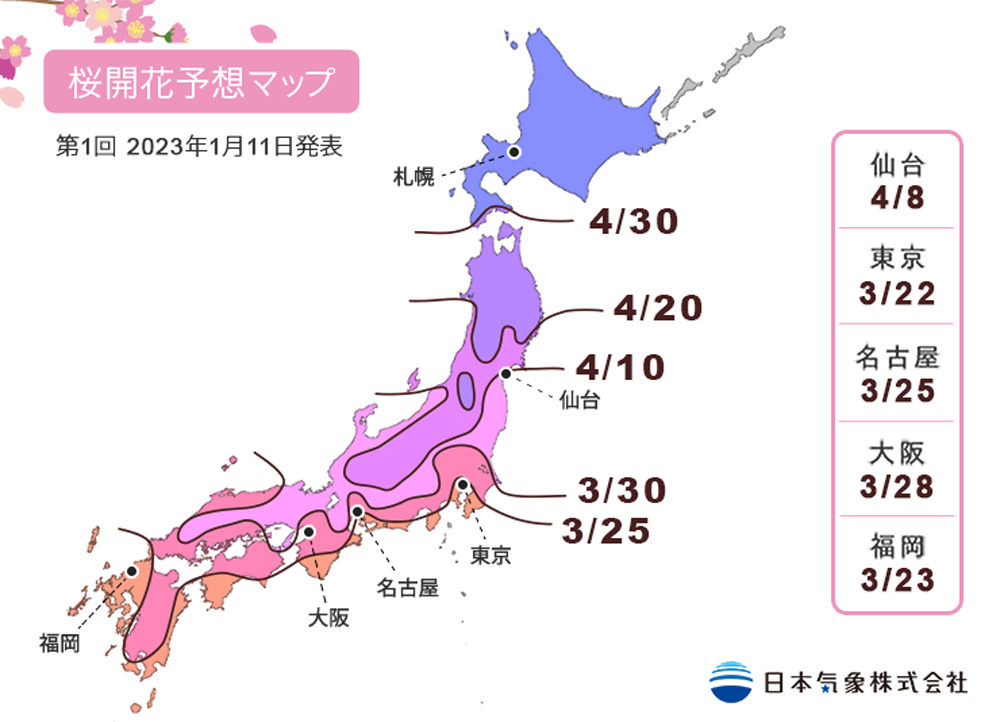 Tokyo will be one of the first cities to see cherry blossoms, where flowers are expected to begin blooming around March 22 and peak on March 30. Meanwhile, Kyoto's and Osaka's blossoms are predicted to begin flowering on March 27 and March 28 respectively, with both cities expected to hit their peak blooming time on April 5.
As usual, the sakura season in Japan's northernmost prefecture of Hokkaido is expected to overlap with the Golden Week holidays in early May. In Sapporo, the flowers are predicted to begin blossoming on May 2 and hit their peak on May 5.
The forecasts are subject to change as we draw closer to spring, but we'll keep you updated as more information is released. In the meantime, check out these early-blooming winter cherry blossoms in Atami.
More from Time Out Tokyo
Cherry blossom season has already begun in Atami, an hour from Tokyo
Two Japanese carriers are in the world's top 3 most on-time airlines in 2022
You can now recreate Hokusai's iconic 'Great Wave' with Lego
Tokyo to see another food price hike in early 2023, affecting over 7,000 items
Starbucks Japan releases a super kawaii collection for the Year of the Rabbit
Want to be the first to know what's cool in Tokyo? Sign up to our newsletter for the latest updates from Tokyo and Japan.