For restaurants in Tokyo and around the world, 2020 will go down as one of the hardest years ever for the industry. But, despite the difficulties, December 7 was a time to celebrate the resilience, excellence and future of restaurants, with the release of the Michelin Guide Tokyo 2021. Announced via the live-stream below, a total of 212 venues received stars – 18 of them brand new entries on the list.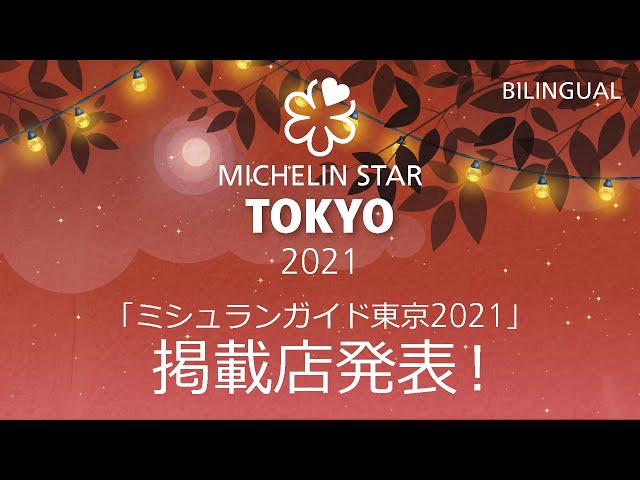 This year's guide came with a significant change in programming: the awarding of Michelin green stars. This new distinction recognises sustainable gastronomy, such as the protection of biodiversity and reduced consumption of non-renewable energy.
Back in June, we bet on Narisawa and L'Effervescence – long recognised for their sustainability efforts – being Tokyo's first green star recipients, and we were spot on. Both restaurants received the accolade, alongside four others: Quintessence, Florilège, Sincere and Lature.
L'Effervescence clearly impressed the judges, netting three Michelin stars to go along with that shiny new green star. Led by passionate, skilled and environmentally conscious chef Shinobu Namae, the restaurant received its first star in 2012, then two stars in 2015, and continues to evolve its exceptional blend of French and Japanese cuisine.
The other newly awarded three-star restaurant in Tokyo was Chinese restaurant Sazenka, where chef Tomoya Kawada creates original, sophisticated Chinese cuisine using Japanese ingredients. It's the first and only Chinese restaurant in Japan to receive three stars. For those keeping score, that means Tokyo now has 12 three-star restaurants, more than any other city in the world.
Two new venues received two stars, making 42 in total: Ginza-based Edomae-style sushi restaurant Sushi Kanesaka and creative Japanese restaurant Kutan. Meanwhile, a total of 157 restaurants received one star, 18 of them new. Amongst the newbies, Sushiya Shota in Azabujuban is a stand-out. The simple sushi restaurant is run by a Korean-born chef, who serves up a carefully made omakase menu.
On the Michelin Guide Tokyo 2021 Bib Gourmand list, there are 234 wallet-friendly restaurants (35 of which are new additions), serving gyoza, tempura and everything in between.
For the full Michelin Guide Tokyo 2021 selection, check the official site here.
More from Time Out Tokyo
The 11 biggest Japanese trends in Tokyo this year
Here are the best saunas in Japan for 2020 as ranked by Saunachelin
This green tea vending machine in Haneda Airport plays a puppet show with every purchase
Japan considers opening up again to international tourists in spring 2021
These three Tokyo bars made it into the World's 50 Best Bars list for 2020
Want to be the first to know what's cool in Tokyo? Sign up to our newsletter for the latest updates from Tokyo and Japan.