Heads up! We're working hard to be accurate – but these are unusual times, so please always check before heading out.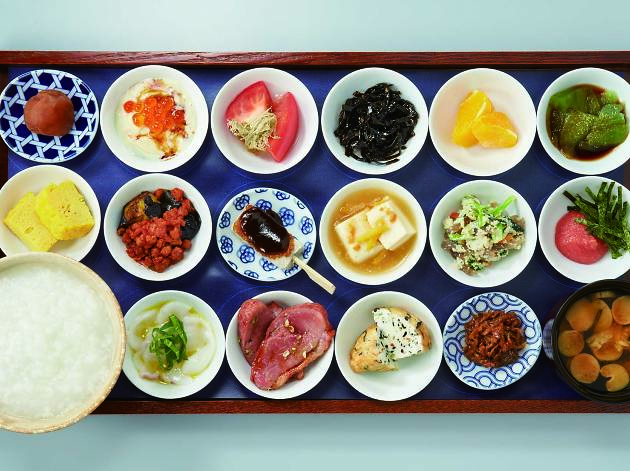 1/2
The 18-dish morning feast at Tsumugi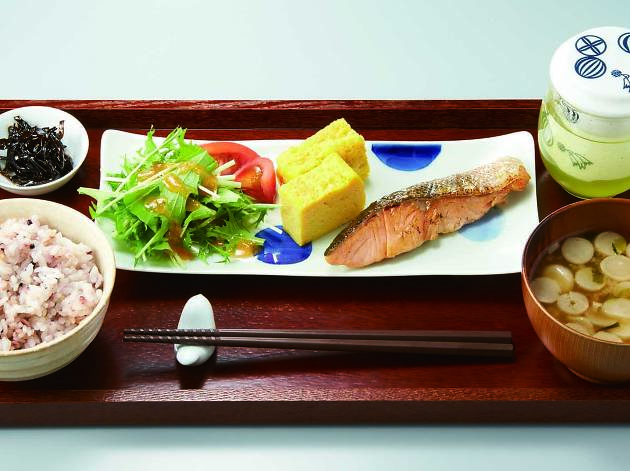 2/2
Photo: Tsumugi
A Japanese breakfast set at Tsumugi
Best restaurants for Japanese breakfast in Tokyo
Forget eggs and toast – start your morning right with a traditional Japanese breakfast instead
It's easy to imagine what you'll be eating for breakfast on a trip to France or England – a croissant or bacon and eggs respectively. But when it comes to a traditional breakfast in Japan, the image is a little more elusive.
Japanese breakfast has not been exported like sushi or ramen. Even in Japan, it's not easily encountered unless you're staying at a traditional bed and breakfast, like a minshuku (family-operated lodging) or a ryokan (inn).
Breakfast has long been regarded as the most important meal of the day in Japan and is traditionally prepared and eaten at home rather than at a restaurant. Until around the Edo era (1603–1868), breakfast was one of only two meals taken in a day, so it needed to be wholesome and hearty.
As a result, a traditional Japanese breakfast is similar to set meals commonly eaten at lunch, sharing the concept of ichiju-sansai, meaning 'one soup, three sides'. The soup is always miso, while the sides include a (protein) main, pickles and a third small dish, all invariably served with a steaming bowl of freshly cooked rice. The combination of rice, protein and fat is widely regarded in Japan as essential for a balanced meal.
If all this sounds a bit heavy, try some of the traditional breakfast variations of okayu and ochazuke. The former is a Japanese take on congee – a rice porridge which comes with similar sides to a set breakfast. For ochazuke, the rice is served with a pot of tea or dashi (Japanese stock) and a selection of toppings. To eat, you simply add the toppings to the bowl of rice and pour over the hot broth.
Want to try it for yourself? Rise and shine the traditional Japanese way with our favourite breakfast spots in Tokyo.
RECOMMENDED: 10 things you must eat while you're in Tokyo
Morning glory
A Tokyo Station breakfast institution, this large openplan dining hall is a favourite stop for salarymen on their way to work – yep, it's an eat-and-dash affair. You simply order from the vending machine: there are seven breakfast set meals (teishoku) including shioyakizakana (salt-grilled fish), tonjiru (pork and tofu miso soup; pictured top) and beef simmered with tofu. Optional extras include tamagoyaki, cold tofu, natto and fried eggs. All dishes come with a bowl of rice, miso soup and pickles.
The interior offers a quaint mom-and-pop vibe. The large communal table in the centre is always buzzing, but there are private booths as well. Hatsufuji is open from 7am for breakfast before switching to its lunch menu from 11am, and from 3pm it turns into an izakaya serving seasonal cuisine. To find it in the labyrinthine Tokyo Station, take the Yaesu central exit, head for the Sotobori Chika 3rd Street, and by exit 19, you'll find the restaurant opposite a FamilyMart.
Tokyo is not exactly full of breakfast places open early, so when you find one – especially one as special as Tsumugi – it's worth relishing. Tsumugi is part of the information centre for the adjacent Tsukiji Hongwanji Temple, and all tables afford a full view of the majestic temple through the floor-to-ceiling glass walls. The mood is lively yet relaxing, even with the buzz of morning chatter and the sounds of phone cameras snapping away at the Insta-worthy signature breakfast, 18 Shina no Asagohan.
For ¥1,800, the 18-dish morning feast comprises rice porridge, miso soup and 16 little plates of seasonal dishes such as duck with sansho pepper, konnyaku shiroae (yam mixed with tofu and sesame), tamagoyaki, tofu with yuzu and white bean paste, and matcha jelly.
For something more low-key, there's a traditional breakfast set, with grilled fish, pickles, tamagoyaki, a small salad, rice and miso soup for ¥750. There's also a Japanese-style granola (¥850), with Uji matcha-coated arare (Japanese rice-crackers), fresh fruit and hot frothy milk to pour over.
This Tokyo Station outpost of popular sushi eatery Tsukiji Sushi Sei is located in the GranSta Dining section of the meandering station. The standout on the breakfast menu (served 7am-10am) is the tai goma dare (sliced snapper in a rich sesame dressing; pictured) set meal. Other options include braised fish with a side of sushi, and salmon belly topped with ikura (salmon roe) – all come with rice, miso soup, pickles, tamagoyaki, plus other toppings and a flask of hot stock. Add toppings to the rice, pour over the hot stock, and you'll have ochazuke.
For lunch, the seasonal sushi and sashimi sets range from ¥1,400 to ¥3,200, and if you're off to catch the shinkansen, grab a bento box to go.
Shinpachi Shokudo is located in the back alleys of Shinjuku, which bustle with hurried office workers in the morning. If you're looking for a hearty breakfast with succulent fish, crisp pickles and refreshing miso soup, you've found the right place.
Inside the tight space is a horseshoe counter, from which the staff offer a speedy, no-frills service. The interior is inspired by a traditional farmhouse, and the food has a similar rustic charm. The breakfast menu includes favourites such as salt-grilled sawara (Spanish mackerel), grilled saikyo miso-marinated king salmon, and goma-aji (grilled horse mackerel infused with sesame oil).
This offshoot of the popular Soup Stock chain is inspired by dashi, the broth at the heart of Japanese cuisine. It offers a creative menu of broth-based meals from breakfast to dinner. The morning menu (7am-10am) has four items: lobster miso soup (pictured), pork and spinach in ginger soy milk broth, chicken congee, and lotus root and pumpkin Chinese congee, for just ¥580 each. It's Japanese breakfast updated and done well.
After breakfast the set menu expands to include more broth bowls – including pork and potato in saikyo miso soup, red snapper broth, tofu and whitefish – ranging from ¥980 to ¥1,680. Odashi is a bright and fresh-looking joint, with a blond wooden interior offering both counter and table seating.
You'll also find fancy Japanese breakfast at hotel restaurants such as those in Park Hyatt Tokyo, Claska and Hilltop Hotel, and they will usually set you back around ¥4,000. For cheap-and-cheerful versions below ¥1,000, try chain restaurants like Matsuya and Yoshinoya, or family restaurants like Denny's and Jonathan's.
More great Tokyo restaurants