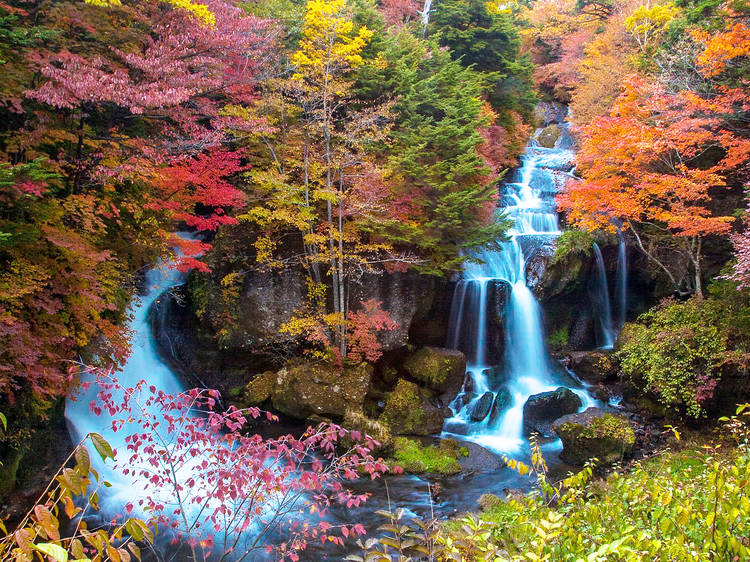 Photo: Mario Takahashi/Pixabay
Full of ancient shrines, gorgeous waterfalls and a stunning national park, Nikko exudes a sacred tranquillity that's especially effective for autumnal rest and reflection. You can get to Nikko from Tokyo by taking a direct train from Kitasenju Station to Tobu-Nikko Station on the Nikko-Kinugawa Limited Express line. The journey will take just over an hour and a half.

When you reach Nikko, hop on the Tobu bus bound for Yumoto Onsen and ride for five stops (four minutes) to Shinkyo, where you'll find the vermillion Shinkyo Bridge that is emblematic of the Nikko area. The bridge, along with the Nikko Futarasan Shrine that it belongs to, is part of a Unesco World Heritage Site comprising a number of Nikko's shrines and temples. Autumn is arguably the best time to visit, as this is when the trees on either side of the bridge turn a dark shade of red, so that the palette of the natural landscape matches the ancient structure.
Next, get back on the bus bound for Yumoto Onsen and ride for 19 stops until you reach Chuzenji (approx. 40 minutes). Here, you'll find the 97-metre-tall Kegon Falls – one of Nikko National's Park's most breathtaking assets. The waterfall is beautiful year-round, but it is particularly stunning in autumn, when it is surrounded by vibrant autumn foliage.
You can admire the falls from the Kegon Falls Lower Observation Deck, or take the Akechidaira Ropeway to view the scenery from a higher vantage point. Further away on the other side of the lake is the famous Ryuzu Falls (pictured above), otherwise also known as Dragon's Head Waterfall, where you'll find more lush, vibrant autumn leaves.

Though Nikko is close enough to visit on a day trip, the sheer beauty of the region will want to make you stay for a whole weekend. Make the most of onsen season by booking a night or two at the Hoshino Resorts Kai Nikko hotel, where you can soak in open-air hot spring baths and dine on seasonal Japanese kaiseki meals.