Spring 2020 issue out now – read the digital edition for free wherever you are
Inside: the best of springtime in Tokyo, the city's most scenic waterways, food streets, Japanese gardens, restaurants for solo diners, Kanagawa islands, and more
[Click to download the digital edition now for FREE]
There's a new season in Tokyo: the city is blooming right through to May with flowers of every imaginable colour, from pink sakura to purple wisteria and yellow tulips to baby blue nemophila. The sunny days and cool weather also call for more time spent outdoors – but alas, that might not be the best thing to do right now.
With the Covid-19 coronavirus pandemic still ongoing, we have all been urged to stay home and prevent the spread of the virus. So we're not asking you to go out right now, but let our latest issue serve as an inspiration to keep you hopeful and optimistic in this trying time. Read about all the wonderful things Tokyo has to offer and bookmark them for when it's safe for you to go outside again.
Download the free digital edition now and read it wherever you are. We look forward to welcoming you back to Tokyo when the world has conquered the pandemic. Stay safe, stay optimistic – from Tokyo with love.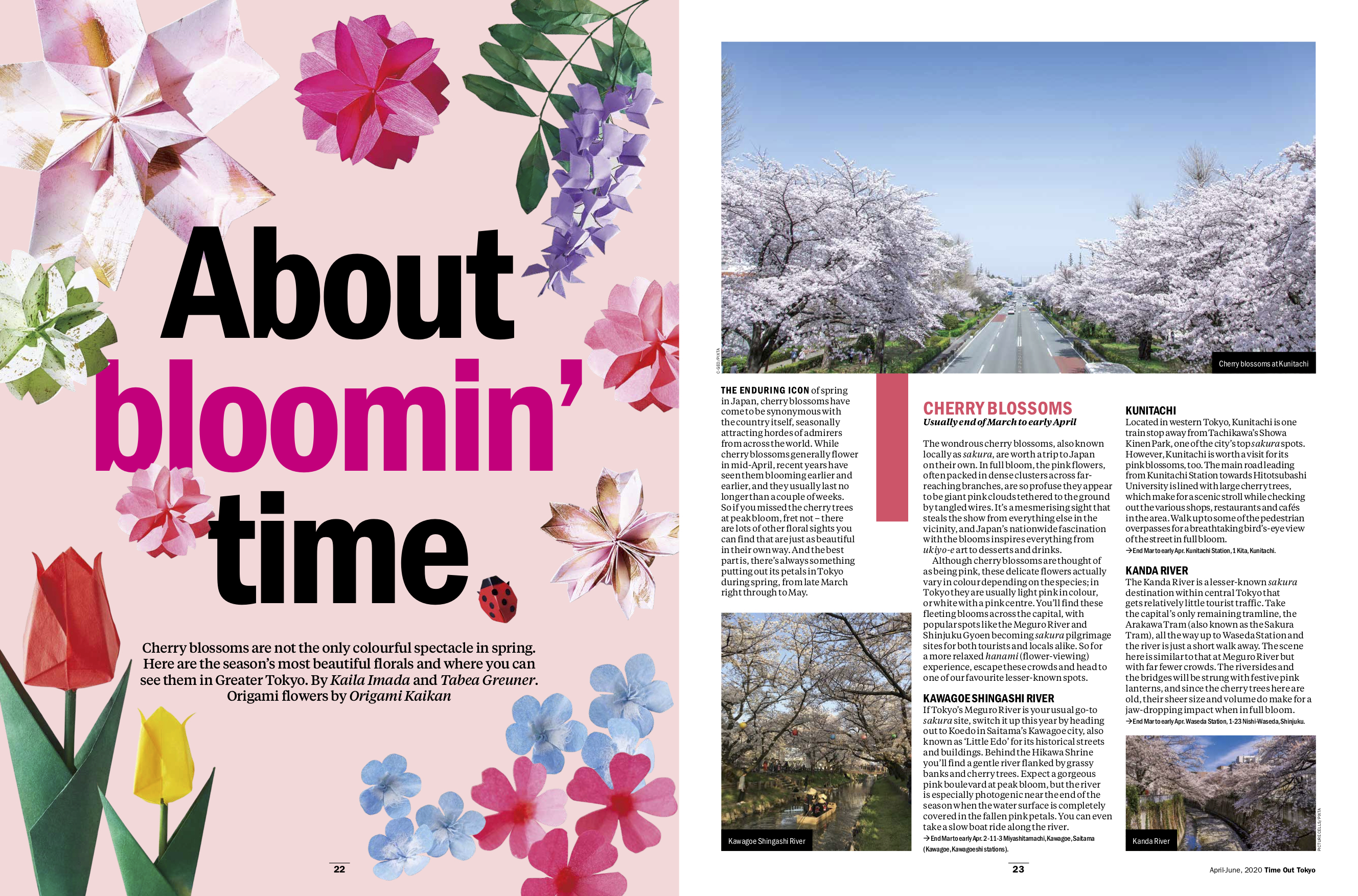 Cherry blossoms are not the only colourful spectacle in spring. Here are the season's most beautiful florals, from wisteria and nemophila to tulips and shibazakura.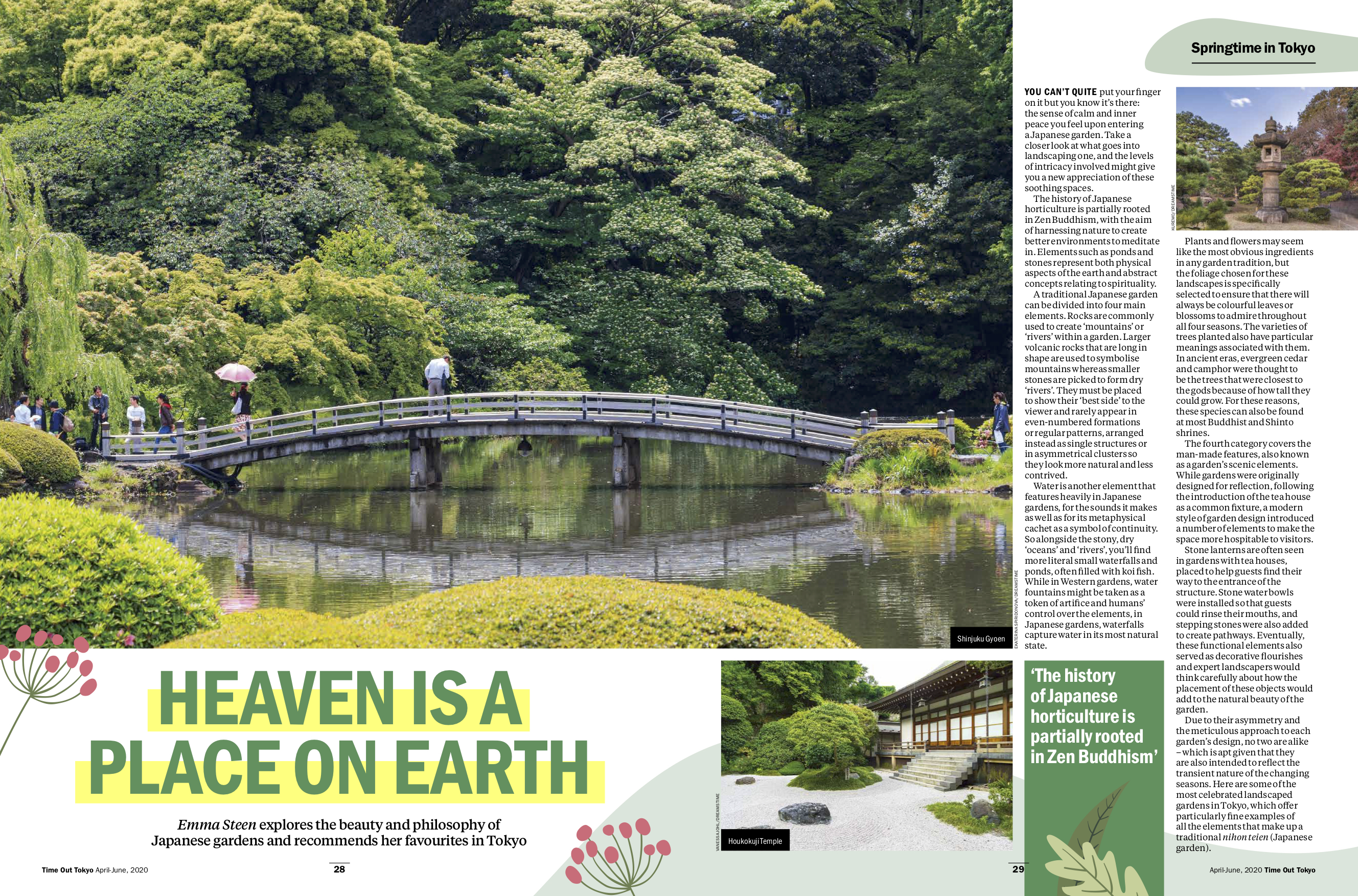 When you're in Tokyo, you have to take a walk through paradise, otherwise also known as a Japanese garden. Here we decipher the features and symbolism that make up a Japanese garden and let you in on some of the city's most popular as well as lesser known, but equally beautiful, Japanese gardens.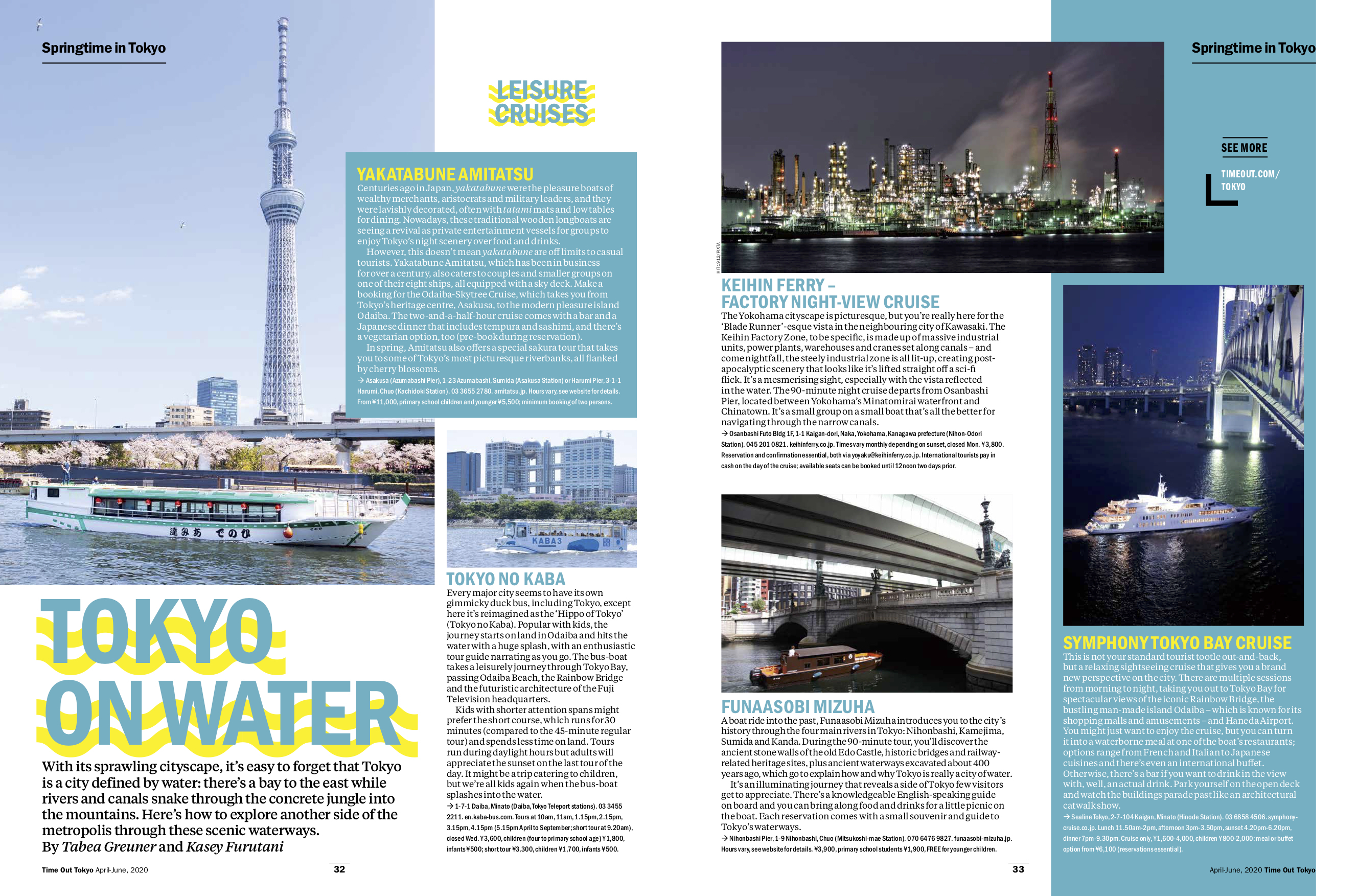 With its sprawling cityscape, it's easy to forget that Tokyo is a city defined by water: there's a bay to the east while rivers and canals snake through the concrete jungle into the mountains. Here we recommend ten ways to explore the metropolis through its scenic waterways.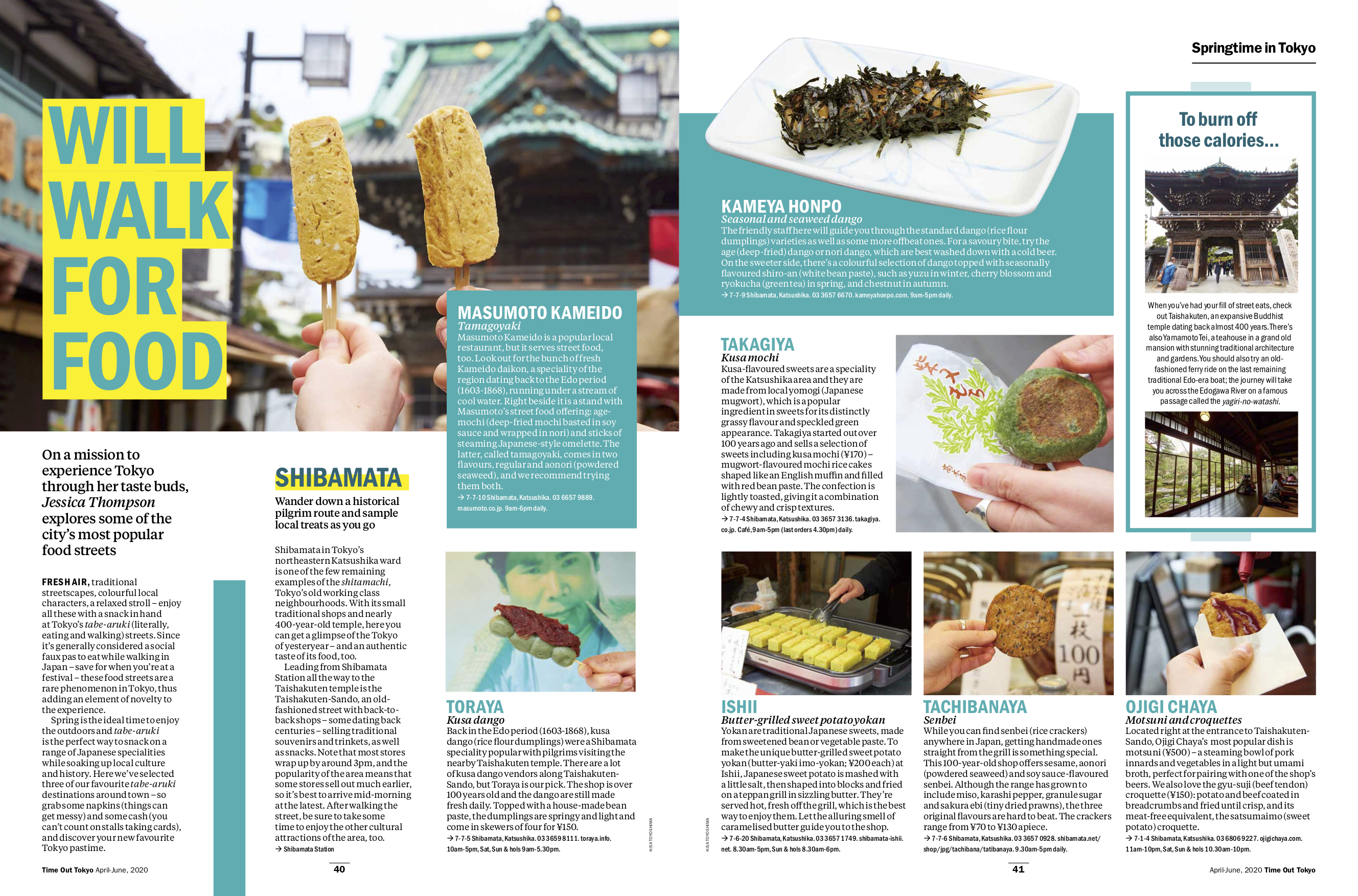 Spring is the ideal time to enjoy the outdoors and tabe-aruki (literally eating and walking) is the perfect way to snack on a range of Japanese specialities while soaking up local culture. Here we've selected three of our favourite food streets around town.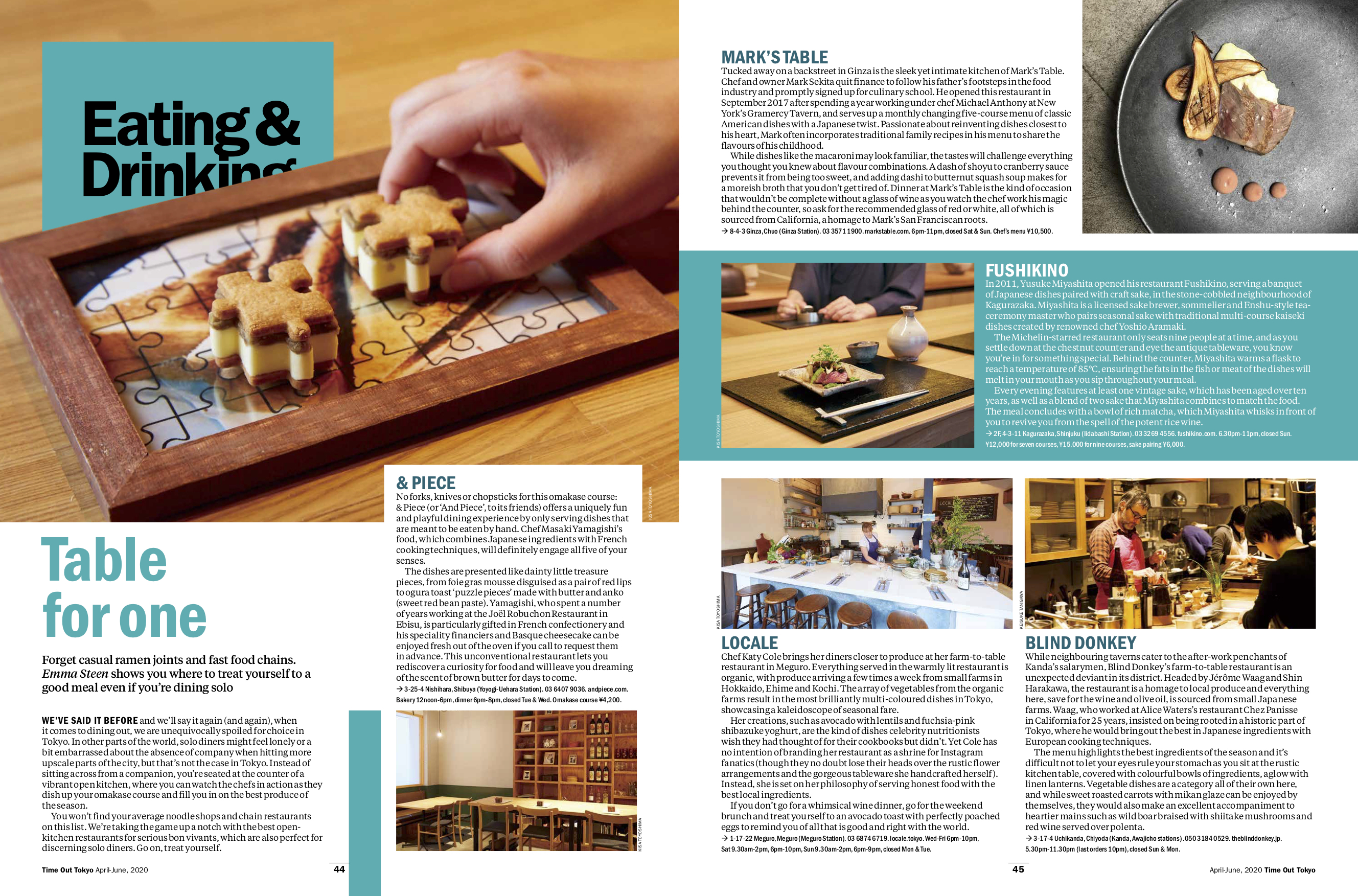 Tokyo is one of the best cities in the world for solo travellers. So even if you're by yourself, you don't have to make do with casual ramen and fast food. These sensational restaurants – choose from farm-to-table dining, modernist cuisine and kaiseki meals – are perfectly suited for those seeking a table for one.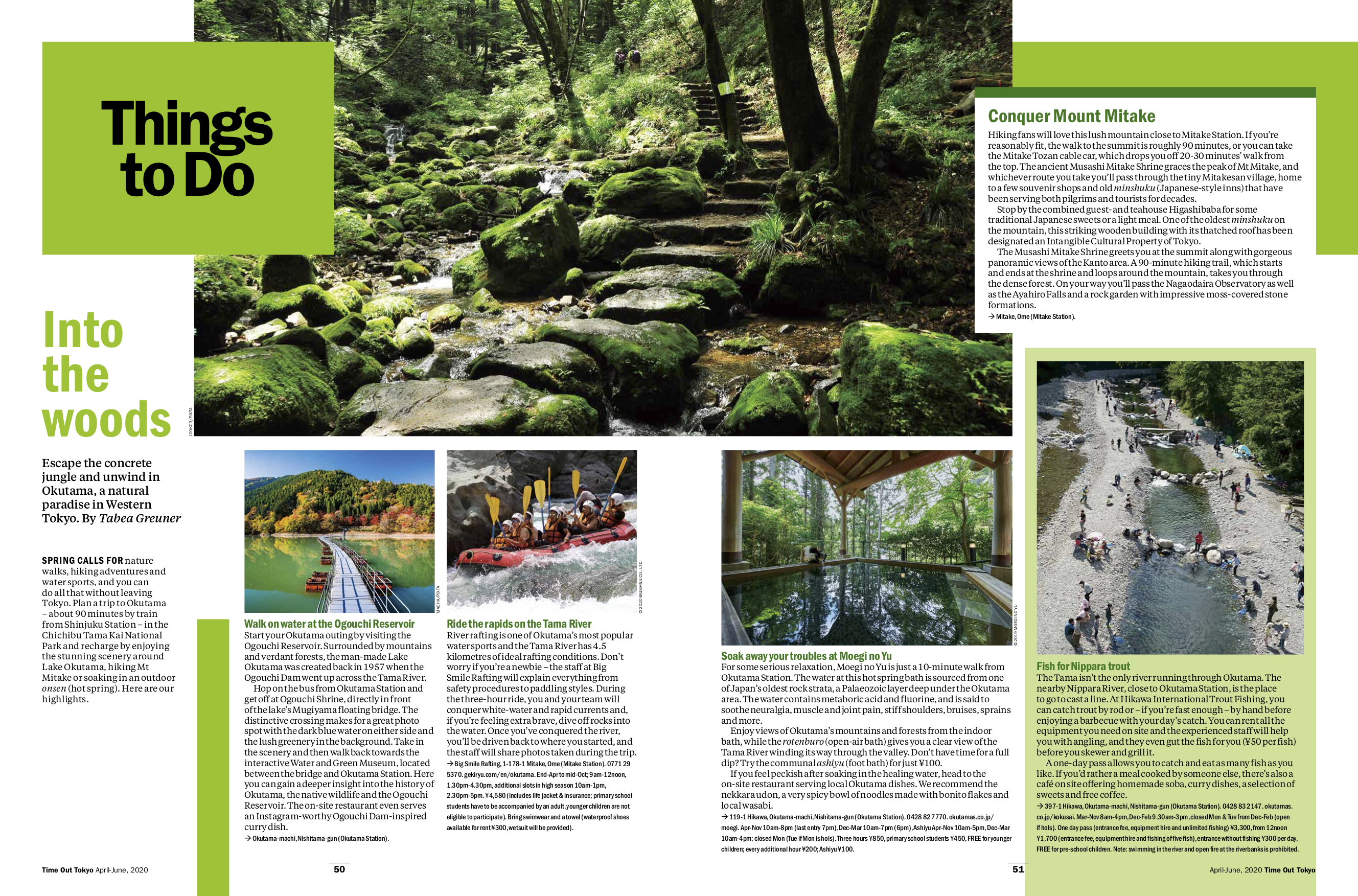 Nature walks, hiking adventures and water sports – you can do all that without leaving Tokyo. Just plan a trip to Okutama in the Chichibu Tama Kai National Park (90 minutes by train from Shinjuku Station) and recharge by immersing yourself in the lush natural beauty.

Looking for an easy day trip from Tokyo? Try these islands off the Kanagawa coast just south of the capital. There's a seafood market, a seaside observation deck, World War II ruins, barbecue beaches, a hot spring spa and more.
For all this and much more – the most scenic jogging routes in Tokyo, our guide to ikebana, family-friendly adventure parks, specialist shops, Tokyo drag queens – pick up your FREE copy of the magazine at any of our distribution points in the city (from March 31). You can also download the PDF version here, or get the mag delivered by placing an order here.
Cover: art direction by Steve Nakamura; photography by Naohiro Tsukada; origami sakura by Origami Kaikan
Looking for our previous issues?
Best selling Time Out Offers