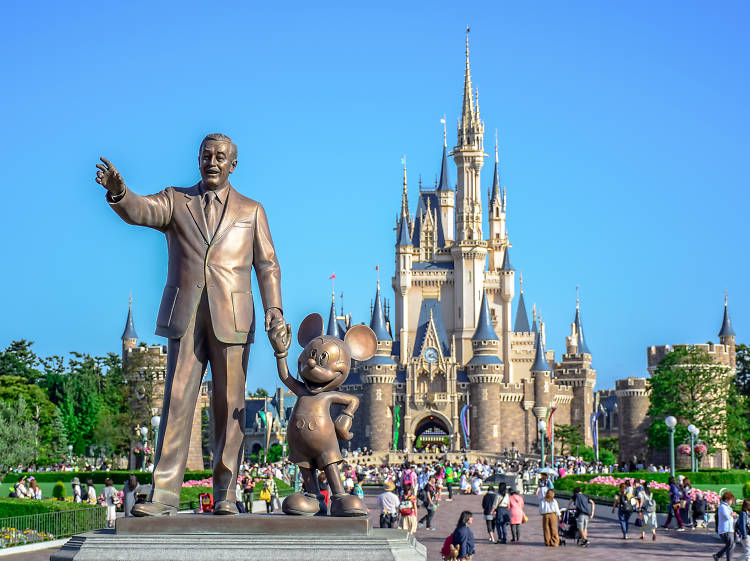 Photo: Parinya Suwanitch/Dreamstime
First, decide on one of the two Disney parks
The massive 47-hectare Tokyo Disneyland, opened in 1983, was the first Disney park to open outside of America. While it's technically in Chiba, the prefecture bordering Tokyo to the east, it's still easily accessible from the capital. The park is divided into seven areas: World Bazaar, Adventureland, Westernland, Tomorrowland, Critter Country, Toontown and Fantasyland.
The biggest and most sought-after ride in 2022 is the Enchanted Tale of Beauty and the Beast. The latest attraction in Tokyo Disneyland's Fantasyland lets guests cruise through key scenes of the 'Beauty and the Beast' (1991) while being seated in cup-like vehicles.
Other popular attractions include Big Thunder Mountain, a thrilling roller coaster through the 'mines', the log flume Splash Mountain, the Haunted Mansion inspired by 'The Nightmare Before Christmas', high-speed roller coaster Space Mountain, and Pooh's Hunny Hunt, where you board a honey pot to help the teddy bear find his favourite treat.
Adjacent to Tokyo Disneyland is the younger but larger sibling Tokyo DisneySea (at 71.22 hectares), which opened in 2001. The park capitalises on its setting by the bay with a maritime theme. It has seven zones: Mediterranean Harbor, American Waterfront, Lost River Delta, Port Discovery, Mermaid Lagoon, Arabian Coast and Mysterious Island. The new extension 'Fantasy Springs' is scheduled to open in 2023.
The rides and attractions at Tokyo DisneySea include the carnival-like Toy Story Mania, the Tower of Terror free fall, the high-speed ride through Indiana Jones Adventure: Temple of the Crystal Skull, the roller coaster Journey to the Center of the Earth, and the simulation experience called Soaring: Fantastic Flight.